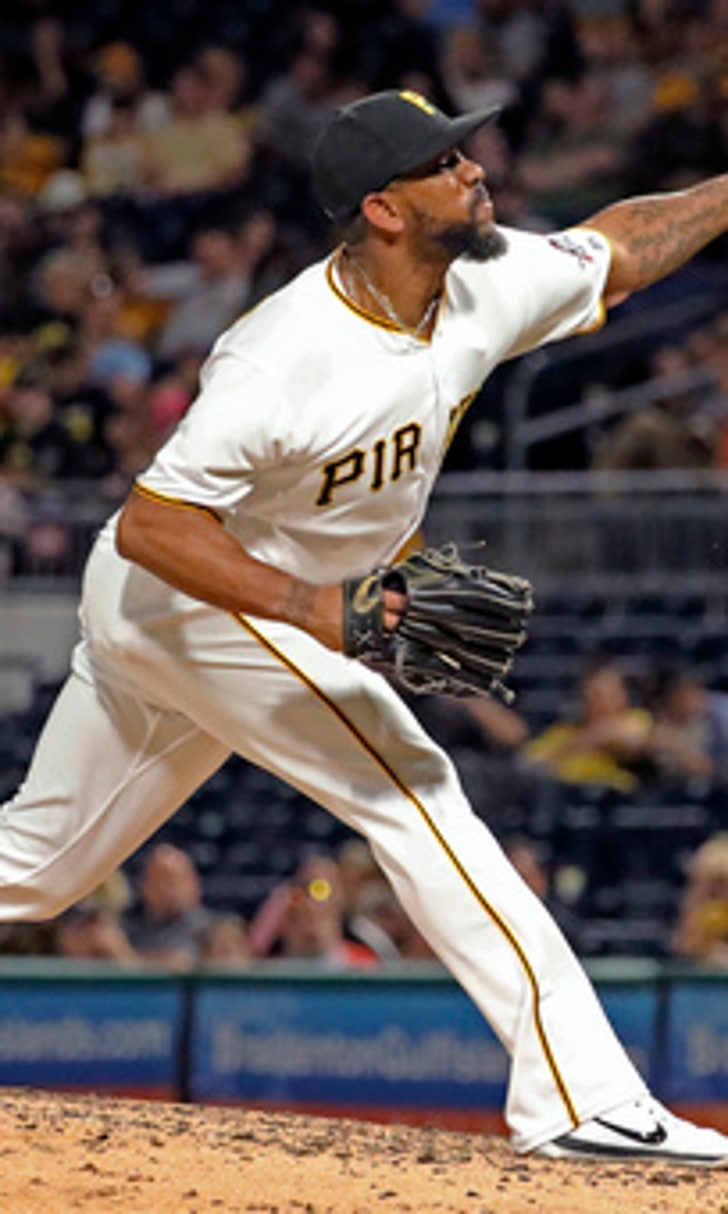 Felipe Rivero finalizes $22M, 4-year deal with Pirates
BY AP • January 18, 2018
PITTSBURGH (AP) Felipe Rivero admits he was a little surprised when Pittsburgh Pirates parted with established stars Gerrit Cole and Andrew McCutchen over the last week, part of a roster reset the club insists is not to be confused with an actual rebuild.
''They were saying they wanted to keep them,'' the Pirates closer said. ''Tough to see two of the best guys leave.''
Rivero, however, doesn't appear likely to follow them out of Pittsburgh. The hard-throwing left-handed reliever finalized a $22 million, four-year contract on Thursday, a deal that includes two club options and could be worth $41 million over six seasons. The 26-year-old, acquired in a trade deadline deal with Washington in 2016, receives a $2 million signing bonus and agreed to a deal that covers his arbitration-eligible years, giving him peace of mind.
''I want to be relaxed the next few years and not have arbitration cases,'' Rivero said. ''I just want to help the team as much as I can right now.''
Rivero took over as Pittsburgh's closer last May and went 5-3 with a 1.67 ERA while converting 21 of 23 save opportunities and striking out 88 batters in 75 1/3 innings. Rivero let his sister work in concert with his agent during negotiations, adamant he wanted to remain with the Pirates.
''When I got traded they ... tried to make you feel like you're at home,'' Rivero said. ''That's why I wanted to stay for a few more years.''
General manager Neal Huntington said the team was ''humbled'' by Rivero's decision, adding the cost certainty of the deal means the Pirates can move forward with confidence knowing one of the few bright spots from a mostly forgettable 2017 is in place through the end of this decade and the beginning of the next.
''It frees him up to just go pitch, frees him up to just go do his thing,'' Huntington said. ''He doesn't have to worry about a lot of the things that players worry about.''
Rivero sent out a handful of curious tweets on Monday, when the Pirates sent McCutchen to the San Francisco Giants . Huntington said Rivero next expressed any reluctance to sign the contract and downplayed the idea Pittsburgh is intent on bottoming out before trying to return to the heights of 2013-15 when the franchise reached the playoffs three consecutive years.
''This gives us the opportunity to build a bullpen around him, build a club around him and put our best foot forward to compete and do everything we can to win ballgames in `18, `19 and beyond,'' said Huntington, who called the idea the Pirates will get worse before they get better a ''false narrative.''
Either way, Rivero will be along for the ride. He'll make $2.5 million this season, $4 million in 2019, $5.25 million in 2020 and $7.25 million in 2021. The Pirates have a $10 million option for 2022 with a $1 million buyout and a $10 million option for 2023 with a $500,000 buyout. Rivero laughed when asked if he planned to celebrate by going out for some paintball, one of his favorite pastimes, at least until Thursday.
''I kind of want to but going to start staying safe right now,'' he said. ''Going to stop doing crazy things.''
---
More AP baseball: https://apnews.com/tag/MLBbaseball
---
---