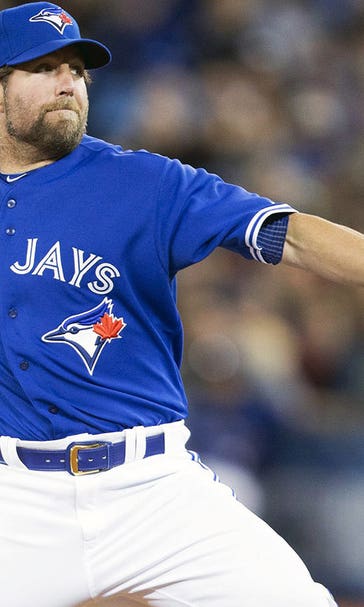 Dickey, Jays' relievers shut out Yankees
April 5, 2014

Michael Pineda made a successful return to the mound for the New York Yankees.
But all anyone wanted to talk about afterward was the confusion and controversy surrounding baseball's new rules on home plate collisions.
R.A. Dickey and three relievers combined for a shutout, Jose Bautista and Melky Cabrera homered and the Blue Jays beat the Yankees 4-0 on Saturday afternoon in a game that saw New York denied a run when Francisco Cervelli was tagged out at home by Toronto's John Thole.
"I believe this is going to be the toughest overall for (umpires) to get right all the time," manager Joe Girardi said. "To me, it's a vague interpretation of what blocking home plate is and I think it needs to be in writing."
With New York trailing 1-0 in the third, Cervelli hit a leadoff double and tried to score on Jacoby Ellsbury's two-out single to center. Colby Rasmus made a one-hop throw to the plate, where Thole tagged Cervelli to end the inning.
After Girardi came out to argue, crew chief Dana DeMuth, the plate umpire, reviewed whether Thole had blocked the plate and whether Cervelli has beaten the tag. DeMuth upheld both decisions.
Girardi came out again to speak to DeMuth after the review.
"I wanted to know if I could protest the game," Girardi said. "But no, I'm not allowed."
New rules instituted this season prevent catchers from blocking a runner's path to the plate unless they have possession of the ball. Replays showed Thole was straddling the plate while awaiting the throw, then dropped his right knee to block Cervelli immediately after receiving the ball.
"The way it was explained to us is if you're straddling the base in front, toward third base, that is considered to be blocking home plate," Girardi said. "To me, it's clear that he's doing that."
Cervelli acknowledged being "confused" when he saw Thole blocking his path and said he'd have to ask his coaches for clarification on the rules, and what to do as a runner.
"I was pretty sure what it's all about but I've got to ask again what's going on," Cervelli said.
Even Thole acknowledged being unfamiliar with the rules, approved in January on an experimental basis for 2014.
"I don't even understand the rule, to be honest," Thole said. "I don't know what I would have argued. The ball kind of took me up the line. I just went for the ball."
A former catcher, Girardi predicted that home plate decisions will cause more controversy than any other replay review, adding that it's hard for players to change years of behavior.
"It's instincts, and you're asking guys to change their instincts and what is normal," Girardi said. "That's why I think it's going to be really difficult."
Pineda (0-1) made his first major league start in pinstripes since he was acquired in a January 2012 trade with Seattle. Pineda hurt his shoulder that spring and underwent season-ending surgery in May. He was activated off the disabled list in July 2013 and finished the season with Triple-A Scranton.
"I'm so excited today, my first game for the New York Yankees," Pineda said.
Starting for the first time since September 2011, Pineda gave up five hits in six innings, walked none and struck out five. The right-hander threw 83 pitches, 58 strikes, and retired 13 of the final 14 batters he faced.
"He was great," Girardi said. "His fastball was excellent, his slider was really good."
Dickey (1-1) allowed six runs and five hits in his season-opening start at Tampa Bay last Monday but was much sharper against New York. The 2012 NL Cy Young winner gave up five hits in 6 2-3 innings, walked one and struck out six.
"The knuckleball was electric and his command of it was really good," Thole said.
Aaron Loup got one out and Brett Cecil two before Sergio Santos worked the final 1 1-3 innings for his second save in as many chances.
---
---