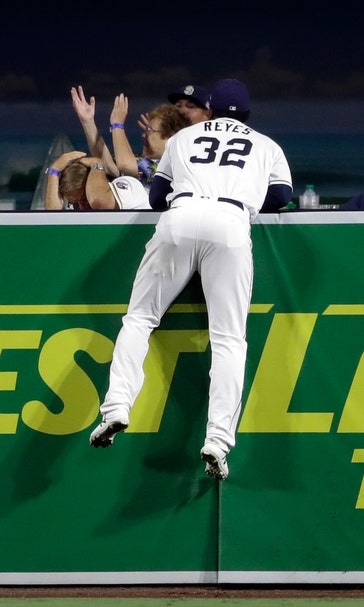 Crawford, Longoria homer to carry Giants over Padres 4-2
September 18, 2018
SAN DIEGO (AP) — The San Francisco Giants' rookies got the better of the San Diego Padres' youngsters in a matchup of NL West teams playing out the season.
While veterans Brandon Crawford and Evan Longoria homered off Bryan Mitchell in the Giants' 4-2 win Monday, three rookies had nice nights. Left-hander Andrew Suarez pitched into the eighth inning, Chris Shaw had his first three-hit game and Aramis Garcia added an RBI single.
"They did a great job, starting with Suarez," manager Bruce Bochy said.
Suarez (7-11) snapped a two-start skid by holding San Diego to two runs and four hits while striking out four and walking three in 7 2/3 innings.
"He had a good fastball going, good movement on it. Really all his pitches, very efficiently," Bochy said. "Shaw, nice game by him, big hit by Garcia. It was good to see those kids play well."
Suarez has gone at least six innings in five straight starts. He thought he had a good chance of finishing the eighth.
"My pitch count was low for being that deep in the game," he said. "I just think it's more my mechanics. I think I do a good routine in between starts to stay strong and ready for my start date."
Suarez looked disappointed when Bochy came out to pull him. Suarez said he thought he showed up his manager, so he apologized.
"He liked it that I was being competitive," Suarez said.
Will Smith pitched the ninth for his 13th save.
The rebuilding Padres dropped to 60-91 to match last year's loss total with 11 games to play. Ownership had expected the Padres to be better than the club that finished 71-91 last year, but San Diego has lost at least 91 games for the third straight season and the fourth time in eight years.
Mitchell (1-4) had pitched well in his two previous starts since his return from a long stay on the disabled list, but reverted to the early season form that got him demoted to the bullpen.
After scattering three singles through the first three scoreless innings, Mitchell allowed Crawford's homer to right-center leading off the fifth, his 13th. Shaw doubled with one out and scored on Garcia's two-out single.
With Gregor Blanco aboard on a leadoff single in the fifth, Longoria homered off the balcony on the third level of the Western Metal Supply Co. Building in the left-field corner, his 16th.
Mitchell allowed four runs and nine hits in five innings, struck out four and walked none.
"I don't want to sugarcoat it, but I've definitely thrown the ball worse and had better results," Mitchell said. "The balls and strikes were really good. I was attacking for the most part. If I execute maybe three or four pitches a little better, it's probably a different story."
Mitchell said Longoria "put a hell of a swing on that pitch. It was in and up out of the zone. I just think it was probably a little bit of a predictable pitch at that point. I maybe could've set it up a little better. He put a really good swing on it. You've got to live with that sometimes."
Said manager Andy Green: "It wasn't really a poorly executed pitch, Longoria just beat us to the spot."
Austin Hedges homered leading off the second for the Padres, his 14th. He started at catcher even though rookie Francisco Mejia, one of baseball's top catching prospects, hit a walkoff grand slam against Texas on Sunday.
BUMGARNER
Bochy said LHP Madison Bumgarner could pitch the opener of a three-game series against the Los Angeles Dodgers on Sept. 28 at San Francisco if the NL West race is still undecided.
UP NEXT
Giants: LHP Derek Holland (7-8, 3.46 ERA) is scheduled to start the middle game of the series Tuesday night. He's 1-1 with a 6.20 ERA in four career starts against San Diego, including 1-0 with a 4.91 ERA in three starts vs. the Padres this year.
Padres: Rookie LHP Joey Lucchesi (8-8, 3.67) will start against the Giants for the second time this season. He earned his second career win in his fourth start on April 15 vs. San Francisco.
---
---