Atlanta Braves
Atlanta Braves
Braves veteran Colon returns to face Angels (May 30, 2017)
Published
May. 30, 2017 2:39 a.m. ET

ANAHEIM, Calif. -- Even the most zealous Los Angeles Angels fan might pause a moment when asked if the name Bartolo Colon is familiar.
They should know, but it has been more than a decade since Colon won the American League Cy Young Award for the Angels in 2005, when he went 21-8 with a 3.48 ERA and led the team to the playoffs. They will reunite with him Tuesday night when he starts for the Atlanta Braves.
Colon, 44, is the oldest player in the major leagues in a career that has been nothing short of unusual. He broke into the major leagues in 1997 with the Cleveland Indians and has a career record of 235-167. He came to the Angels in 2004, going 18-12 on a team that won the AL West but was swept in the AL Division Series by the Boston Red Sox.
Colon's great 2005 season ended abruptly and stalled his career for five seasons. He strained his shoulder in Game 5 of the AL Division Series, which ended his season and turned out to be a torn rotator cuff. He struggled recovering, throwing less than 100 innings each of the next four years. In 2010, he sat out the season and underwent a stem cell treatment operation that revived his career.
He went 18-6 and led Oakland to the playoffs in 2013, then spent three seasons with the New York Mets, going 44-34, helping the Mets to the 2015 World Series and becoming a cult hero because of his age and stout figure. Most have forgiven or at least forgotten about his suspension for a positive testosterone test and the fact that his name was one of those linked to the Biogenesis scandal.
"We always knew Bartolo was a terrific athlete," said Angels manager Mike Scioscia, who was Colon's skipper for five seasons. "People shouldn't be fooled by his body. He's always been a hard worker.
"He's always had good command. He threw harder when he was younger, but he's added things as he's gotten older -- a great two-seam fastball, the ability to change speed. He doesn't throw 98 (mph) anymore, but he's still throwing effectively."
The Braves signed him to a one-year contract for 2017, looking for stability on a young team that is rebuilding while also thinking he could be trade bait for prospects if he succeeds. He is off to a slow start (2-5, 6.96 ERA) while being bothered by a recurring sore shoulder. But there are already reports that his former team, the Mets, may be interested in re-acquiring him because of his past success and the club's injuries to the rotation.
Colon has a career record of 12-7 and a 3.57 ERA in 24 career starts against the Angels, including four shutouts. He had four starts against them in 1998, the Indians winning three of them, and made his last appearance against them in 2014 with the Mets.
Colon was 17 when his Tuesday pitching opponent was born. The Angels recalled Parker Bridwell, 26, from Triple-A Salt Lake on Monday, and he will make his major league debut against Atlanta.
The Angels acquired Bridwell from the Baltimore Orioles in a cash transaction in April. He was 2-2 with a 1.26 ERA in seven minor league appearances for the Angels this season.
Bridwell will be the 22nd different pitcher to throw for the Angels in 2017, a number that does not include three pitchers who were expected to be a part of the staff this season before injuries cut them down -- Huston Street, Andrew Heaney and Nick Tropeano.
He will also be the 10th starting pitcher.
Despite the injuries and rotating names, the Angels have been very efficient on the mound. The starting pitchers have a 3.62 ERA since mid-April.
The bullpen has been assisted by a variety of young pitchers and players who began the 2017 as non-roster invitees to spring training. Jose Alvarez has made 26 appearances, second most in the American League. Mike Morin came off the disabled list Sunday, and Monday he struck out three of the four batters he faced.
"We've pitched great out of the bullpen, and that's despite not having had many days off in the first third of the season," Scioscia said. "I think we'll get Huston Street and Cam Bedrosian back sooner than later, too, which will only help our depth."
---
---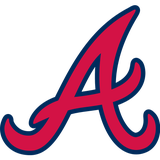 Get more from Atlanta Braves
Follow your favorites to get information about games, news and more
---