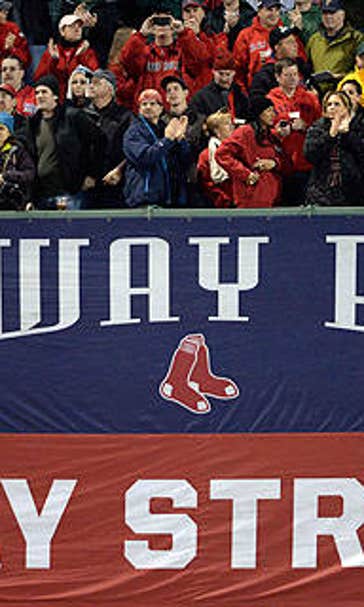 Boston Strong.
After the Boston Marathon bombings, it became a rallying cry for a city, and rallying point for a nation. And as the baseball season was in its opening games, it helped unite all of Red Sox Nation.
And more than six months after the terrorist attack and subsequent manhunt that briefly paralyzed Boston, the message was as loud and clear as ever on Wednesday night, as jubilant Red Sox fans converged on the marathon finish line on Boylston Street — the site of the attacks — to celebrate their team's World Series win over St. Louis, some even bending down to kiss the pavement.
The victorious night in Boston capped a couple of emotional periods for Red Sox Nation and the city as a whole.
While the terrorist attack is certainly the freshest memory, the Red Sox's win actually capped a 95-year era of futility. While this is the team's third championship in 10 seasons, the Red Sox had not clinched a World Series at home in Feway Park since beating the Chicago Cubs in 1918.
Understandaly, when the game was over, the trophy lifted on Wednesday night, much of Boston took to the streets, and to Twitter, to bask in their glory.
Boston Mayor Tom Menino, often ribbed for his habit of revieling his lack of Boston sports knowledge by spouting out interesting names with cameras rolling, got into the act. And at least he knows how sports teams in Boston celebrate.
And surely the Red Sox have bigger fans that the mayor.
"Words cannot describe how I feel," Red Sox fan Sam D'Arrigo told The Associated Press. "This is what being a Boston fan is all about."
But of course the win was also a tribute to the perserverance of the city of Boston.
"We needed this," Mark Porcaro of Boston told The Associate Press. "They were an easy team to get behind because they stood up for us when we needed them most."
A sentiment echoed by Bostonians and non-Bostonians alike.
H/t: NESN
---
---