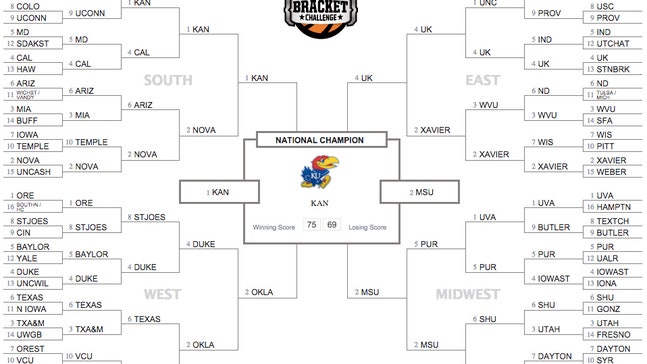 In a crazy season, my bracket includes the biggest upset of all
Published
Mar. 13, 2016 10:48 p.m. ET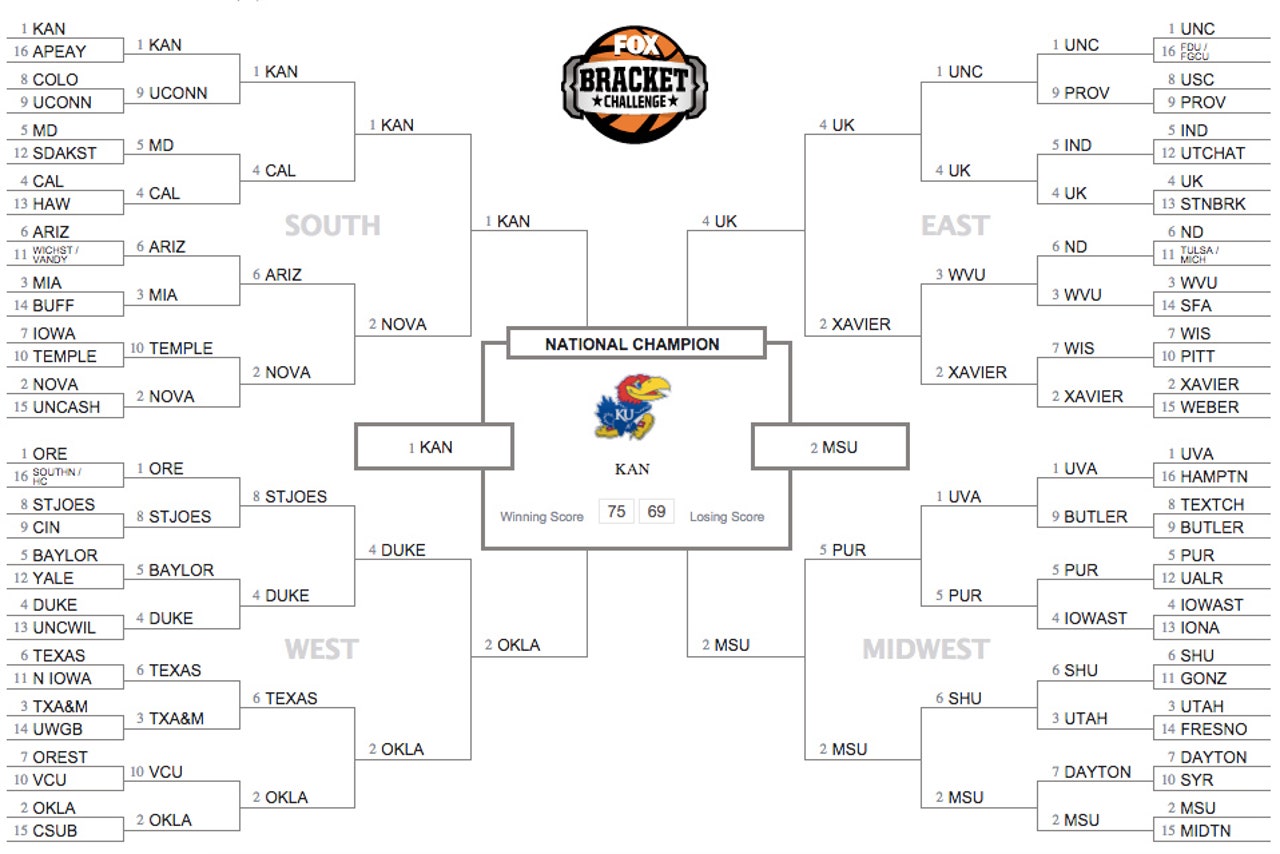 In a year filled with an inordinate number of upsets -- six teams ranked No. 1, the most times ever that unranked teams beat ranked teams, a Big Ten team getting its first conference win in mid-February over a Maryland team that many picked to win it all this year -- I filled out a bracket that has the biggest upset of them all.
No, I did not pick a 16-seed to beat a one-seed (though it certainly will happen at some point).
I picked chalk.
Wouldn't that be the most surprising outcome for this wild and unpredictable college basketball season – if the Year of Upsets is finally upset?
That's what I think will happen this year. The mid-major schools I thought would have a chance to make a nice run (Valparaiso, Monmouth, St. Mary's, St. Bonaventure) were all snubbed by the committee in favor of middling high-major schools (Vanderbilt, Syracuse, Michigan, Oregon State). That means the low seeds that are most primed to upset high seeds simply aren't as good this year as they typically are. Plus just about every regular-season winner in low- and mid-major conferences didn't win their league tournaments this year, so there are teams that weren't necessarily dominant in their league (looking at you, Holy Cross) playing in March.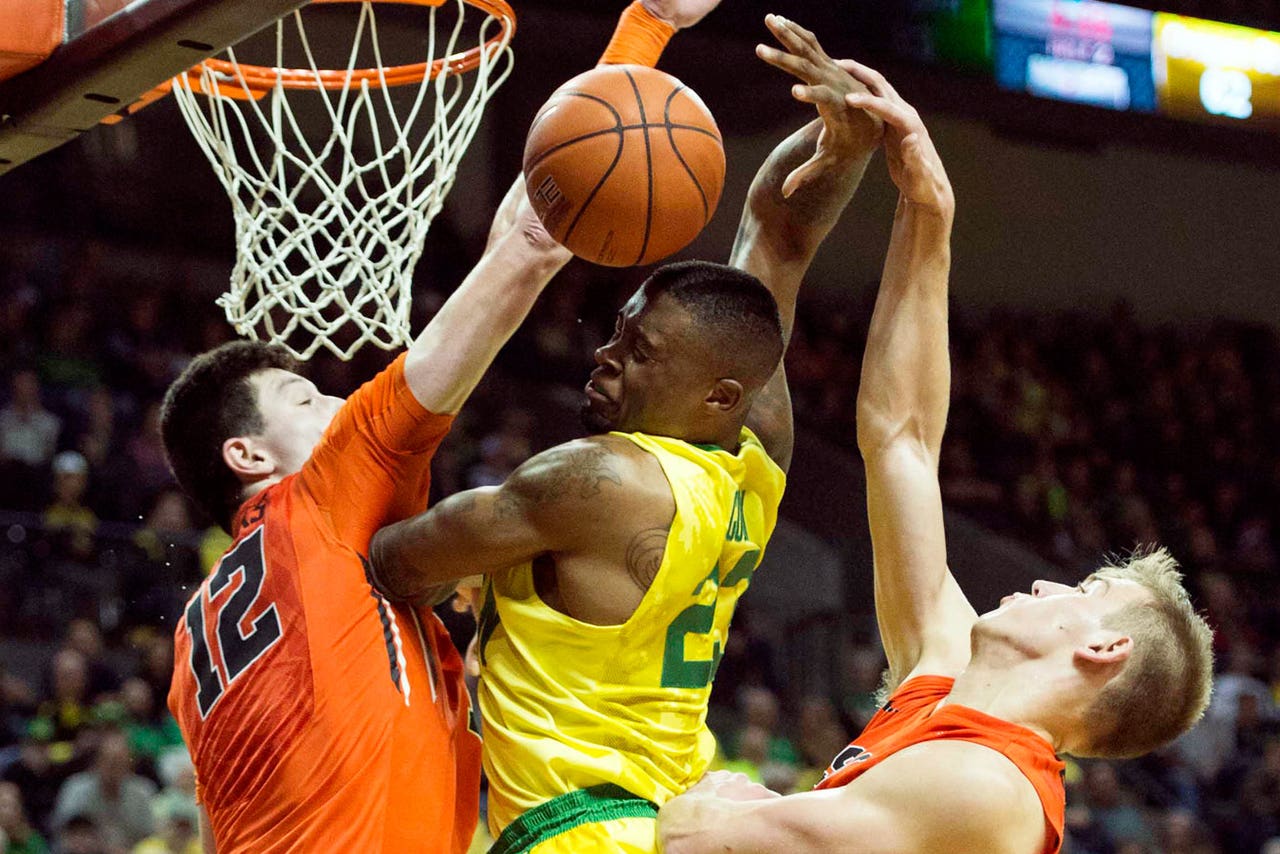 Will Elgin Cook and Oregon get stuffed early in the tourney?
So the biggest upset in my bracket? Well, I've got one-seed Oregon failing to make the Sweet 16 and losing to St. Joseph's. (I can sometimes be captive to the moment, by the way; my weekend was spent raving about St. Joe's at the Atlantic 10 tournament.) I have six-seed Seton Hall upsetting three-seed Utah on its way to the Sweet 16. And I have this little basketball school from a southern state that managed to attain a four-seed despite only three top-50 wins making it all the way to my Final Four.
Yes, one of the biggest upsets of my bracket is Kentucky.
Look: I almost certainly will be completely wrong. We all are proven horribly wrong every March. Just ask Warren Buffett. When I look at those dreaded 5-12 games, I think there's a pretty good chance we could have two or even three 12-seeds win.
When I look at four-seed Iowa State's first-round matchup with Iona, I see a potential upset. When I look at this intriguing matchup between four-seed Duke and 13-seed UNC-Wilmington, I think people in Durham should be a little nervous. Same with Kentucky's first-round matchup with 13-seed Stony Brook.
But when I ultimately look at this year's bracket, I'm going with the biggest upset of all: no big upsets. At all.
Follow Reid Forgrave on Twitter @reidforgrave or email him at ReidForgrave@gmail.com.
---
---