WVU Football: 4 Things 'Eer Fans Should Be Thankful For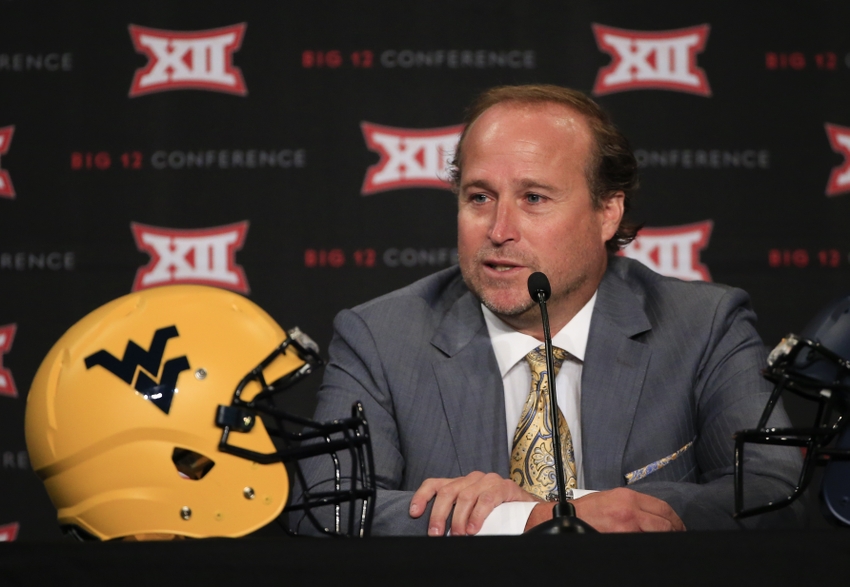 Mashed potatoes with gravy, stuffed turkey, maybe definitely some pumpkin pie (whipped cream optional) – oh, and seeing family; that's what we're thankful for most on Thanksgiving, right? This annual get together might be a little awkward this year for any number of reasons, but we'll do our best to help get you through it!
While some are thankful for Black Friday shopping deals or getting a break from school, Dana Holgorsen's Mountaineers are just happy to be where they are. They're 5-2 in the Big 12 after losing to Oklahoma, but still have a lot to fight for. With remaining games at Iowa State and home versus Baylor, the Mountaineers (8-2) can still reach double-digit win totals for the season. Without looking too far ahead, let' s look at what the team – and Mountaineer Nation – should be thankful for.
Like most of those who'll be rushing their kitchen like a buffet come Thursday, the Mountaineers offensive line will look to continue pushing their opponent around like an older brother snagging the last biscuit at dinner.
West Virginia has the 45th-best rushing attack in the country (out of 128 teams). Tyler Orlosky centers an experienced unit up front, with fellow seniors Adam Pankey and Tony Matteo being his left tackle and guard. Junior Kyle Bosch and redshirt freshman Colten McKivitz flank his right side as the guard and tackle. This group has opened up holes for every runner that's stepped foot in Holgorsen's backfield this season, totaling over 2,000 rushing yards.
Both running backs Justin Crawford and Rushel Shell have rushed for over 500 yards in 2016. While Crawford has more yards (930 to Shell's 505), Shell has scored one more touchdown than Crawford's four. Against Oklahoma Crawford piled up 331 yards, but fumbled twice inside the redzone. Even quarterback Skyler Howard and true freshman running back Kennedy McKoy have been in on the action, combining for 790 yards and ten scores on the ground. Holgorsen has a history of being a pass-heavy team, but with an offensive line that can eat up defenders like this year's group, it'd just be wrong to not run the ball.
Everybody brings something to Thanksgiving dinner – whether it's your grandma's famous noodles, your mom's stuffing or simply the presence of someone who's moved away. The same goes for all of the gadgets Holgorsen has to work with on offense; they're all unique and appreciated in their own way.
Wide receivers Daikiel Shorts, Jr. and Shelton Gibson have over 700 receiving yards apiece. Shorts, Jr. leads the team in catches (53) while Gibson ranks third with 37. Shorts, Jr. is the possession receiver, Howard's most-targeted receiver, while Gibson is a threat to go deep every play. Ka'Raun White has emerged as of late, and is second on the team with 46 catches. He also has 546 yards and four touchdowns. Sophomore Jovon Durant has 31 catches for 311 yards and two touchdowns, while also garnering a few touches in the run game.
We mentioned the stats of the running backs on the previous slide, but it's worth noting their  expectations coming into the season.
Senior Rushel Shell was expected to have an increased workload after Wendell Smallwood departed early for the NFL, but JUCO transfer Justin Crawford quickly filled in. Even when they were hampered with injuries, freshman Kennedy McKoy stepped up in their absence.
With all these receivers and running backs at Dana Holgorsen's disposal, it's imperative he doesn't get stuck play-calling for one player. He always talks about "riding the back with the hot hand," which he did against Oklahoma with Crawford, out of both gameplan and necessity; McKoy went down with an injury early, and Shell still wasn't able to go. But it's nice to have options when opposing defenses' take away your go-to player, and WVU can attack just about anywhere.
Tony Gibson's moniker, "Defense Always Wins Games," or DAWGS, is proving itself true week-after-week for the Mountaineers. His 3-3-5 Stack is something many coaches only dream about running.
In most defenses, four down-linemen are used, which frees up the linebackers – most teams' leading tacklers. With Gibson's three down-linemen front, safeties are expected to attack the box and help with this task of tackling. Senior linebacker Justin Arndt leads the team with 63 tackles, 44 of which are solo, while Al-Rasheed Benton comes in at second on the team with 60 overall tackles and 39 solo. Safeties Kyzir White, Jarrod Harper and Jeremy Tyler rank in the top seven of the defense in tackles as well.
Creating turnovers is an aspect of football that directly affects the outcome of games. Prior to the Oklahoma loss, the 'Eers were breaking even in the turnover game, meaning they caused just as many as they've committed. Don't expect WVU to be down for too long, as they travel to Ioaw State next weekend to face the Cyclones. This defense will get back on track, moving the Mountaineers in the right direction come bowl season.
The Big 12 is the only current Power 5 conference without a championship game. That means every team in the SEC, PAC 12, BIG 10 and ACC have an opportunity at playing a 13th game, one more than WVU or any other Big 12 team can play. This extra game, often referred to as the "13th data point,"  hurts the Big 12 when being compared to those other conferences.
In 2017, though, all Power 5 Conference's will be on a level playing field.
If there were a conference championship game this season, Oklahoma and Oklahoma State would faceoff against each other. These two teams are scheduled to play their regular season game on Dec. 3, but with a championship game, would play again the following weekend in a rematch for the conference championship.
Seems a little weird, as it's hard to beat the same team twice in a single season, but it's the only way things will work for the Big 12 as it currently stands at 10 teams.
This will help the Big 12 moving forward, which in turn will benefit West Virginia. As the College Football Playoff committee values a "Conference Champion," having that option starting next season should make all Big 12 fans thankful.
More from Hail WV
This article originally appeared on