Wisconsin Football: Badgers stay alive in Big Ten West race, defeat Iowa 17-9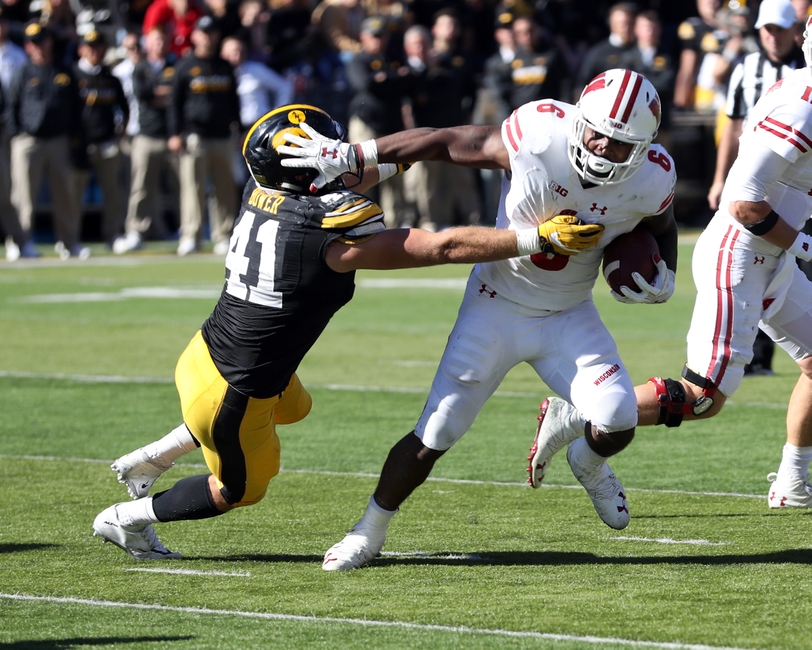 The Wisconsin Badgers stayed relevant in the Big Ten West race and kept their conference championship and College Football Playoff hopes alive on Saturday, defeating division rival Iowa Hawkeyes 17-9 in front of a sold out crowd at Kinnick Stadium.
A strong-nosed defensive struggle was expected between these two teams, and that is exactly what we got to start the game, at least on the scoreboard. Despite racking up over 200 total yards of offense in the first half, the Badgers mustered just seven points and held onto a one point lead heading into halftime.
Missed opportunities highlighted the Badgers' first half as points left off the board helped Iowa stay in the game after two missed field goals and a Corey Clement goal line fumble. It was the second consecutive season the Badgers suffered a fumble at the goal line against the Hawkeyes.
The second half picked up right were the first ended, with both teams struggling to score and each defense holding its own. Still leading 7-6 halfway through the third quarter, a 57-yard pass from Badgers freshman quarterback Alex Hornibrook to freshman wide receiver Quintez Cephus brought them within the Iowa five yard line. Cephus' second catch of the season turned out to be a big one, as running back Corey Clement brought the ball into the end zone three plays later, putting the Badgers up 14-6.
"Some of those same guys came up big in the second half," Badgers head coach Paul Chryst said. "We talked about that at halftime. What happened in the first half can't affect them and doesn't matter how you approach and play the second half."
The game's scoring went on a bit of a hiatus until late in the fourth quarter when Wisconsin kicker Andrew Endicott finally connected on one of his three kicks pushing the lead to 17-6 with just over a minute to play.
Appearing to be all but over, the 2015 Jim Thorpe Award Winner Desmond King took the ensuing Badgers kickoff 77 yards, giving the Hawkeyes a glimpse of hope. After another Badgers defensive stand, the Hawkeyes were forced to kick a field goal to bring them within one possession and put their fate into the hands of the kick team. Their hopes were soon diminished as their onside kick attempt flew out of bounds, giving the Badgers the ball and the win.
With the win, Wisconsin was able to avenge a 10-6 home loss from a year ago and regain the coveted Heartland Trophy, pushing the overall series lead to 45-43-2 in favor of the Badgers. The victory also keeps the Badgers' Big Ten West division title dreams alive, remaining two games behind the leading team Nebraska Cornhuskers in the loss column. The Badgers and Cornhuskers will play next Saturday in Madison under the lights in a top ten showdown.
Updated Big Ten West Standings
Nebraska Cornhuskers (4-0)
Northwestern Wildcats (3-1)
Iowa Hawkeyes (3-2)
Wisconsin Badgers (2-2)
Minnesota Golden Gophers (2-2)
Purdue Boilermakers (1-3)
Illinois Fighting Illini (1-3)
More from Badger of Honor
This article originally appeared on