What Happens Now With LSU Running Back Derrius Guice?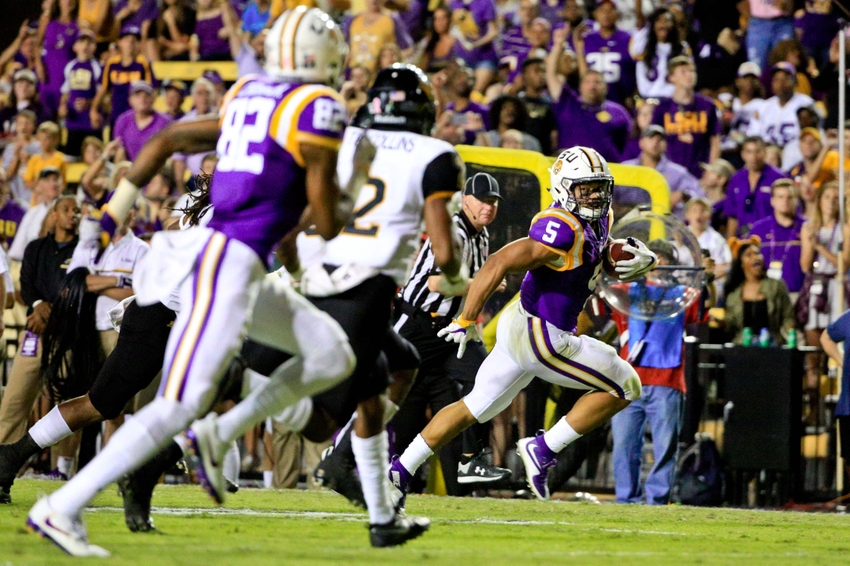 With star running back Leonard Fournette returning to the field this week against Ole Miss, the LSU Tigers get back some much needed star power. This is a huge game for Ed Orgeron's team, and having their best player healthy and ready to go will hopefully go a long way in getting a win on Saturday.
Fournette is unquestionably the best back in all of college football. His size, speed, agility, and strength make him as close to unstoppable as one can be. The Tigers have struggled at times this season as he battled an ankle injury, but in recent weeks that has become less of an issue thanks to the emergence of Derrius Guice.
Guice is a sophomore running back out of Baton Rouge. After Les Miles was fired and Ed Orgeron took over as LSU's head coach, the team made a point to get him more involved in the offense with Fournette out.
His first real opportunity as the Tigers workhorse back came in Orgeron's first game as LSU welcomed Missouri to Death Valley. Guice did not disappoint, rushing for over 160 yards and scoring three touchdowns. He absolutely dominated a quality SEC front seven, showing us that this team can still win games without number seven.
In this past Saturday's game against the Southern Miss Golden Eagles, Guice did not get off to nearly as hot of a start as he did against Missouri. The coaches did a poor job of putting the ball in his hands on a consistent basis, and the entire offense struggled throughout the first half.
But as the team emerged from the locker room to begin the second half of play, everything started to click. LSU received the opening kickoff to start the third quarter and before you knew it Derrius Guice had broken away for a long touchdown run. After a quick Southern Miss fumble, he was in for six again. He continued to run well for the rest of the half, once again showing the potential to be one of the best backs in the conference.
So, the question needs to be asked: What will the LSU Tigers do with Derrius Guice now that Leonard Fournette is back on the field?
Obviously, you aren't going to put Fournette on the sideline and continue to ride with Guice as your premiere running back. That just does not make any sense. But I think the notion of putting Leonard in full-go and reverting to the way carriers were split before the injury would also be an unwise decision.
If I were making the call, I would split the carries somewhere around 65-35. You want Fournette to touch the ball as much as possible, but with the way Derrius Guice has been running as of late, you have to get the ball in his hands a good number of times. That combined with Fournette's injury history and importance to this team down the stretch, and I think giving Guice a few of his carries is a good idea, at least for the first couple of weeks.
LSU will need Leonard Fournette healthy when they play teams like Alabama and Texas A&M, so if there is anyway to limit his carries just a bit, I think you have to do it. The drop-off from Fournette to Guice is not huge, so give the kid a few extra carries, and allow him to continue to make plays while preserving Fournette at the same time.
Want your voice heard? Join the team!
More from Death Valley Voice
This article originally appeared on