USC vs Washington 2016: Previewing the Huskies Offense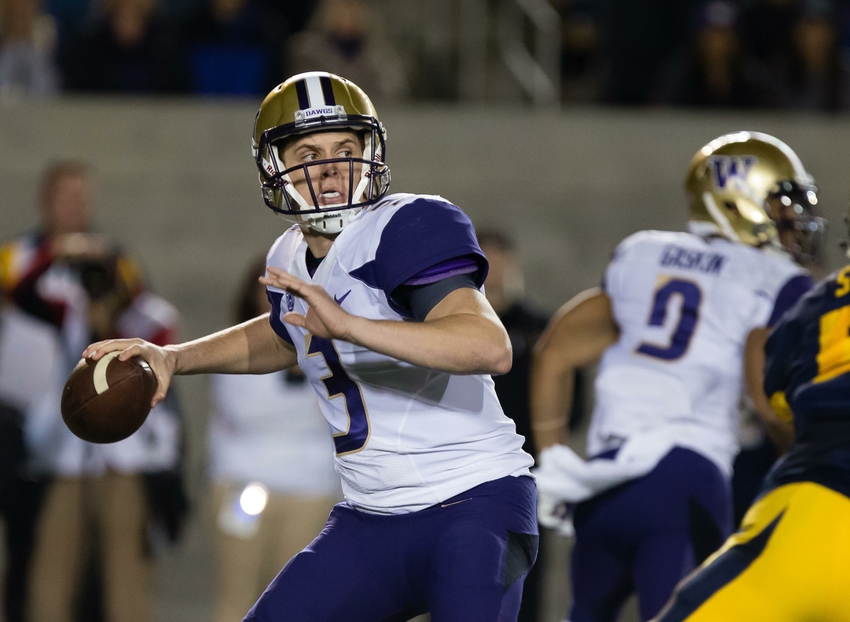 USC vs Washington will be battle for the Trojan defense to contain one of the top offenses in the nation, with playmakers all over the field for the Huskies.
The Washington Huskies, sitting atop the Pac-12's North Division with an unbeaten 9-0 record on the season will look to defend their No. 4 ranking in the latest College Football Playoff poll in a game against the 6-3 USC Trojans on Saturday in Seattle.
Head coach Chris Petersen's Husky offense is led by sophomore quarterback Jake Browning, a highly-sought after four-star recruit and graduate of Folsom High School in Northern California.
Browning has built upon the success he enjoyed during his freshman year, a season in which he threw for 16 touchdowns and nearly 3,000 passing yards, with an equally stellar sophomore campaign.
So far in 2016, Jake has completed 149 of his 220 pass attempts for 2,273 yards and a school-record 34 passing touchdowns while boasting a jaw-dropping 202.8 quarterback rating.
Browning's impressive play has earned him a spot among the semifinalists for the Maxwell Award, a recognition given annually to the nation's best college football player.
The 6-foot-2, 209-pound sophomore also finds himself among the semifinalists for the Davey O'Brien National Quarterback Award, joining USC's Sam Darnold on that list.
Browning is a talented player who makes quick decisions and shows some ability to move out of the pocket and find the endzone with the ball in his hand. In addition to his 34 passing touchdowns, Browning has recorded 77 rushing yards and four scores on 41 carries.
Up front, Washington counts on a veteran offensive line to protect their quarterback and set the tone in the trenches. Senior guards Jake Eldrenkamp and Shane Brostek along with junior center Shelton Coleman lead the Huskies' line. For his play over the last two seasons, Coleman, a Pasadena native, was named to the Rimington Trophy watch list. Sophomore Tackles Trey Adawms and Kaleb McGary round out the unit.
Sophomore running back Miles Gaskin has relied heavily on his veteran offensive line and is well on his way to another 1,000 yard rushing season in 2016. On the season, Gaskin is averaging 6.3 yards on 151 carries and has recorded 8 rushing touchdowns.
The Lynwood, Washington product is also a threat to catch the ball out of the backfield and will require attention from the USC linebacking corps even when Washington drops back to pass. Over his first nine games, Gaskin has caught ten passes for 45 yards and one receiving touchdown.
Junior Lavon Coleman and sophomore Jomon Dotson will spell Gaskin on occasion. So far this season, Coleman has accounted for 600 rushing yards and has found the endzone three times on the ground, while his teammate Dotson has added 255 yards and score on 55 carries in 2016.
---
Having trouble? Listen on Soundcloud, iTunes, Google Play or Stitcher.
---
These numbers certainly allude to the fact that Petersen wants his team to set the tone with its run game, and Trojan fans can expect Washington to test out USC's thin defensive line this weekend in Seattle. Containing Gaskin and limiting big running plays will be key for defnesive coordinator Clancy Pendergast's unit on Saturday.
As one would expect from a highly-ranked and undefeated team, Washington's receivers present another difficult challenge for opposing defenses. The Huskies sport a deep receiving corps. Four Washington receivers, John Ross, Dante Pettis, Chico McClatcher, and Aaron Fuller, as well as tight End Darrell Daniels, have caught at least ten passes this year and each maintains an average of better than ten yards per catch heading into Saturday's game.
Juniors Ross and Pettis are the leaders here for the Huskies, having combined for 25 of Washington's 38 receiving touchdowns on the year. In last week's 66-27 win at California, Pettis added a 39-yard passing touchdown for the Huskies, the first of his career. Both Ross and Pettis were recruited to Washington out of Southern California and the pair will be looking to make a splash in their second meeting against the Trojans.
Washington is a well-coached football team and very easily may sport the most talented roster USC has faced all season. The Huskies are fast, disciplined, and hungry for respect having been slighted in the College Football Playoff Committee's first ranking back on November 1.
The Trojan defense will have to match the Huskies with a disciplined game, eliminating penalties and big plays by their opponents. USC must stop the Huskies run game and will rely on outside linebackers Porter Gustin and Uchenna Nwosu to pressure Browning.
The wet Seattle weather and Husky Stadium crowd will also factor against the visitors this weekend, but if the Trojans can find a way to mitigate these factors USC has the talent to stay with Washington in a close game that will come down to the 4th Quarter.
This article originally appeared on