UCLA Football Position Group Analysis – Running Backs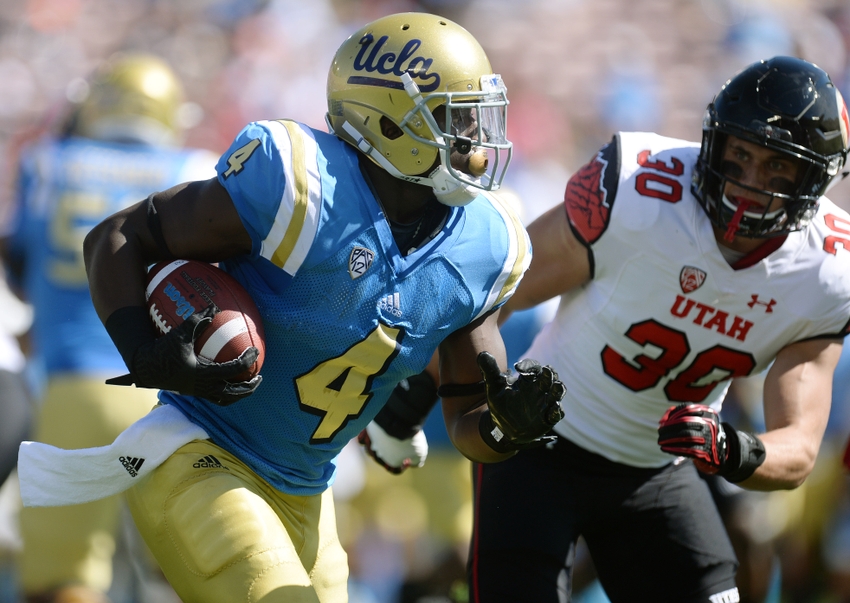 Go Joe Bruin continues the position-by-position look at the UCLA Football team post-2016 as we examine the running backs heading into 2017.
The UCLA Football team needs a complete overhaul on offense after the failed power football experiment of 2016.
RELATED STORY: UCLA Football Position Group Analysis – Quarterbacks
The biggest issue that needs to be addressed has to do with the running game.
The State of the Running Backs
The state of the running backs is not good. Last season the Bruins were last in the Pac-12 in rushing offense and fourth to last in the FBS. Only being able to run for &4.2 yards per game not only slowed the offense to a crawl, but it at times had them going backwards.
Sure the offensive line didn't help, but neither did Offensive Coordinator Kennedy Polamalu who was UCLA's 2015 running back coach. As the OC, whose specialty is the run game, he was not able to get things going, so changes were made as Polamalu has been fired.
So whoever is the new OC is has a lot of things to figure out. Scheme, formations and, what was a bit of a farce last season, trying to figure out how to get a proper rotation of five running backs.
2016 Stats
Soso Jamabo: 82 attempts, 321 yds, 3.9 yards per carry, 29.1 ypg, 3 TD
Nate Starks: 85 att, 281 yds, 3.3 ypc, 28.1 ypg, 1 TD
Bolu Olorunfunmi: 71 att, 280 yds, 3.9 ypc, 25.5 ypg, 4 TD
Brandon Stephens: 19 att, 95 yds, 5.0 ypc, 11.9 ypg, 0 TD
Jalen Starks: 26 att, 77 yds, 3.0 ypc, 15.4 ypg, 2 TD
Key Losses
N/A
2017 Recruits
No commits for 2017
Potential 2017 Depth Chart
T-1. Bolu Olorunfunmi, Jr., T-1. Soso Jamabo, Jr., T-1. Nate Starks, Jr., 4. Jalen Starks, So., Brandon Stephens, So.
What's Working
There was not a whole lot that was working for UCLA's run game, but there were a few bright spots. Olorunrunmi was one of the more consistent backs that UCLA had. The only problem is they tried to cycle everyone in and Bolu (as did most of the backs) never got a chance to flourish.
Another plus was the two true freshmen who made an impact whenever they entered the game. Stephens and Starks have no doubt brought depth to the offense as UCLA has the cupboard stocked with talent for the next three years.
Soso Jamabo and Nate Starks also had flashes of greatness, but as stated before, they could not build off of it. This past season, because of the way the run was handled, not one back stood out from the rest.
What Needs To Improve
Dear Lord, everything needs to improve.  After the Bruins get a new OC, they have to tailor the run game to the new coach's specific style.
Now whether they try to keep the power elements or commit to the spread is yet to be seen, so it is a good thing the Bruins have several backs who can do different things in different situations.
The problem with that is roster management. Last season the running backs were misused at different times, stunting the progress of the run game in several contests.
On top of that, UCLA has to get a proper rotation going. Cycling five players into a game just to give each of them carries is not going to help for several reasons. First off, there's no consistnecy which kills momentum. It seems that as soon as a back gets hot, they are immediately pulled for someone else, which basically has UCLA shooting themselves in the foot.
Second, there is a log jam at running back. My biggest fear is that one or two RBs could decide to transfer because of all the competition and the lack of playing time.
Either way, UCLA needs to start from the ground up in rebuilding their run game if they expect it to be a driving force for their offense next season.  If not, then it is going to be another long, slow year of UCLA Football.
This article originally appeared on