Tuesday's Thoughts: Why Dalvin Cook Is The Best Back in FSU History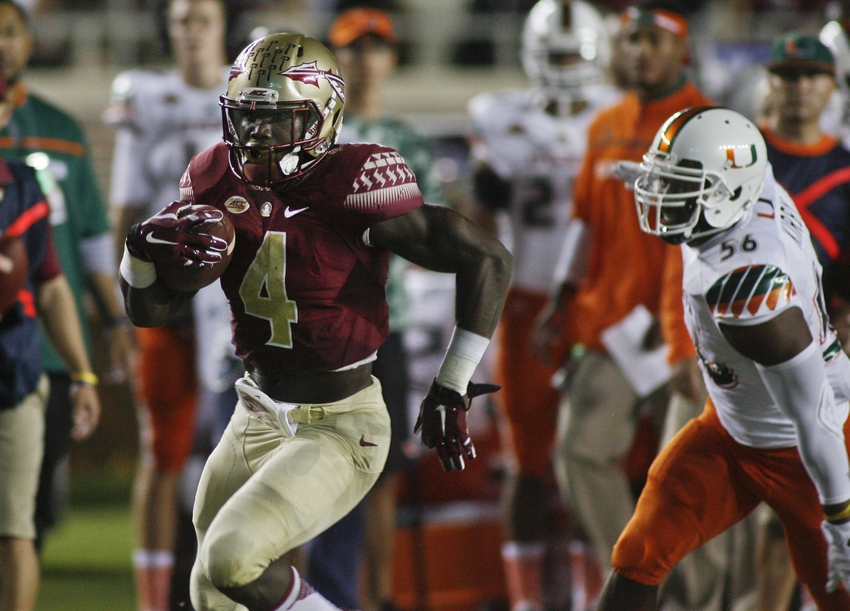 After Dalvin Cook set the all-time rushing record for FSU football last weekend, it's time to answer the question about where he stands as the best ever.
On a November Saturday inside a domed stadium in the western part of New York, a 21-year-old from the inner city of Miami, Florida made history of the college he plays football for. With a 41 yard run on FSU's second drive against Syracuse, Dalvin Cook cemented his name in the history books – and firmly started the discussion about his place in history.
Cook needed just 19 yards against the Orange to become the school's all-time leading rusher – he ended up with 225 and four touchdowns. Now, Dalvin Cook holds the single season record (1,691 yards last year) and the career mark (4,166 and counting) while tying the record for career touchdowns (44).
In his nearly three seasons in Tallahassee, Cook has started just 27 games over that span (having played in 35 of the team's 38 total games since arriving on campus). Simple math has Cook averaging 119 yards in each game he has played. Let that sink in for a moment – he's AVERAGING over 100 yards each game!
There will be the skeptics who say that he is getting big numbers against bad teams. One look at the stats show how incorrect that assessment is.
Here's who Cook did in his four games against the Top 30 rush defenses during the 2014 season – averaging 125 yards and one touchdown each time:
at Louisville (2nd ranked defense): 110 yards and two touchdowns

vs. Florida (8th): 144 yards

at Syracuse (30th): 122 yards and one touchdown
In 2015, here's how Cook did in his eight games against teams ranked in the top 40 defenses nationally – averaging 147 yards and 1.5 touchdowns each game:
at Boston College (2nd): 54 yards

vs. Louisville (11th): 163 yards and two touchdowns

vs. Houston (19th): 33 yards and one touchdown

at Florida (22nd): 183 yards and two touchdowns

at Clemson (32nd): 194 yards and one touchdown

vs. USF (33rd): 266 yards and three touchdowns

vs. N.C. State (39th): 138 yards and two touchdowns
Finally, here's Cook's numbers against the top 40 defenses he has played in 2016 – averaging over 109 yards and one touchdown each time:
at Louisville (6th): 54 yards

at N.C. State (8th): 65 yards and one touchdown

vs. Boston College (9th): 108 yards and one touchdown

vs. Clemson (24th): 169 yards and four touchdowns

at Miami (39th): 150 yards
Even with teams zoning in on Cook more this season after a record breaking 2015 season, Cook is still just 225 yards from breaking his one single season record. After going for 183 yards last year against the Gators, it's not impossible to think that he can get that record breaking number with ease over the next two contests and completely own the history books at the running back spot.
FSU Football: Best Photos From 'Noles Win Over Syracuse
There is going to be some pushback from those who see a name like Warrick Dunn, who Cook eclipsed for the career total last game, and can't fathom any one being better than him. Although there have been some great backs (such as Greg Allen, Dexter Carter, William Floyd, Travis Minor, Leon Washington and more recently Devonta Freeman), there really are only two in the running for "best ever".
As much as it may pain some people of my generation (many who still proudly own their No. 28 jerseys from the early 90's that don't fit anymore), Dalvin Cook is the best running to ever play for Florida State. He shattered Dunn's record in nearly 70 percent of the time (35 games to 49 for Dunn) and still has two more to go to pad the stats.
It's sad to think that the one thing missing from his resume will be a national championship, especially considering the promise this team had entering the season. Something that would help make up for that would be a trip to New York and a shot at winning the Heisman Trophy (Dunn finished fifth in the 1996 voting).
While Dalvin Cook should be a Heisman finalist at the least, he will most likely be (unfairly) hurt by FSU's three losses this season. But even if he isn't the fourth person to win the award in FSU history, Cook will still remain the best running back to ever play for the 'Noles.
This article originally appeared on