Top 10 USC Football Players of 2016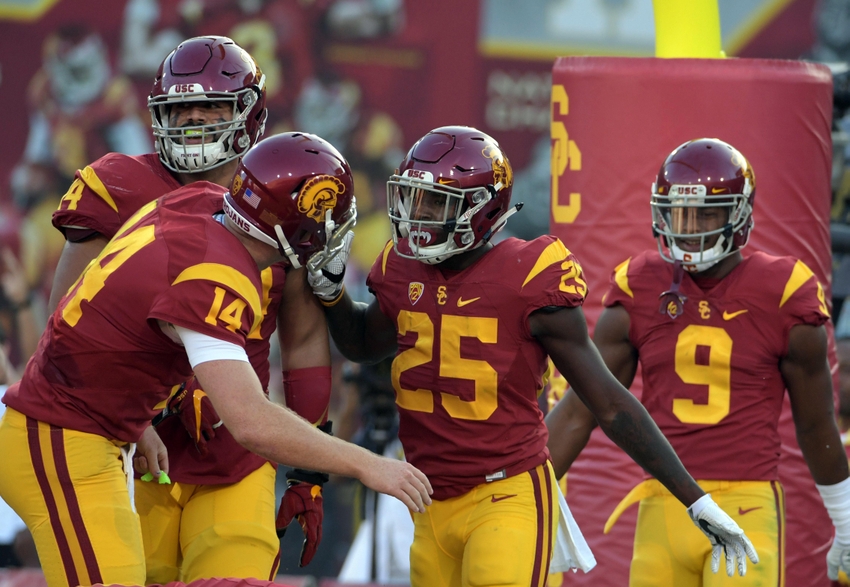 Despite a rough September, the 2016 USC football season was a great one, as the Trojans punched their ticket to the Rose Bowl. These are the top 10 players who got them there.
While the 2016 USC football season won't end with a national title, it was one of banner performances, highlight reel plays and unthinkable turnarounds, capped off with a remarkable run for the roses.
It took big-time players showing out in big moments, unheralded reserves blossoming into full-time stalwarts and inexperienced youngsters proving they belong on the field.
And while Reign of Troy's Top 10 list includes a variety of players from different positions, its their individual impacts and contributions that are linked together to help tell the story of a season to remember.
Before we run down the list, here's an honorable mention for each side of the ball…
Justin Davis (Offense): Through the first month and change, the senior running back from Stockton looked like a potential No. 1 player for the Trojans. He averaged a ridiculous 9.2 yards per carry in the three games leading into his high ankle sprain injury.
Leon McQuay III (Defense): The former five-star recruit capped off his career with a bang. He recorded 43 tackles, broke up four passes and registered an interception as USC's most senior defensive back.
Matt Boermeester (Special Teams): He wasn't an All-American knocking in 50-yarders on a consistent basis, but Boermeester was nails in his first full season as the Trojans' kicker. He made 15-of-20 on field goals and had a 51.9 percent touchback rate on kickoffs.
Now…let's get to the Top 10 USC football players of the season…
10. Rasheem Green
Considering the departure of five linemen from last year's defense, including all three starters, USC needed Rasheem Green to take a big step forward for his sophomore season.
It didn't happen overnight, but Green made those strides, becoming a pivotal piece in USC's defensive successes in 2016.
The sophomore was second among all Trojans with five sacks, and his disruptive nature didn't stop there. Green forced a fumble against Utah and blocked kicks in consecutive games against Washington and UCLA. He also batted down two passes at the line of scrimmage versus the playoff-bound Huskies.
Coming into his own, especially against the numerous spread teams USC faced this season, Green became a dominating figure when the Trojans needed him most.
And he did so without much room for error, considering the depth issues USC faced along the front line all season.
9. Uchenna Nwosu
Two years ago, Uchenna Nwosu was sent home before USC's Holiday Bowl tilt with Nebraska, then subsequently enrolled at a junior college for the spring semester. To say his future as a Trojan was in peril is to put it simply.
Now, the safety-turned-linebacker-turned-end is one of the team's most influential players following a breakout junior season in Clancy Pendergast's 5-2 defense.
Nwosu was a havoc specialist on the edge, with five pass breakups, two hurries and a force fumbled alongside 7.5 tackles for loss, three of which were sacks.
In USC's pivotal 21-17 win over Colorado –the game that ultimately sent them to the Rose Bowl– he recorded a career high 10 total tackles, while batting a pair of Steven Montez passes down at the line of scrimmage, and registering a sack.
Yet aside from the impressive numbers, it's the ability to come in quickly and be such an impact player that underlines Nwosu's season in 2016. The Trojans were replacing their entire defensive line, along with Su'a Cravens.
Someone needed to find a role in Pendergast's defense that didn't previously exist, and it was Nwosu who not only became that man, but excelled to help carry a defense that ignited USC's eight-game winning streak to close the season.
8. Darreus Rogers
Senior wide receivers haven't fared well in recent USC history. Coming into the season, only two –Brandon Carswell and De'Von Flournoy– had registered catches since 2011, neither with more than 18.
Darreus Rogers changed the narrative in 2016, becoming a key weapon in USC's mostly three-headed receiving corps alongside JuJu Smith-Schuster and Deontay Burnett. He set career highs with 51 catches and 654 yards.
But aside from just being productive, he was an integral asset to the Trojans' offense as a third-down maestro, with a penchant for series-extending and game-changing highlight reel catches.
Against Colorado, it was his interception-saving swipe of Ahkello Witherspoon that turned the tide and propelled USC on their game-winning drive. Against Washington, it was both his touchdown catch in the back of the end zone to once again bail out Sam Darnold, and his pair of third down hauls to keep drives alive.
All 10 of his third down receptions in 2016 converted first downs, and his presence as a reliable go-to receiver for Darnold eased pressure off of Smith-Schuster, who was routinely draped with double and triple teams.
It might be safe to say Darreus Rogers had the best senior season of a USC wide receiver since Steve Smith's All-American campaign in 2006.
7. Porter Gustin
Porter Gustin's sophomore season started brightly, with 3.5 tackles for loss in USC's first two games, but a tailing off for the outside linebacker led to some question marks.
Gustin himself admitted that something changed for the team at large and him specifically after USC fell to 1-3. He committed himself to playing at a higher level and it paid off.
Coming off the edge, Gustin led the Trojans with 12 tackles for loss and 5.5 sacks, including a monstrous performance against Washington.
As USC sought an upset over the Huskies to validate their progress, Gustin helped lead the charge. He made Jake Browning's life a living hell, sacking the opposing quarterback twice while flustering him on a number of other occasions with pressure and a key pass break up.
That outing was the height of Gustin's career thus far and a well-worked payoff for the growth he showed from the start of the regular season to its end.
USC's aggressive defense would be a liability without effective pressure and containment on the outside, and that's exactly what Gustin provided for the Trojans in 2016.
6. Chad Wheeler
Both of USC's starting tackles earned All-Pac-12 first team recognition, but Chad Wheeler was the MVP of the offensive line in 2016.
It was notable the way USC's front suffered without him during the first two games of the season as he recovered from the plantar fasciitis which limited him for much of fall camp and kept him from starting the first two games of the season.
Back in the line up and back in the groove of things, Wheeler was the Trojans most consistent and dependable lineman.
The redshirt senior was a stalwart in pass protection on Sam Darnold's blindside. Though the quarterback's exceptional mobility certainly played a part in USC's lowest sack total since 2011, Wheeler was nearly flawless when it came to keeping his quarterback's jersey clean.
Wheeler was also a contributing factor as the Trojan rushing attack averaged more than 200 yards per game for the first time since 2005.
5. JuJu Smith-Schuster
Assessing JuJu Smith-Schuster's junior season is difficult and requires multiple lenses to look through. While he didn't live up to the Biletnikoff Award expectations or haul in 100 receptions, his role was more succinct yet perhaps more advantageous for the Trojans in 2016.
Unlike past years, Smith-Schuster wasn't the stereotypical No. 1 USC receiver that got an overwhelming amount of the passing targets. He saw 24 percent of targets as a junior, down from 30.8 a year ago.
A series of nagging injuries were the culprit for some of that, but the Trojans simply didn't need him to be boom or bust anymore. His immense talent was just as valuable drawing defenders and springing open holes for other playmakers, as it was with Cody Kessler force-feeding him.
The fewer targets created diversity in the passing game, which ultimately trickled back for his own benefit.
In a three-game stretch in early October, Smith-Schuster caught 21 passes for 368 yards and six touchdowns, his most consistent and productive stretch since the start of his sophomore season.
But it was his eight-catch, 76-yard night against UCLA that will be the most remembered, as he left the game multiple times with injuries, only to keep returning for highlight reel catches.
Smith-Shuster is now just 46 receptions and 696 yards short of school records.
4. Ronald Jones II
USC's season turned around when three different things started to click: Sam Darnold, the defense and the sudden resurgence of tailback Ronald Jones.
After a trying September that saw him rush for just 4.26 yards per carrry –just 2.86 yards per carry outside of a 46-yard jaunt vs. Alabama– Jones came to life when USC needed him the most. Justin Davis, who had a stellar start to the season, went down in Week 6 against Colorado with a high ankle sprain to cue the bat signal.
In the final five games following a mid-October bye week, Jones averaged 148.4 yards per game. That includes a two-week span against Cal and Oregon in which he rushed for 394 yards on just 38 carries, with five touchdowns.
He was the sling-shotting speedster everyone expected him to be after a promising freshman season,. It forced defenses to account for him, in addition to a receiving corps featuring the likes of JuJu Smith-Schuster.
Since 2005, only Buck Allen has rushed for more than Jones' 1,027 yards in a season, and his 6.50 career yards per carry average trails only Reggie Bush among all-time Trojan rushers with at least 300 career carries.
3. Stevie Tu'ikolovatu
When USC dipped into the graduate transfer market to pick up Stevie Tu'ikolovatu from Utah, they badly need depth on the defensive line.
After Noah Jefferson went down in Week 1, they badly needed Tu'ikolovatu to be a home run acquisition. He was.
While he didn't register an ungodly amount of havoc plays, or lead the team in any statistical category, he was what the Trojans lacked. A big-bodied and experienced nose guard to clog running lanes, absorb blockers and create space for young playmakers like Uchenna Nwosu, Rasheem Green and Porter Gustin.
Pro Football Focus lauded his play throughout the season. "Tu'ikolovatu was an unmitigated success, earning an 88.6 run defense grade and accounting for 30 defensive stops without a single missed tackle," Kevin Connaghan wrote after the regular season.
You could argue he was the No. 1 reason the Trojans held Oregon and Washington to their lowest rushing totals in three years –just 85 and 17 yards respectively– on back to back weeks in November.
The only downside? USC now has to somehow fill the massive void he'll leave following the Rose Bowl. Tu'ikolovatu set the bar extremely high, with just about a perfect season in Clancy Pendergast's defense.
2. Sam Darnold
Looking back at the 2016 season, there was an undeniable shift between two eras — Before Darnold and After Darnold.
When Kirk Herbstriet and Colin Cowherd talked to national television and radio audiences about a USC team that would have even playoff teams shaking in their boots, they were talking about Darnold's Trojans.
That's the effect that the redshirt freshman quarterback had on USC's trajectory this year, from a downward spiral to the heights of a potential Top 10 finish.
The numbers say a lot. Darnold threw for 2,633 yards and 26 touchdowns, completing 68.1 percent of his passes. His passer rating ranked 10th nationally, first among freshman.
Of course, what Darnold did for the Trojans in 2016 went well beyond numbers. The redshirt freshman's calm confidence and athleticism was exactly what USC's offense needed to thrive.
When there were issues with inconsistent protection from the offensive front, Darnold scurried away from pressure to extend plays with his legs. His fast release and bullet delivery made quick passes to the sidelines more effective. And he opened an entirely new dimension to the offense with his willingness to target tight ends over the middle of the field.
There were growing pains to be sure — mostly to do with ball security — but Darnold's outstanding play helped turn a nightmare season into a dream Rose Bowl berth.
1. Adoree' Jackson
Debate could be had about whether Adoree' Jackson or Sam Darnold deserve the top spot among Trojans in 2016. But the former gets the nod because he was USC's top performer, literally from start to finish.
Jackson was one of the few who had reason to come out of the Trojans' embarrassing loss to Alabama with his head held high. He held Calvin Ridley to nine yards, twice prevented long touchdown runs and returned kickoffs for 40 and 32 yards.
His quality was undeniable from the beginning, and he lived up to the hype which followed him into the season. More importantly, he contributed in every facet of the game on almost weekly basis.
Jackson amassed 51 tackles and 11 pass breakups en route to the Thorpe Award and All-American honors at cornerback. He averaged 16.8 yards per touch on offense.
He set USC's offense up with good field position regularly. Jackson return two kicks and two punts for touchdowns, averaging 30.5 and 15.8 yards on kicks and punts, respectively.
Critically, his contributions weren't stockpiled against weaker opposition either.
TRENDING: 10 Best Plays of USC's 2016 Season
His four interceptions came against ranked opposition — Stanford, Colorado and Washington. He returned a kickoff against Utah and single-handedly staved off a Notre Dame upset attempt with three touchdowns.
USC has had a number of players enter their junior campaign with high expectations over recent years. Few have delivered the way Jackson did for the Trojans in 2016.
This article originally appeared on