Sunday Takeaway: Troy Dye and Brenden Schooler Becoming Playmakers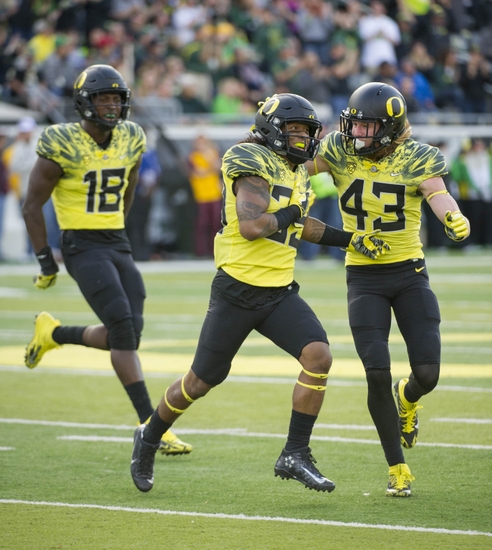 Troy Dye and Brenden Schooler have become bright spots for the 2016 Oregon Ducks Defense.
The Oregon Ducks have not had the typical season of competing for a National Title. Some would say the team has not had much competing at all, but injuries have taken their toll. A new Defensive scheme takes time to learn and on Saturday, despite the loss, two key players showed that the Ducks Defense could be.
Since September Freshman Troy Dye has shown he can play football. He has been everywhere on the field making tackles, in some cases crossing the entire field of play to do so. On Saturday he led Oregon with 13 tackles, 6 were solo tackles. Dye is unique in that in the 4-3 Defense you have to be versatile to play multiple positions and in some cases stay home and make a play. He has shown his football instinct as a College player when earlier this season he blocked a field goal against Virginia.
Dye has picked up his positions and has 67 tackles this season despite missing two games. He also has 4.5 sacks and an interception to his credit. The Freshman will be a big key in the last three games, but it might not be for this season.
Brenden Schooler is another player who is having a stellar season for the Oregon Ducks. Last night against the Trojans Schooler hauled in his team-leading 4th interception of the year. He had eight tackles against USC and was credited with half a tackle for loss.
The Oregon Ducks will continue to learn the rest of the way and host the Stanford Cardinal on Saturday for Senior Day at Autzen Stadium. Kickoff is set for 1pm Pacific Time on Pac-12 Network.
This article originally appeared on