Ole Miss Football: Three Keys to Beating MSU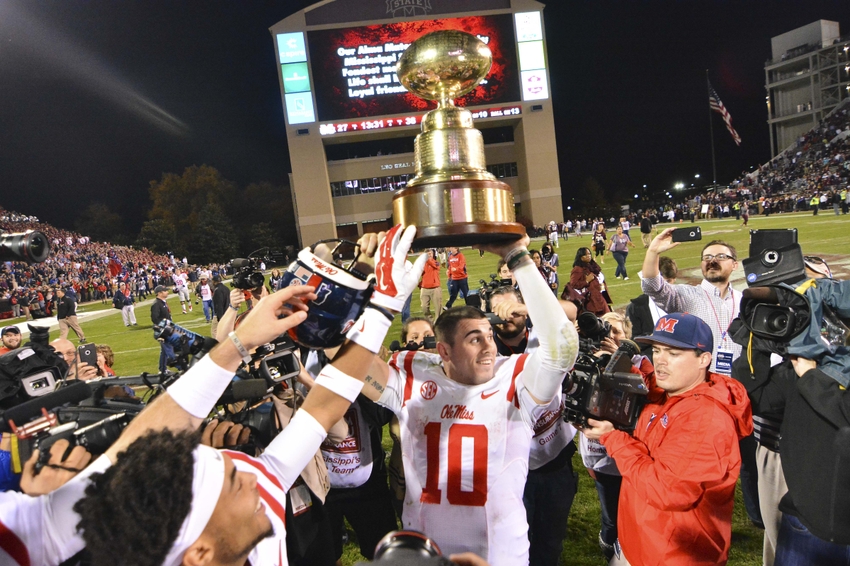 Ole Miss and MSU will renew their rivalry on the gridiron Saturday in Oxford. What are the keys for Ole Miss to win their third straight Egg Bowl?
Ole Miss is attempting to go to a bowl for the fifth straight season. To do so, they will need to beat Mississippi State for the third straight time. Coming into the season, this looked like a for sure win on the schedule.
However, neither team has had as good of a season as they once hoped. Ole Miss will have the home-field advantage which has been a great asset in the the history of this rivalry. But with any game, the winner will be determined by who executes on the field. What does Ole Miss have to do to hoist the golden egg again? Find out here.
The biggest disadvantage for Ole Miss on paper against MSU is the rush defense against the rush offense. MSU is sixth in the SEC in rushing offense, averaging 212 yards a game on the ground. On the flip side, Ole Miss is giving up 227 yards a game. The goal for the Rebels' defense should be to hold the Bulldogs to 200 rushing yards or less.
The loss of Demarquis Gates for the first half could be a big blow to Ole Miss' efforts to stop the run.  If the Rebels can force the Bulldogs into second and third and longs, it will go a long way into stopping the offense and slowing down the run game.
The biggest advantage for Ole Miss on paper is the passing game against the MSU secondary. The Rebels lead the SEC in passing offense at 314 yards a game. The Bulldogs are last in the SEC in pass defense at 279 yards a game. Perhaps the only thing that will slow down the pass offense are drops by wide receivers and not protecting Shea Patterson against the MSU defensive line.
Ole Miss should have no problems moving the ball up and down the field on the Bulldog defense, but it is still crucial to make sure that advantage gets exploited as much as possible.
As in most football games, turnovers decide the outcome of a game. Even more so, in a game where the defenses figure to struggle turnovers could play an even bigger factor. This game will be similar to a tennis match with both teams trying to hold serve while they are on offense. It will be crucial to force a few stops and the easiest way to do it is force a turnover on defense.
This article originally appeared on