Midseason Review: UGA's biggest surprise over the first half of the season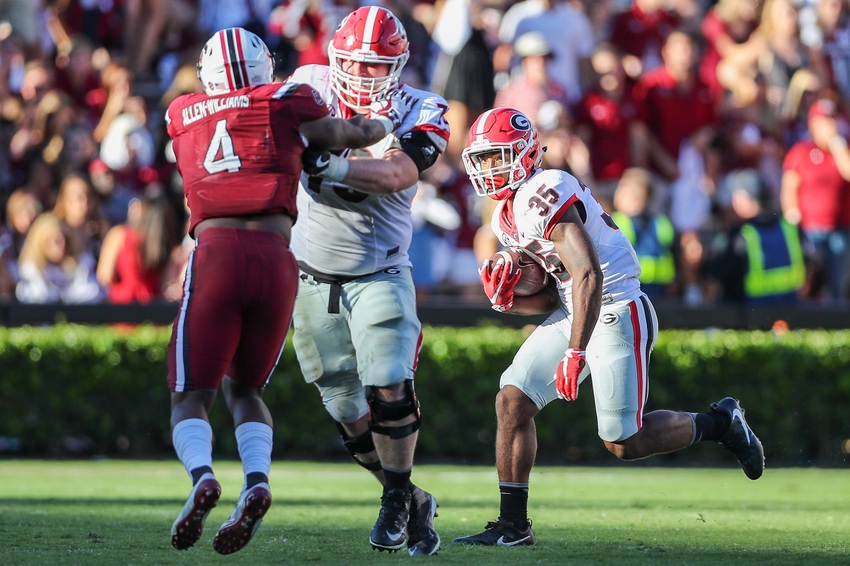 With Georgia being halfway through their 2016 campaign, here is the top surprise so far.
Georgia is in pretty good shape so far this season. They are currently 4-2 after a big win over South Carolina on the road last Sunday. While Georgia has a long way to go to contend in the SEC (even more than most people realized), everything has gone according to schedule for UGA. They were picked to lose to both Ole Miss and Tennessee after all.
Hopefully, many more wins come this season. At the midway point, DOTD looks at the player that has been the biggest positive surprise on the team so far. It is Brian Herrien.
The freshman running back was a late addition to the 2016 recruiting class and, frankly, was thought to be just a guy to add another body to take reps at running back. Herrien has been so much more than that.
Fellow 2016 running back signee Elijah Holyfield got all the hype and for good reason. Herrien was not highly recruited (which was even more puzzling considering he led the state of Georgia in rushing in 2015) but has turned out to be the hidden gem of the Class of 2016 for Georgia.
As previously mentioned, Herrien was not talked about much at all in the offseason, and I personally expected him to be a possible redshirt candidate. Man, was I wrong. The 6-0, 210 pounder from Manchester, Ga., burst out it the first game against UNC as he rushed for 59 yards on only seven carries (8.4 yards per carry average) and scored his first collegiate touchdown on the ground.
Despite a poor performance by the offensive line the next week against Nicholls State, Herrien was still good, as he rushed for 47 yards on eight carries. He did not touch the ball once against Missouri in Week 3 but appeared against Ole Miss and was solid particularly in the second half, rushing for 78 yards on eleven touches and two touchdowns with a 7.1 yards perry carry average.
More from Dawn of the Dawg
Herrien has looked even better the past two weeks. After a 74-yard performance against Tennessee, Herrien ran for 82 yards on only nine carries and averaged over nine yards per rush last week against South Carolina.
He looks like a future star running back in the SEC, and he is really good now. He is the perfect blend of power and speed. If Herrien (who is known for his tenacious work ethic) keeps playing like he has been so far this season, he will indeed be an incredible coup in UGA head coach Kirby Smart's first class. While there have been multiple players that have stepped up their game for Georgia Football in 2016, Herrien has to be the biggest surprise.
This article originally appeared on