CFB AM: Watch Miami's star LB crush 235-pound RB in scrimmage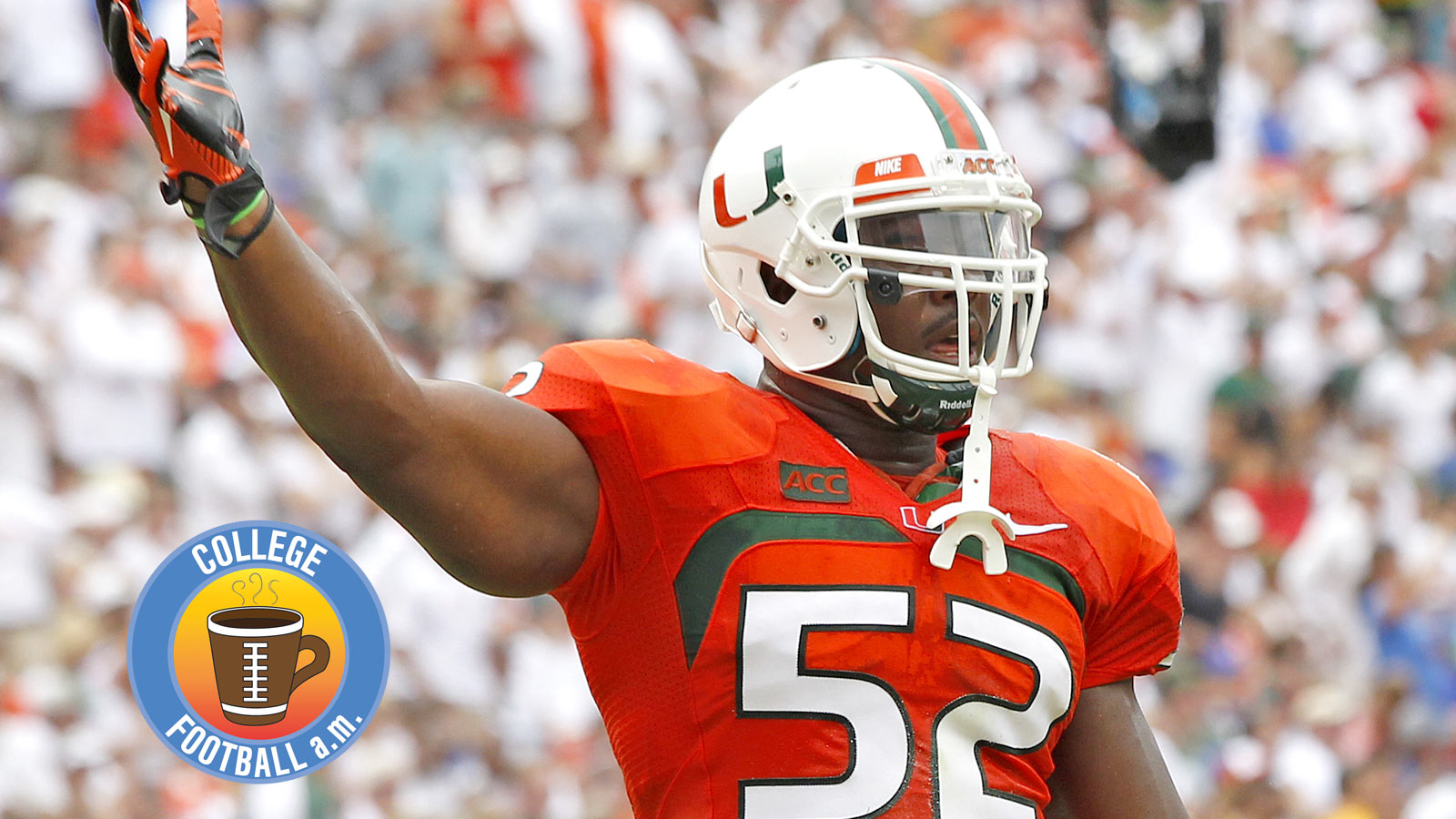 Nightmares have trouble sleeping because they're haunted by Denzel Perryman.
Miami's senior linebacker, a fourth-team All-American last season, is a 6-foot, 242-pound brick house who's built himself a reputation of delivering pain and justice in equal quantities over the middle of the field.
You might remember Perryman stick, lift and plant Wake Forest running back Dominique Gibson last October:
Or you might remember Perryman sprinting up-field and blasting teammate Gus Edwards in the spring game.
FYI: Edwards weighs 235 pounds.
Well, Perryman did it again in a recent Miami scrimmage. His victim?
Edwards, of course. Here's the GIF:
Someone owes someone lunch here. I just can't figure out if it's Perryman who should buy for twice inflicting pain on his teammate, or if Edwards might want to use the free meal as an extended olive branch and plea that Denzel doesn't do it a third time.
(h/t Reddit)
THREE THINGS YOU NEED TO KNOW
1. You knew this was coming, but here is the official word: Ohio State quarterback Braxton Miller is indeed out for the 2014 season after reinjuring his right (throwing) shoulder. Ohio State didn't disclose the specific injury, but SI's Pete Thamel reports Miller suffered a torn labrum. Dr. James Andrews will perform his surgery. This injury doesn't just hurt Ohio State but rather the entire Big Ten's shot at a playoff spot, writes Bruce Feldman.
2. Feldman and Stewart Mandel are running their conference previews this week, and we wanted to try something a little different. Instead of doing a more traditional preview, Bruce and Stew are offering bite-size nuggets of info that they've gleaned from conversations with players and coaches over the summer. The intent is to uncover a few breakout players, freshmen and other gems you may not know much about; we assume you know plenty about the Marcus Mariotas of the college football world. They covered the SEC on Monday and the Pac-12 on Tuesday, and there's a lot of good insight stored away. Check them out if you get a chance – they're quick reads.
One spoiler: Mandel is pot-committed on the Pac-12 North by picking Oregon as his "flop team" and Washington as his division winner. I chided him over email about it, and afterwards discovered a video of him making his picks that ran on the local news in Eugene:
3. As we creep closer to kickoff, there are three notable ACC Coastal QB battles still to be decided: Miami (freshman Brad Kaaya vs. transfer Jake Heaps), North Carolina (Marquise Williams vs. Mitch Trubisky) and Virginia Tech (Michael Brewer vs. Mark Leal). The Coastal will be fun this year because unlike the Atlantic – where Florida State is the overwhelming favorite with only Clemson providing a real threat – it's a division totally up for grabs with three teams in different stages of their cycles. UNC has become a popular sleeper pick in the ACC (so much so that I'm deathly afraid of what this means for my alma mater), Miami is facing an important season in pulling itself out of the sanction-riddled last few years and Virginia Tech could go either way (and what that means for Frank Beamer is a juicy subplot).
In non-ACC QB news, Illinois is expected to announce its starter after practice today.
THREE THINGS YOU SHOULD KNOW
1. Someone near Columbus, Ohio, did a really cool thing for Braxton Miller, as head coach Urban Meyer noted on Tuesday afternoon.
2. Notre Dame introduced its Shamrock Series uniforms on Tuesday. The home version looks a little like Pitt at first glance, no?
Our Shamrock Series game uniform for 2014 is here! pic.twitter.com/lfP7ZZrSQC

— Notre Dame Football (@NDFootball) August 19, 2014
That said, I think they're pretty cool, particularly the detail in the helmets. Here's a neat one-minute video about why Under Armour chose the details it did for the uniforms.
3. The Dallas Morning News took part in a media tour of Baylor's new McLane Stadum and put together a photo gallery that's worth a quick spin.
THREE THINGS YOU MAY WANT TO KNOW
1. Nick Saban and Alabama joined the Ice Bucket Challenge fray and called out Florida coach Will Muschamp and popular Southern radio host Paul Finebaum, among others.
2. Almost eight years removed from working together at Arkansas, Houston Nutt and Gus Malzahn met again and did some radio together.
3. Florida State legend Bobby Bowden did a Reddit AMA, which stands for "Ask Me Anything." No, that sentence is not a joke. Here are some highlights of Bowden's visit to the Internet.
LASTLY
* North Texas is being called the "Stanford of Conference USA." At least that's what the coach of North Texas says.
* South Florida was going to place 'THE TEAM' on the back of its jerseys instead of players' actual names, but it had to reverse that plan after realizing it violates an NCAA rule that governs uniform designs. So many jokes, so little time.
* Read Robert Klemko on a high school team in Ferguson, Missouri, trying to digest the madness with kickoff of its season-opener days away.
* A Pitt linebacker goes from broken home to success story. Nice story by Sam Werner.
* Enjoyed this feature from Audrey Snyder on the mad scientist of Penn State's defense, new DC Bob Shoop.
* A Rutgers linebacker draws lessons and inspiration from watching film of all-time great Ray Lewis.
* Western Michigan gave a former player (pushing the wheelchair) a moment to remember with his son. Here's the video:
Have a great Wednesday, all.
Teddy Mitrosilis is an editor and writer for FOXSports.com. Follow him on Twitter @TMitrosilis and email him at tmitrosilis@gmail.com.