Memphis' Tony Pollard returns kick 100 yards for touchdown vs Navy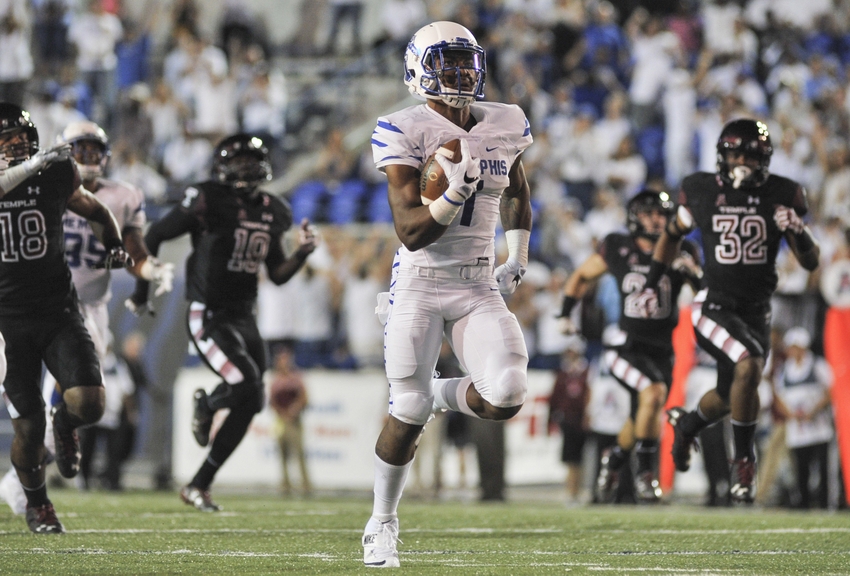 Memphis Tigers kick return man Tony Pollard took a kickoff 100 yards for a score to put his team up on Saturday against the Navy Midshipmen.
The Memphis Tigers are off to another strong start this season, and they were looking to keep it rolling with an upset over the Top 25 Navy Midshipmen on Saturday.
Early in the first quarter, the Tigers were tied 7-7 and looking to get the ball back for another strong offensive possession. Memphis kick return man Tony Pollard had other ideas.
Instead of getting the ball back, Pollard took the kickoff 100 yards to the house for a go ahead touchdown. This was actually the second return touchdown from Pollard this season, with the freshman wide receiver showing off his blazing speed this season.
The kickoff return touchdown from Pollard helped the Tigers take a 14-7 lead. You can check out the entire play in the video below courtesy of CBS Sports Network.
At 5-1, the Tigers are firing on all cylinders again this season despite losing their star quarterback Paxton Lynch to the NFL draft prior to this season. Their only loss came to a talented Ole Miss Rebels team. While that loss hurt their reputation, a big win over a top-25 team in Navy would go a long way to helping them solidify themselves as a potentially ranked team.
As for Navy, a win over Memphis would move them to 5-1 and likely help them move up the rankings, which is surprising for a military program. Regardless of who wins, you have to tip your hat to Pollard for the return.
This article originally appeared on