Florida vs Tennessee Live Stream: Watch Gators vs Volunteers Online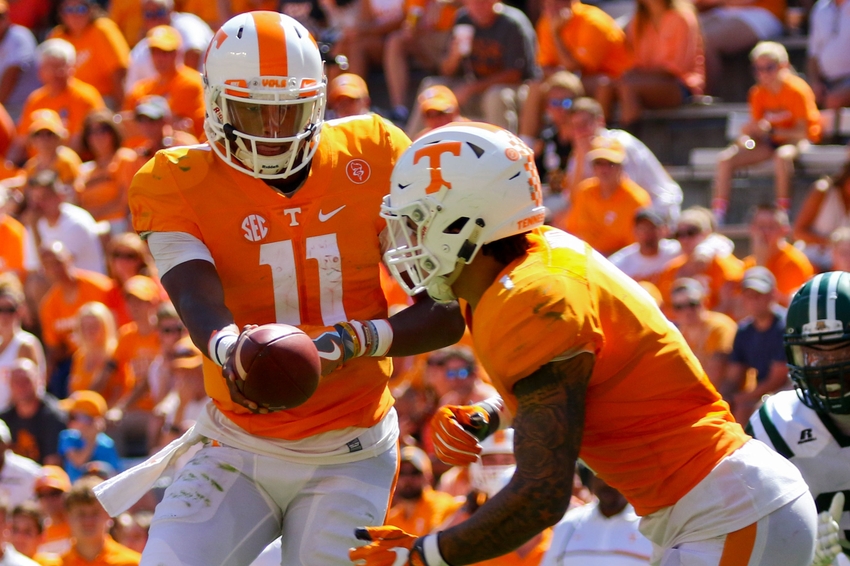 This week's Florida-Tennessee meeting takes on newer meaning as the Volunteers look to snap their losing streak to the Gators. The winner this week is in the driver's seat of the SEC East division…
The Florida Gators and Tennessee Volunteers meet this year in their annual meeting both undefeated and both looking to win the SEC East division.
The Volunteers are looking for their tenth straight win while the Gators are looking for their 12th straight win against the Volunteers.
Quarterback Josh Dobbs and Tennessee are off to a 3-0 start and look to snap a losing streak that spans over four head coaches.
The pressure is certainly on the Volunteers as they won 28-19 against Ohio last week and haven't quite met expectations this season.
Dobbs was 19-27 with 203 yards and two touchdowns. He also ran for another score and 59 rushing yards.
Injuries have hobbled Tennessee so far this season. They will be without starting cornerback and return man Cameron Sutton this week.
The Gators are banged up too, as quarterback Jack Del Rio will miss this week's game due to a sprained knee. Backup graduate transfer Austin Appleby will take Del Rio's spot this week.
Date: Saturday, September 24, 2016
Location: Neyland Stadium, Knoxville, Tennessee
Time: 3:30 p.m. EST
Spread: Tennessee -6.5
Over/Under: 43
TV Channel: CBS
Live Stream: Watch ESPN
The Gators enter this week coming off a 32-0 win over North Texas last week.
Florida dominated the Mean Green all game. The defense only allowed 53 total yards of offense, eight first downs, and allowed -13 rushing yards.
The Gators will need another performance like this to show up Tennessee this week. The Volunteers will definitely be hungry for a victory.
More from Saturday Blitz
This article originally appeared on