Florida State, South Florida trade touchdowns in first 29 seconds of game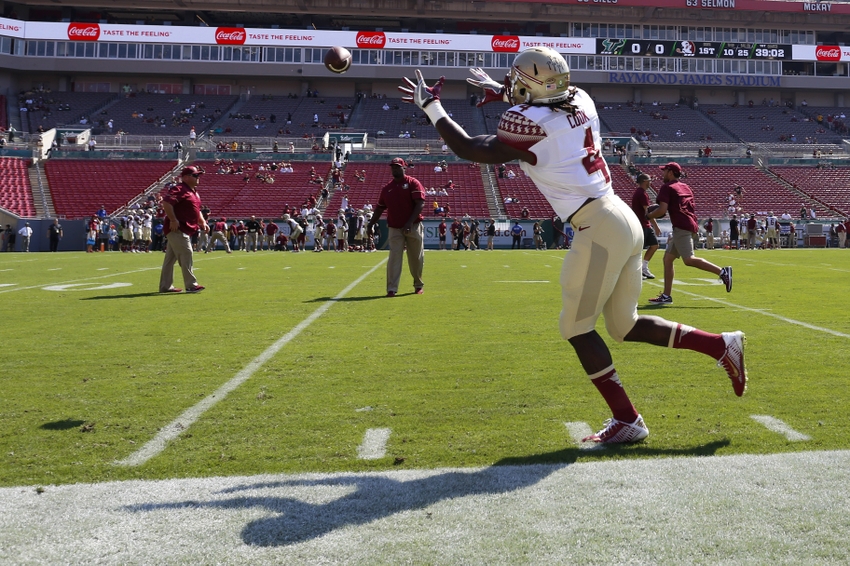 Saturday's game between the Florida State Seminoles and South Florida Bulls started off with some serious fireworks.
The Florida State Seminoles headed into Saturday's game against South Florida needing to put up a statement win. They quickly found out that it wouldn't be as easy as they thought against the Bulls.
The fireworks were on early in Saturday's game between the Seminoles and Bulls, with the game looking like a potential shootout. In fact, two touchdowns were scored in the first 30 seconds of play.
On the first play from scrimmage, South Florida quarterback Quinton Flowers found Rodney Adams for a ridiculous 84-yard touchdown to give the Bulls an early 7-0 lead.
After a kickoff that went for a touchback, the Seminoles had a chance to answer. Like the Bulls, it only took them one play from scrimmage to score their first touchdown of the game. The score came from star running back Dalvin Cook, who found a whole and took off for a 75-yard score.
It has been a rough start (relatively speaking) for Cook. In the first three games of the season, Cook has run for just 228 yards and two touchdowns on 50 carries, averaging just 4.6 yards per attempt. For reference, Cook averaged 7.4 yards per carry last season when he went on to rush for 1,691 yards and 19 scores.
Florida State isn't looking like a top-tier team so far this season, especially after getting blown out 63-20 last week against Louisville. If they want to prove that they belong in the College Football Playoff, then they can't let teams like South Florida keep games close.
This article originally appeared on