College Football Week 11: 5 bold predictions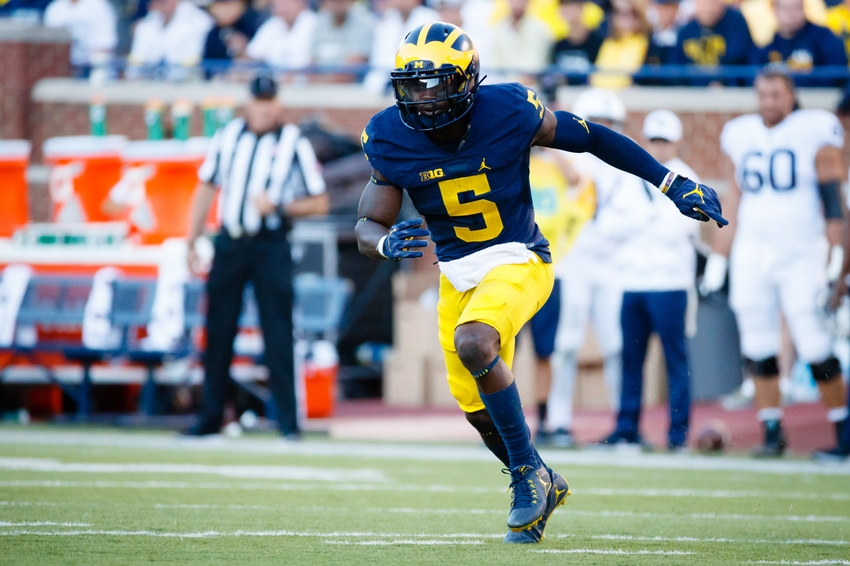 Week 11 is here and the college football season is heading into the final stretch of the regular season. Here are some bold predictions for the upcoming week.
Can you believe that we are already into Week 11 of the college football season? It feels like just yesterday that Jameis Winston was giving a riveting halftime speech to the Florida State locker as they were down 28-13 to Ole Miss. Well Jameis, it would seem that Florida State may be some puppies this year.
The Seminoles are 18th in the most recent CFP poll and are way out of playoff contention. As for teams like, Alabama, Clemson, Michigan, and Washington, they are currently in the playoff and are all undefeated. If they could run the table and all be undefeated at the end of the year, they could make the decision for the CFP committee very easy.
With only three weeks left, the CFP race is heating up. Ohio State and Louisville are right there both with one loss each. They will need some help if they are to get in. Ohio State can help themselves with a win at the end of the season over Michigan and flip places with the Wolverines in the playoff.
A lot of crazy things could happen as the season comes to a close. Here are five bold predictions for Week 11 of the college football season.
5. Indiana ends Penn State's hot streak
Ever since Penn State beat Ohio State, they have shot up the rankings and are currently sitting at No. 10 in the college football playoff. They are No. 12 in the AP poll as well. Penn State is on a five game win streak and have blown out their last two opponents.  Indiana comes in on a two game win streak and have played very well and stuck around in every big game that they have played all year.
Although Indiana is only 1-2 in games against ranked teams this year, they have played very well in their two losses.  They played Nebraska into the last minute of the game, and while the they lost by 21 points to Ohio State, they held J.T Barrett to under 100 yards passing and forced two turnovers. Indiana's defense has played well all year. Indiana's defense showing up for this game won't be the problem, it will be their offense. They have run a two-quarterback system recently and its seems to have sparked their offense. Zander Diamont on the ground and Richard Lagow threw the air. Penn State will rely on Trace McSorley and Saquon Barkley. McSorley has only thrown three picks all year and has stabilized Penn State after a 2-2 start.
Indiana will need their offense to play to its full potential to keep up with the way Penn State has been scoring recently. If IU's defense can hold them down early and let Indiana find a grove on offense, they will have a great chance at beating a top 10 team.
4. USC pulls a huge upset
Okay, follow me on this. Washington is finally being shown the respect that they deserve and are in the playoff as the No. 4 seed. USC has salvaged their season and are some how still in the Pac-12. They are on a five game win streak are have scored 40 or more points in four of those five games. At 6-3, USC has looked scary good as of late. They have allowed no more then 24 points to their opponents during this five game win streak. Meanwhile Washington is still undefeated and are coming off a blow out win against California. They are No. 4 in the country and are looking to make a run in the playoff.
Here is the problem that I see. Washington is on a high right now. They are in the playoff and feel that they are getting the respect that they deserve, which they are. But there is a chance that they are looking past this game at the final game on their schedule, the Apple Cup. That game against Washington State is problem the biggest chance for them to lose. I believe that they know that, which means that their minds may be looking ahead and they may get a surprise from a scary looking USC team right now.  Washington's QB has been spectacular all year. His 2,273 passing yards, 34 touchdowns and only three interceptions have made him a Heisman candidate and has put Washington football back on the map.
With the way that USC is playing I feel that they could give Washington a run for their money. USC's defense has been playing great and their offense has been really efficient. They will need everything that they have to win, but I feel that they may have enough to do it. USC has a freshman QB, Sam Darnold, who has played great football. He has looked electric. He has 20 touchdown passes with only four interceptions. He has had multiple games with five touchdown passes. Each game was a huge win for the Trojans.  If he can play at a high level and their defense can step up, an upset may be in their future.
3. Nick Chubbb scores 2 touchdowns and picks up the win for Georgia
Georgia hasn't quite had the season that they wanted, but they are a win away from getting into a bowl game. The same can be said about Nick Chubb. He has only had two games this year where he has rushed for over 100 yards. He has scored two touchdowns in both those games. Auburn comes in on a six game win streak, that has included wins over two ranked teams. Lately they have been a little shaky but have eked out the victories all the same. Georgia is looking for their sixth win of the year and are trying to secure a bowl berth as well.
Nick Chubb is trying to shake off what has been a very down year. A year that started with so much promise has become less then spectacular. A minor injury and a tough year for Georgia has kept Nick Chubb down to earth running the ball this year. He started the year as a potential Heisman candidate, and now has no chance of getting any where close to that award now. Chubb is on the rebound right now and has a chance to prove to everyone that he is still a legit running back in college football. For Georgia to beat Auburn, Nick Chubb will have to show up for them.
Beating Auburn in the form they are currently in, will be a challenge. Auburn only allows 16 points a game, which is ninth in the country. Nick Chubb will have his hands full with the Auburn defense. He has the skill to do it, but the Georgia O-line will have to play great. Chubb has the skill, but will need help to use that skill.
The offensive line will play out of their this Saturday. Nick Chubb will have open lanes and will be living it up to the home crowd. He will use the holes made by the O-line and rush for a huge game. 160 yards and two scores. Chubb will carry the Bulldogs to a sixth win, a bowl game, and huge upset over a very hot team.
2. It's Jackson's Heisman to lose
Since the start of the season, Lamar Jackson has looked like a one man wrecking crew. He had the Heisman wrapped up after two or three weeks. Now it may not be such a given thing. Yes he still looks amazing, his six touchdown performance against Boston College is impressive, but while he has dazzled at times, there are some games that he should be able to do more. Games against Duke and Virginia that should not have ended as close as they did.
The biggest threat to Lamar Jackosn for the Heisman is the man that beat him, Deshaun Watson. If you compare by just touchdowns, its not even close. Jackson has accounted for 55 touchdowns to Watson's 26. Watson has the head to head matchup over Jackson, but not much else. The case could be made that Watson is more valuable to Clemson then Lamar Jackson is to Louisville, but that's a stretch. Clemson may have built their season around Deshaun Watson, but nothing can compare to the all the touchdowns that Lamar Jackson has scored.
A guy that I still see a potential dark horse in the Heisman race is Jabrill Peppers. He can do everything. He returns kicks, he plays defense, he plays QB and he scores touchdowns. How do you guard a guy that versatile? Answer, you don't. You just hope to slow him down. Something that no one has been able to do all year, much like Lamar Jackson. Only one defensive player has ever won the Heisman, if there ever was another player to do i t, peppers would be the guy. He just so happens to go to the same school as the defensive player who did win it.
When the Heisman is revealed, Lamar Jackson will definitely be in New York for the ceremony. He is by far the favorite and most likley will win. Just keep an eye out for Watson who is on his tail. He could still make the case for the award with the way the Clemson season is going. Watch out for Peppers to. If he keeps up the craziness and scores, he is a legit contender.
1. Michigan wins, but only 10 or less
The Michigan Wolverines have looked dominating all year long. They are only giving up 10.7 points a game, that's the best in the country. Along with that, they also average 48 points a game. They have looked amazing all year and are still on track to be unbeaten for their show down with Urban Meyer and the Ohio State buckeyes at the end of the season. Until then, they have a game in Iowa that may present some challenges for them.
Iowa only lost two games last year and made it to the Big Ten championship and then the Rose bowl. They have the same QB returning from last year, same coach, not much has changed on defense, yet this year they are 5-4. They have been under preforming where they would like to be this year. The thing is, every so often, a bad team can have a great game. This could be that game for Iowa. They are looking for the signature win on the season, it's at home, and it's at night. Michigan may fall into a trap if they aren't careful.
I see this game being close all game, Iowa won't let Michigan run away with it. Iowa's defense jams Michigan's receivers at the line and keeps Wilton Speight in check. Deep in the fourth quarter, Iowa has to punt from inside their own 20. Jabrill Peppers takes the punt and returns it for the game winning touchdown. Michigan goes up 10 and their defense holds the rest of the way.
This article originally appeared on