Cincinnati Football: Twitter Reacts to Tommy Tuberville Resignation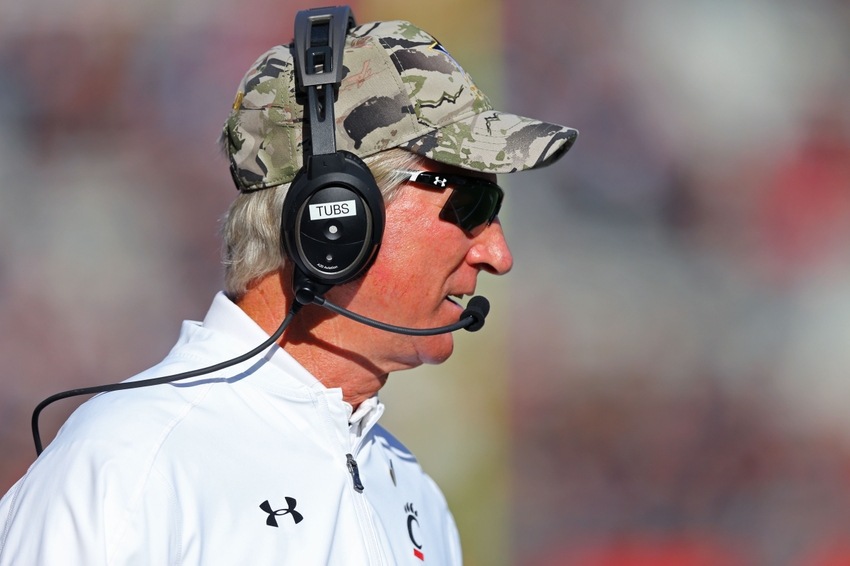 Cincinnati Bearcats head football coach Tommy Tuberville is resigning, and the reaction on social media was expectedly salty.
Probably sensing that the end was near, Tommy Tuberville has resigned as head football coach at Cincinnati, first reported by CBS Sports Dennis Dodd and then confirmed by the school's athletic department.
There was an open and growing feeling of frustration with Tuberville among Bearcats fans and alumni after the team finished the 2016 season with a 4-8 record and no shot at a postseason bowl for the first time since 2008.
As these things go, social media was quick to have some very pointed reactions to Tuberville's resignation. Here are some fans, media members and even Bearcats staff members talking about the resignation on Twitter. Some of the more NSFW tweets were, of course, omitted from this humorous list.
We had the expected "it's about time…good riddance" tweets sent out:
Tuberville resigning is a Christmas miracle

— Asha Patel (@APatel12_7_13) December 4, 2016
Never understood why #Tuberville was ever hired at #UC anyway. Thought he was serious step backwards in coaching. Right all along

— Pete Thorman (@PMThorX) December 4, 2016
But there were some who actually weren't full of glad tidings at his departure:
What I loved most about Tuberville? The way he cared about his players and the staff here at UC. And his laugh. Going to miss that laugh!

— Megan Coffey (@megcoffey21) December 4, 2016
#UC coach on Tuberville: trying to digest. Not only gave me a job but also a friend. Told assistants in a classy way, professional @WCPO

— Keenan Singleton (@KJMSingleton) December 4, 2016
Luckily, the redshirts rising & remaining plyrs (assuming 0 exodus) have incredible potential. Unlike Jones Tuberville left cupboards full. https://t.co/SX0hpyDzoG

— BearcatsSportsRadi???? (@bearcatsradio) December 4, 2016
And some may have qualified for Jimmy Kimmel's mean tweets:
If Tommy Tuberville gets a tv job, he's going to be that former coach who's really overconfident in his abilities.

— Stuart Hartley (@MrStuartHartley) December 4, 2016
2 things that would make me drop my Cincinnati #Bearcat football season tickets 1) another year of Tuberville 2) Bringing in Kerry Coombs

— JillCasagrande (@JillCasagrande) December 4, 2016
Tommy Tuberville is out at #Cincinnati today. Stepped down this morning. One of the most overrated coaches ever.

— Scott Bilo (@BiloFootball) December 4, 2016
There are definitely some polarizing thoughts when it comes to Tuberville's four years at Cincinnati, but what isn't disputed is that the program regressed during his tenure, posting records of 9-4, 9-4, 7-6 and 4-8.
Want your voice heard? Join the Cincy on the Prowl team!
Tuberville finishes with a 29-22 overall record at Cincinnati, going 18-14 in AAC play. He went 0-3 in bowl games, losing the 2013 Belk Bowl, the 2014 Military Bowl, and the 2015 Hawaii Bowl.
More from Cincy on the Prowl
This article originally appeared on