BCS Encore: Reliving every CFB champion of the last 15 years
Monday evening, at the Rose Bowl in Pasadena, Calif., the BCS era will officially end.
There have been 15 Bowl Championship Series national champions, and a 16th, and final, will be crowned before college football adopts a four-team playoff system for the 2014 season.
To send the BCS off in style, we look back at every national champion and talk to some of the participants who've filled the last decade-and-a-half of college football with some indelible moments.
Enjoy.
It was no Peyton, no problem for the Tennessee football team in 1998, as the Volunteers ran the table during the BCS' inaugural season en route to the first-ever BCS title. But the dream season very nearly wasn't, as Phil Fulmer's Vols were lucky to escape the first two games of the post-Peyton Manning era without a loss.
The year got started with a trip to the Carrier Dome to face unranked Syracuse and Donovan McNabb. McNabb outdueled Manning's replacement, Tee Martin, on the stat sheet, as Syracuse put together a furious fourth-quarter rally and took a 33-31 lead with 2:38 left. But it was Martin, making his first career start, who got the last laugh, guiding a nine-play, 72-yard drive to set up Jeff Hall's 27-yard game-winning field goal as time expired.
Tennessee returned to Neyland Stadium for its second game of the season, and the defense showed up, holding No. 2-ranked Florida to minus-13 yards rushing on 30 carries. But Martin again struggled, completing just 7 of 20 passes for 64 yards, as the Gators forced overtime. Tennessee took the lead on a Hall field goal in overtime, however, and UF kicker Collins Cooper couldn't match it, giving the Vols something it never got with Manning in the backfield — a win over the Gators.
"We weren't great but we did the things that we had to do win the football game," Martin told FOXSports.com. "And that became, really, what our team was that season — always answer."
Things got a little easier from there, and Martin seemingly found his stride during a blowout win over Houston. There would be close calls against Auburn and Arkansas — a win that would have never happened without a befuddling Clint Stoerner fumble late — and then Mississippi State in the SEC Championship Game, but Tennessee did what it had to and landed in the Fiesta Bowl, where it was an underdog to No. 2 Florida State with a championship at stake.
"We felt like it was already a big enough game so we didn't need that as motivation," Martin said. "But we had people saying that we couldn't do it, so it was a motivating factor for us in terms of feeling like we still had to prove ourselves."
In the championship game, wideout Peerless Price lived up to his name, catching four passes for 199 yards — including a 76-yard catch to set up Tennessee's first touchdown, and a 79-yard catch for the Vols' last — and the Vols kept the FSU offense at bay in a 23-16 win. The victory gave Tennessee its first national title in 47 years.
"We had a belief in one another and a total buy-in from our team and trust in what the staff presented to us as far as what we needed to do to win each week," said Martin, now the quarterbacks coach at USC. "We didn't overlook any opponent, we didn't try to look ahead toward the national championship or going undefeated. All year, we strived to be a perfect team, not just from a record standpoint but from individual play on each side of the ball."
–Sam Gardner
Redemption was the game for Florida State in 1999, as it entered the season looking to shake off the previous year's Fiesta Bowl loss to Tennessee. And the Seminoles, led by quarterback Chris Weinke, could think of no better way to find that atonement than aiming for an objective that had, at that point, yet to be accomplished.
"Our goal that year was to be the first team in history to go wire-to-wire at the No. 1 position," Weinke said. "It's one of the biggest challenges in college football."
But such a run was easier said than done, and the 'Noles spent the '99 season fending off every opponent's best shot, including down-to-the-wire wins over Georgia Tech, Miami, Clemson and arch rival Florida.
"There is a target on your back when you're ranked No. 1 and historically, over the years, we've seen that no. 1 team lose that position a number of times," Weinke said.
"I think the unique thing about whoever wins the national championship in whatever year is that there's always some adversity that they face, and the great teams that end up winning it somehow found a way to overcome it. But you feel that pressure week in and week out regardless of who the opponent is."
An 11-0 regular season would put FSU back in the BCS championship game again — this time at the Sugar Bowl in New Orleans — but after a relentless attack got them there, self-righteousness nearly got the best of the 'Noles against Virginia Tech, as the Hokies overcame deficits of 14-0 and 28-14 to take a 29-28 lead after three quarters.
"Like anything else, I think if you get out to an early lead and things are going well for you, human nature allows complacency to set in," said Weinke, who threw for 329 yards and four touchdowns in the title game.
"There were parts of the game where we weren't executing on all cylinders and when they took the lead, it was simply a wakeup call for us. The ultimate thing was that we had great leadership on both sides of the ball, and when they took the lead, our leadership kind of stepped up and said 'enough is enough.'"
Florida State responded with 18 points in the first 7:18 of the fourth quarter, capped off by a 43-yard touchdown from Weinke to game MVP Peter Warrick, as the 'Noles took home a national title and claimed the "wire-to-wire" championship it set out for from the beginning.
"It's always nice to be the first to do something," Weinke said. "It's always nice to be able to set your goals high and then meet them. And I think the motivation of losing the previous year in the national championship only added fuel to the fire."
–Sam Gardner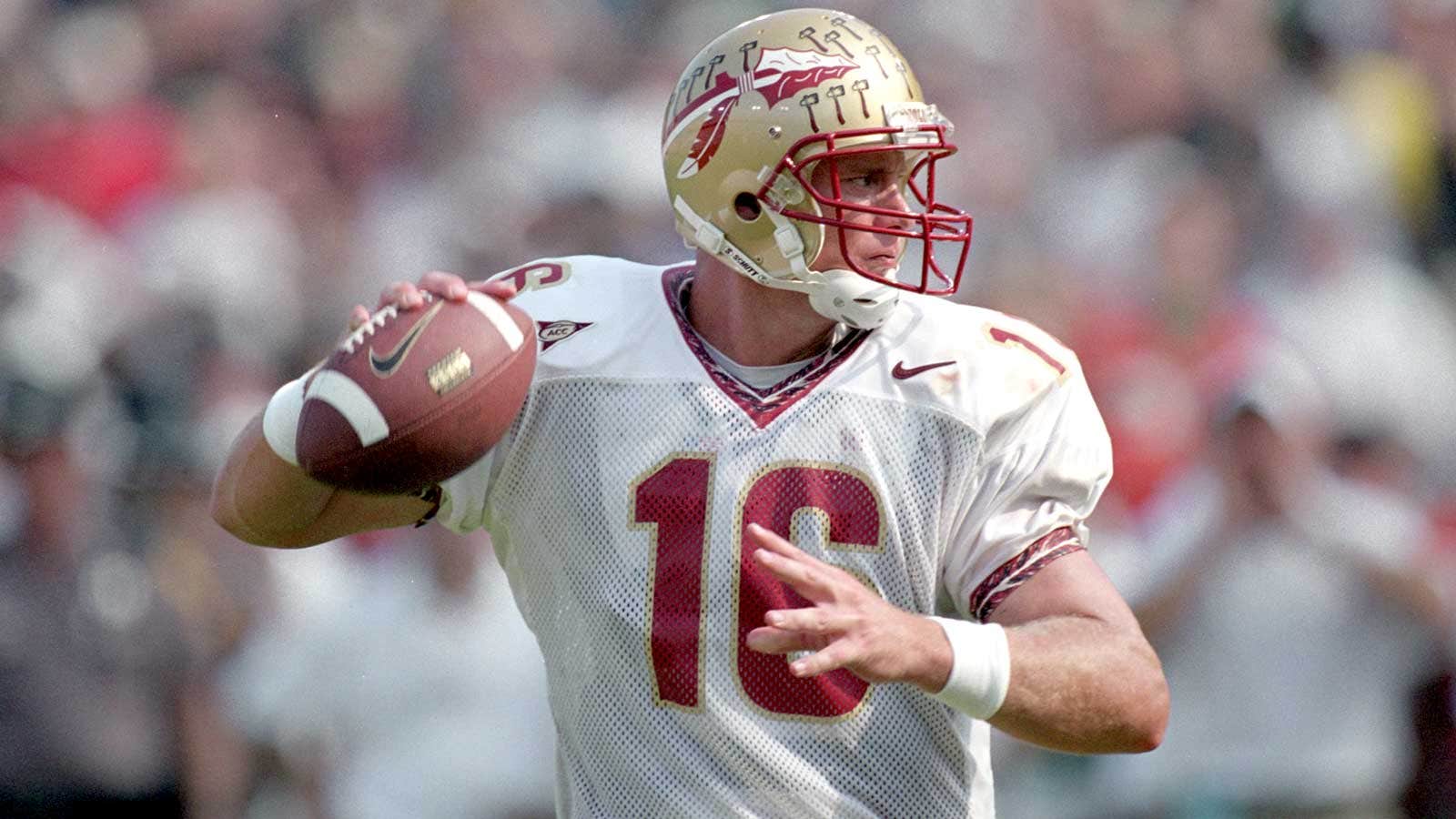 After going 7-5 in the first year of the Bob Stoops era, Oklahoma didn't necessarily enter the 2000 season with national championship ambitions. In fact, when the Sooners looked ahead to an intimidating October slate that included Texas, Kansas State and Nebraska, they figured they'd be fortunate just to compete.
"Before the season, people around the program, outside of the program, felt like if we could steal one of those games it would be a successful year," said quarterback Josh Heupel.
But Oklahoma dismantled Texas at the Cotton Bowl in the Red River Rivalry game and left Dallas with a whole new outlook on the season.
"I think everyone outside of our locker room — and maybe even a little bit in it too — looked at each other and thought, 'Man, we've really got a chance for this to be a special year if we continue to compete like this,'" said Heupel, now the offensive coordinator at his alma mater. "And I think throughout that month of October that feeling and confidence continued to grow."
After the win over Texas, OU traveled to Manhattan, Kan., where it knocked off No. 2 Kansas State, then returned home to rout No. 1 Nebraska. Suddenly, it was the Sooners who were No. 1 in the country and in the driver's seat headed toward a BCS title that, a month prior, seemed impossible.
However, even a top ranking and an undefeated record couldn't give the Sooners an edge in the 2001 Orange Bowl, where they were double-digit underdogs to a Florida State team playing for the national title for the third consecutive year. But the projections — as they had all season — meant little to Oklahoma, which used a dominant defensive performance to dethrone the Seminoles and Heisman winner Chris Weinke, 13-2.
"It maybe wasn't the most talented group to come through," Heupel said. "But we worked extremely hard and were extremely tough, very competitive and a very close group that believed in the guy next to him."
–Sam Gardner
Even 12 years later, Clinton Portis won't hesitate to tell you that the 2001 Miami Hurricanes were the best college football team of all time. If you look at UM's dominant run to that year's BCS title, there's a case to be made that the former star running back might be right.
After being shut out of the BCS title game in 2000, despite being ranked higher in the human polls than FSU — which it had beaten head-to-head — the '01 Hurricanes set out to leave no question who the best team in the country was.
"I think everybody was so hurt — it wasn't even a big issue like, 'Oh man, we got cheated out of the game;' it was more like, 'We know what we've got to do,'" Portis said.
"That offseason everybody was so focused and poised. We lost Reggie Wayne, Santana (Moss), Dan Morgan, Damione Lewis, all of those guys, but still, we just knew, 'We'll be back; we'll make sure we go undefeated next year,' and it happened."
Miami cruised, virtually unchallenged, through its regular-season schedule, setting up a date with Nebraska in the Rose Bowl. The worst beating, though, was saved for Washington, whose stunning upset of Miami the previous season kept the 'Canes out of the BCS title game.
Originally scheduled for Sept. 15, 2001, the UM-Washington game was postponed after 9/11, and when the teams eventually played in November, Miami let out a year's worth of frustration in a 65-7 win.
"We were already ready to punish them for the year before," Portis said. "When we played Washington, they didn't even know what they were getting into. We had a vendetta against them the entire season, and every whoopin' we dished out was geared toward Washington."
That year's BCS championship game featured its share of controversy, with Nebraska, which was ranked No. 4 in both human polls, jumping No. 2 Oregon and No. 3 Colorado — a two-loss team that had beaten Nebraska by 26 points head-to-head — to face the 'Canes. But the opponent meant little to a Miami team that felt it was destined to run the table.
"I think we were so cocky at that time that we were willing to let them combine three or four teams together and let them try to come up with a game plan," Portis said. "We didn't care who we played or who the coach was — we felt like we were going to dominate."
And sure enough, Miami took care of business, taking an effortless 34-0 halftime lead before letting off the gas in the second half of a 37-14 win.
"Nebraska didn't have a chance," Portis said. "I don't even think we acknowledged them or paid attention like we were worried about them. We just knew that they were the last hurdle."
–Sam Gardner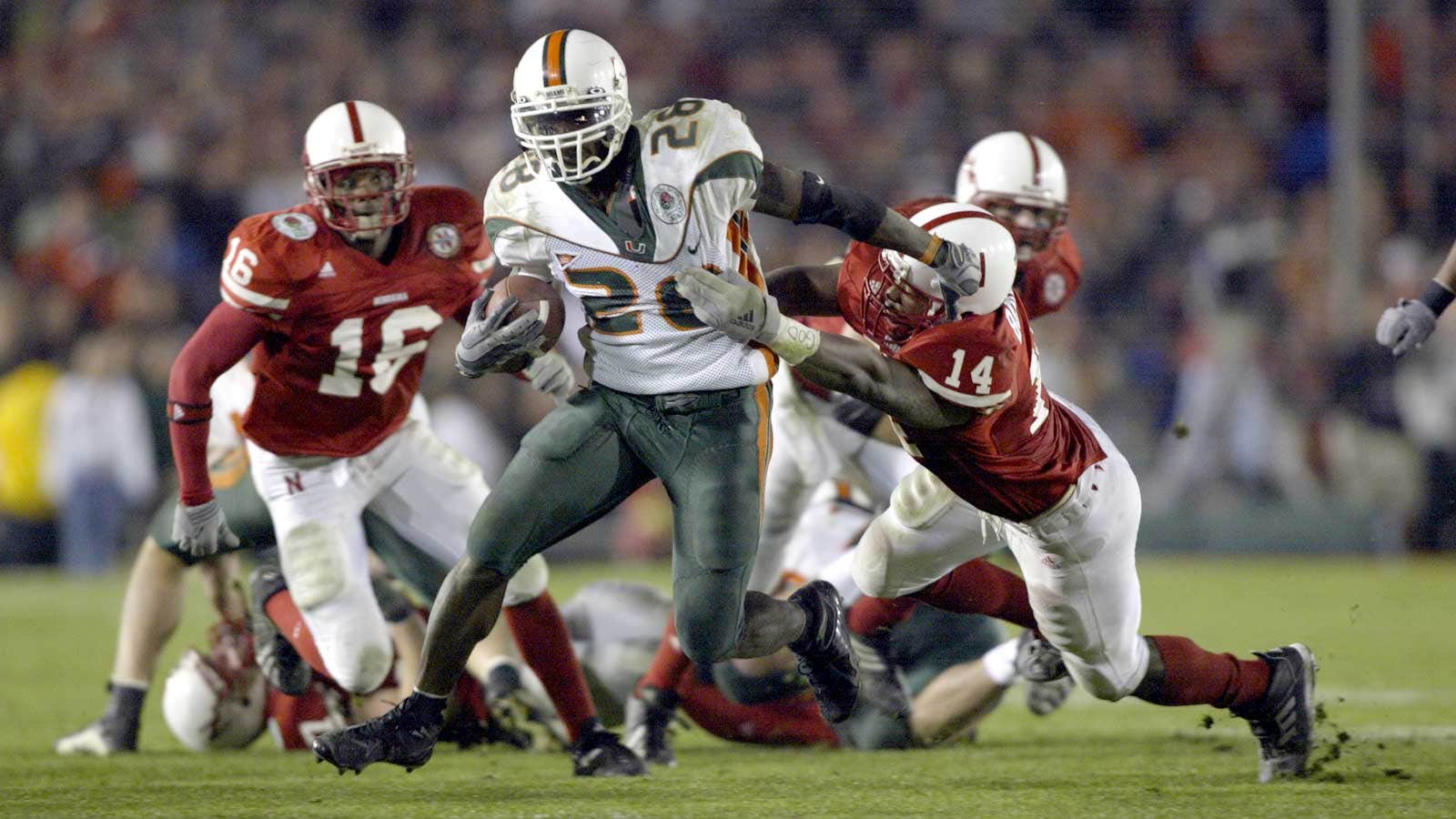 You can't bring up the 2003 Fiesta Bowl without talking about "The Call," so let's just get this out of the way:
Yes, former Ohio State quarterback Craig Krenzel thinks referee Terry Porter made the right call when he flagged Glenn Sharpe for pass interference on Chris Gamble on fourth-and-3 in overtime, with the Buckeyes trailing 24-17.
The call gave Ohio State a new set of downs and eventually paved the way to a 31-24 win in the second extra period.
"I didn't see it in real time because I got hit when I threw it, and by the time I rolled over, (Miami) was rushing the field," Krenzel said. "But as I've seen the replay over and over since, I don't think there's any question that there was a lot of contact before that wobbled ball was in the air."
You can look at the video above and judge for yourself, but for doubters who are still unconvinced, Krenzel would also like to remind you how that call was only made possible by another missed call late in the fourth quarter.
"People that want to point to that one single play — 'Oh, the refs blew the game on that one single play' — but in the fourth quarter we're trying to run out the clock, and I completed a pass to Chris Gamble on the sideline (that was ruled incomplete)," Krenzel said. "You look at the replay, he had knee down, in bounds, clearly a catch; we would have run out the clock.
"All the Miami fans and the Buckeye haters don't ever want to point to that play or point to the fact that if we had today's replay system in place, that game never goes into overtime."
Of course, even if Porter got it wrong, there's nothing that could be done about it now, but Krenzel rests easy knowing that Ohio State won the game fair and square.
"If I'm a Hurricane fan, I understand it, I get it," said Krenzel, who led Ohio State to six wins by a touchdown or less in the final seven games of the year. "But at the end of the day, it was a hard fought football game and it didn't just come down to that one play."
–Sam Gardner
LSU's top-ranked defense held Oklahoma's top-ranked offense to just a touchdown in the first half of the 2004 Sugar Bowl, but at halftime, with his team leading 14-7, coach Nick Saban pulled Tigers defensive end Marcus Spears aside.
"I just knew in that first half I hadn't made a play, and Coach Saban challenged me," Spears said. "He said, 'I need you to affect the game in a big way.'"
Apparently the message got through, too, because Spears did just that on the second play of the third quarter, intercepting a Jason White pass and returning it 20 yards for the touchdown that ultimately sealed the BCS title for LSU.
"It was a product of film study," said Spears, who went on to play nine years in the NFL. "They had been known for running that slant route on anything between third-and-5 to third-and-7 … so I knew it would possibly be in that area, and my whole thought process was to get in the lane and make Jason White pull it down and the blitz would get to him.
"But he let it go and once I caught it, I knew I was going to take it to the house. Nobody was going to catch me in New Orleans, in my home, in the national championship."
For Spears, a Baton Rouge, La., native, winning a title so close to home — and so close to campus — meant the world.
"It was amazing — almost like winning a Super Bowl in the NFL in the city that your team plays in," Spears said. "I still can't put it into words, man. Every last one of my family members was at the game. When we walked out into the Superdome, it looked like I had a whole section at the game.
"Everybody was just elated, my dad was relieved — he was like 'I'm glad it's over' because he's one of those nervous types; he can't really sit still — and my mom was happy-crying, and aunties and uncles and cousins were there. I felt like everybody had a part of that, and it was a representation of how much it meant for me to share that with them."
Not everyone was so thrilled, though. USC, which did not play in the BCS Championship despite being ranked No. 1 in both human polls, still claims 2004 as a split national title — and all power to them, says Spears.
"If you didn't play in the game that they are naming the national championship, there's no way you can be a national champion," Spears said. "You can't say you're the NBA champion because you've got the same record at the end of the year as the NBA champion. You've got to play in the game, and they didn't.
"So to me and to everybody that I know other than USC fans, in every history book, LSU will be the national champions in 2003."
–Sam Gardner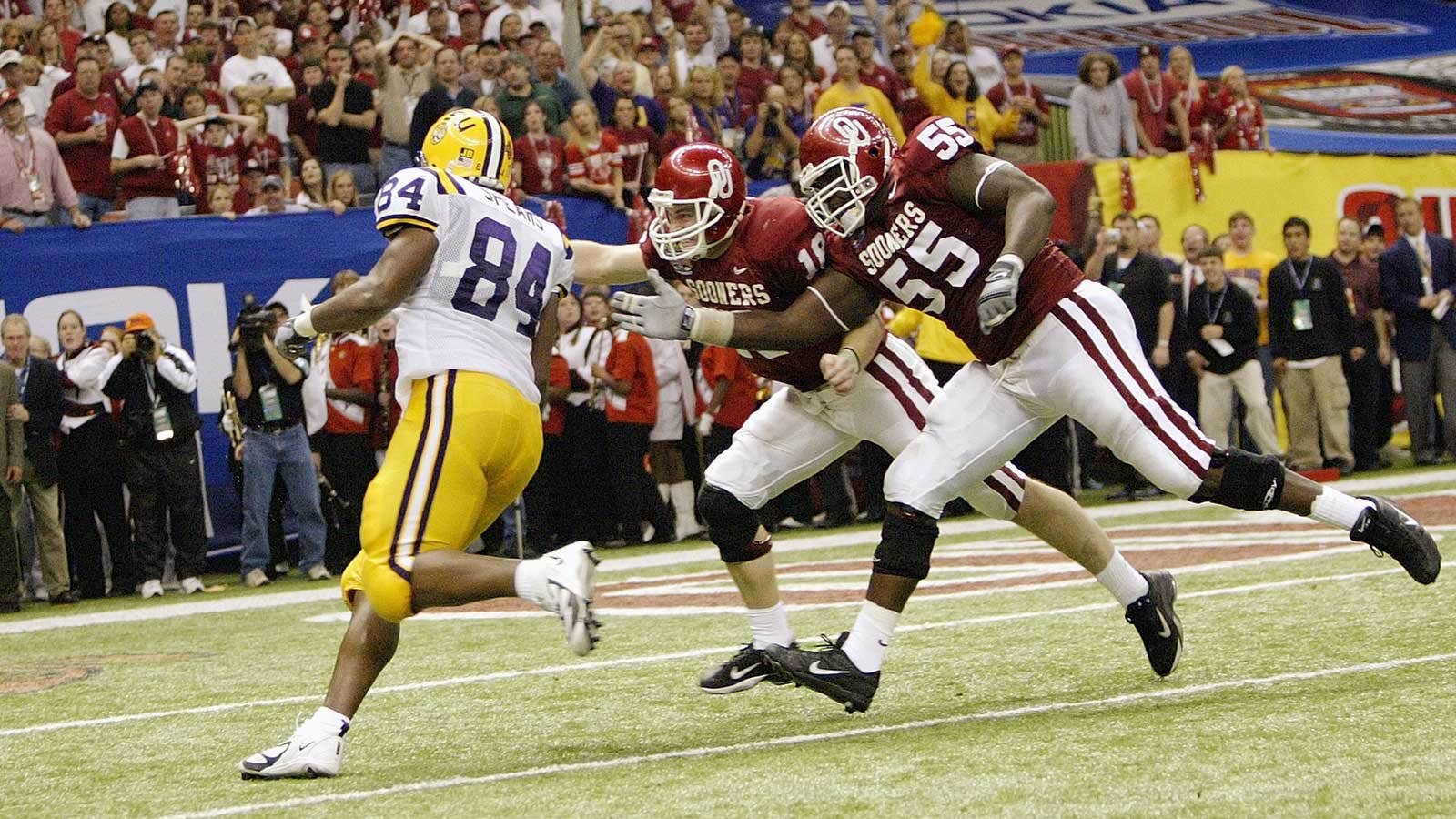 A year after getting cheated out of a BCS championship shot they felt they earned, the USC football team was stripped of a title it actually won — but the aftermath means little to former Trojans players, including starting tight end Alex Holmes.
"At the end of the day, we all still have our national championship rings and they can never take that away," Holmes said. "We beat Oklahoma — we thoroughly dismantled them — and the whole country saw it. No one can say anything to us.
"We all have our rings and all those guys who went on to play in the NFL and who we played against remember the game. It's not like it didn't happen."
Of course, the Sooners, whose 55-19 defeat was the most lopsided loss in BCS Championship Game history, would probably just as soon forget. According to Holmes, they were begging for mercy before the game was even over.
"I don't think anybody thought that we were going to beat those guys by 40 or 50 points, but after we watched film, we knew we were going to beat them," Holmes said.
"Probably two weeks into film study we knew. They basically gave up in the second half and were like, 'Hey, guys, just chill out,' but we were like, 'No, we're not going to chill out.' More than anything, I don't think anybody expected that."
Officially, no one won the BCS title that year, as USC had its championship vacated as part of the NCAA sanctions that also cost Reggie Bush the 2005 Heisman — though Matt Leinart got to keep his from 2004. But Holmes doesn't need a crystal trophy to validate what the school accomplished that year.
"The NCAA is a very flawed system, and even the biggest Notre Dame fan or UCLA fan or Alabama fan, if they look at it and they look at the evidence in the case, and then they look and see what happens at other schools, they'd say, 'OK, someone just had it out for SC,'" Holmes said.
"I think that obviously that (NCAA Committee on Infractions chairman) Paul Dee, who was in charge of Miami when Miami was doing stuff 1,000 times worse than anything that ever happened at USC, he just had it out for us."
–Sam Gardner
Some national championship teams come from nowhere, but not this one. The 2004 Texas Longhorns came about as close they could have to a national championship without actually playing for it. They went 11-1, their only loss coming to No. 2 Oklahoma, and beat Michigan in the Rose Bowl.
"We knew that championship was there the next year," Michael Huff, a Texas DB from 2002-05, said. "That was our whole mindset, our whole goal, was to be in the Rose Bowl that next year playing for the national championship."
The 2005 season began with USC ranked No. 1 and Texas No. 2, and that's how it stayed for 13 consecutive weeks. USC had two Heisman Trophy winners (Matt Leinart and Reggie Bush) and was coming off back-to-back national championships (2003 was an Associated Press title – LSU won the BCS version).
It was a rare opportunity for Texas to play the underdog, and it set up one of the greatest games of the BCS era.
"We kinda knew going into it [that] it would be one of those games you would always remember, especially going against USC," said Huff, who was the defensive MVP in the game. "They were being called the greatest team to ever play college football. We knew about all the hype surrounding it."
Texas won 41-38, the biggest reason for that being the Zeus-among-mortals performance of quarterback Vince Young, who ran for a touchdown and a two-point conversion with 19 seconds left to give UT its fourth national championship.
–Tully Corcoran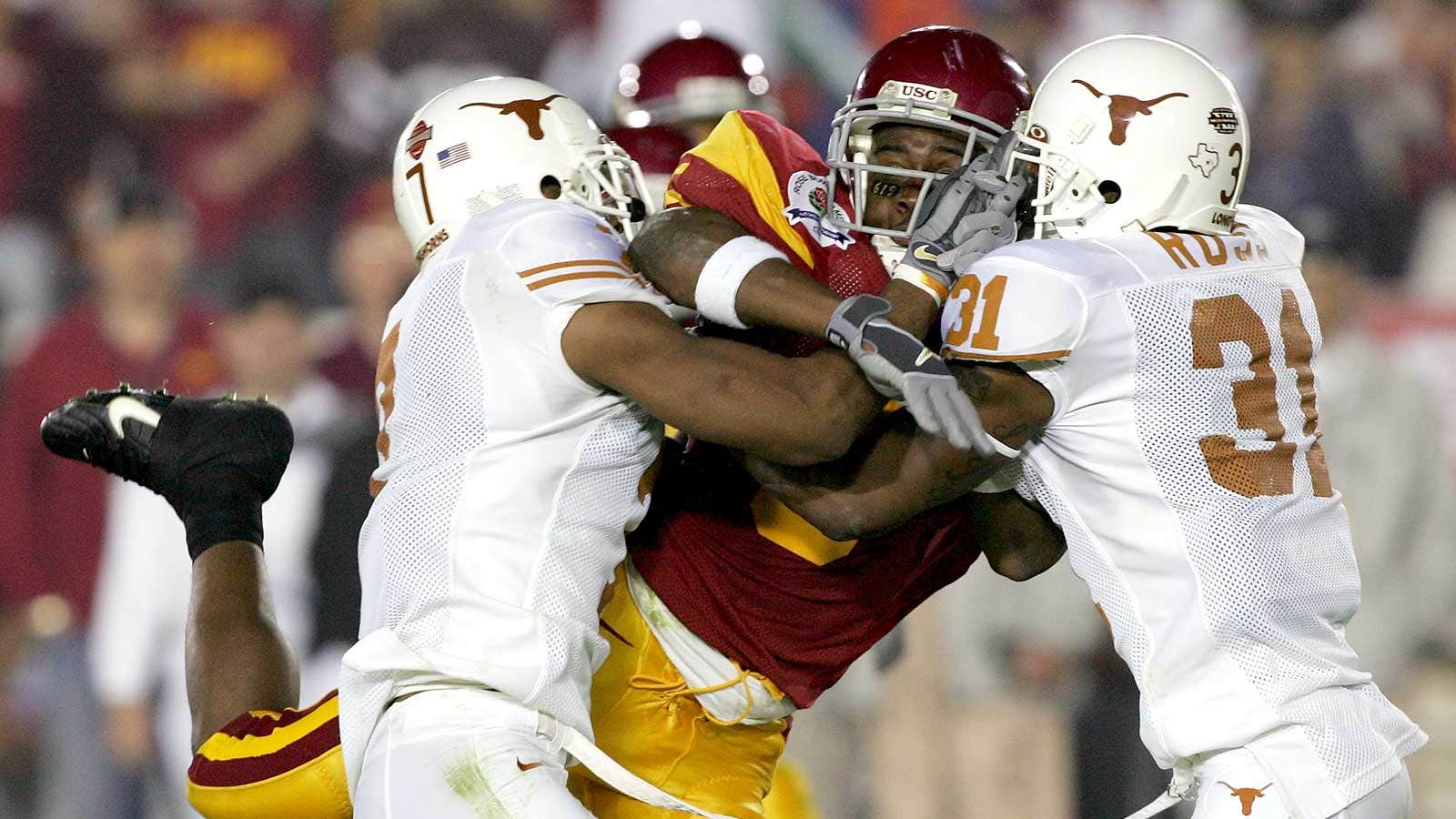 Florida had a perfectly fine season in its first year under Urban Meyer. The Gators went 9-3 with two wins over top-five teams, but it was still the first season under a new coach with a new system. Meyer's spread offense wasn't humming yet.
"The transition of a new coach coming in and learning a new offense, being under our third offensive coordinator for all us seniors, there's a transition period you have go through," quarterback Chris Leak (2003-06) said.
In 2006, though, the Gators had a senior starting quarterback in Leak, a fiery bulldozer of a backup quarterback in Tim Tebow and had played the toughest schedule in the country by winning percentage even before it met Ohio State in the championship game.
"We had a lot of confidence in our body of work against the teams we were able to get victories against in the SEC that we were doing to go into that game battle-tested," Leak said.
The Gators lost one game, 27-17 at No. 11 Auburn, and had five one-possession wins (21-20 at Tennessee, 21-14 against Georgia, 25-19 at Vanderbilt, 17-16 at South Carolina and 21-14 at Florida State).
By the time Florida faced Ohio State in the national championship game, the Gators felt like they had been through it all. A 41-14 win over the Buckeyes gave rise to the idea of "SEC speed" and kicked off a run of seven consecutive championships for the league (it can become eight this season).
It also was a wild time in Gainesville. From 2006-09, Florida won a combined four national championships in football and men's basketball.
"They call it 'Title Town' for a reason," Leak said. "It was electric."
–Tully Corcoran
If there was ever such a thing as a team of destiny, the 2007-08 LSU Tigers would have to be it. Because in a system where one loss is usually a fatal blow for a team with championship ambitions, that year's LSU squad became the first and only two-loss team to win a BCS title.
LSU opened the 2007 season ranked No. 2 in the country and by October had moved up to No. 1. But a trip to Lexington appeared to dash LSU's hopes of a first championship under Les Miles, as Kentucky upset the Tigers in triple-overtime.
Four weeks later, however, LSU had reclaimed its spot atop the polls and in control of its own destiny — in part because of wins over ranked Alabama and Auburn teams, but mostly on account of losses by three No. 2-ranked teams (South Florida, Boston College and Oregon) and one top-ranked team (Ohio State) in that span.
But yet again, the Tigers would see their hopes vanish in front of their eyes — or so it seemed — in yet another triple-overtime loss, this one coming at home against Arkansas.
"That was just draining," said Richard Dickson, starting tight end on the 2007 team. "The Arkansas game was terrible, considering that we had them fourth-and-10 on the 25-yard line (in the first OT) and Peyton Hillis snuck out the backfield to keep the game alive. That game we thought we had won."
Loss No. 2 dropped LSU to No. 5 in the country heading into the SEC Championship Game, which they won 21-14 over Georgia despite rumors that Miles might be leaving to coach Michigan. But it wasn't until the plane flight home that the Tigers learned that losses by No. 1 Missouri and No. 2 West Virginia likely handed them a third chance in a season that would become known as the "Year of the Upset."
"The pilots kept announcing the scores of the two games, and the plane was about to erupt when we heard that they lost," Dickson said. "I really think (the two losses coming in 3OT) were why they put us in the title game. The games we lost, we didn't not show up, and we didn't play bad. We were playing good teams and played them to the end, and I think that's what really stood out for us. We never just got beat, and it was really hard to beat us."
For evidence of that, one has to look no further than LSU's 38-24 win over Ohio State in the BCS Championship, a win that was helped along by two touchdown catches from Dickson, who was playing just a short drive from his hometown of Ocean Springs, Miss.
At 12-2, LSU might not have looked like the most impressive BCS champ, but it was certainly deserving.
"It was a whirlwind of emotions," Dickson said. "It was crazy, and I think the BCS definitely got it right. Ohio State definitely wasn't the best team, and we proved through all that we went through that we were."
–Sam Gardner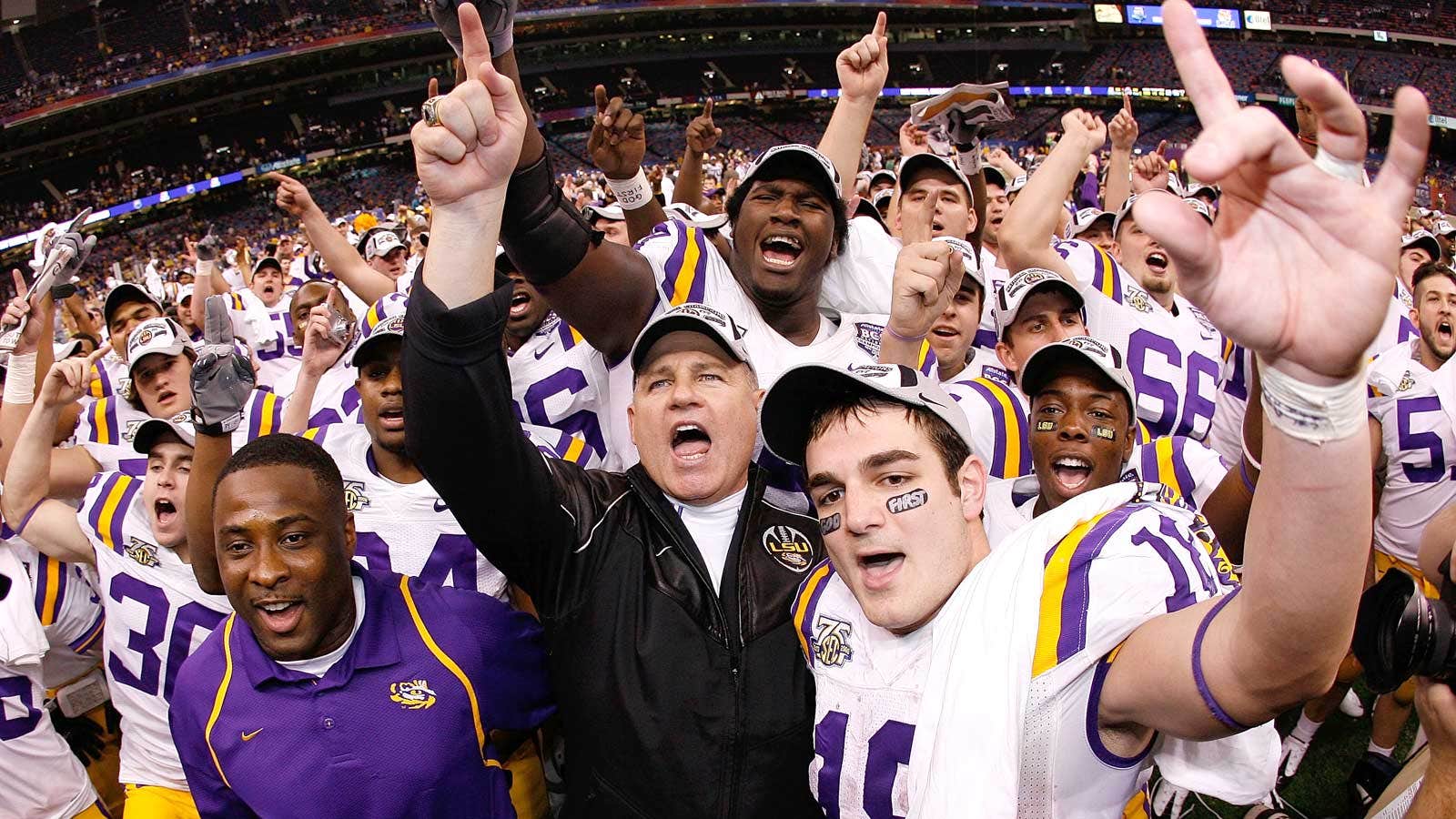 It was Oklahoma's first possession of the 2008 BCS national championship game, and quarterback Sam Bradford had driven the Sooners into Florida territory. The Gators needed a big play, and outside linebacker Brandon Hicks (2007-10) took a big risk in order to make one.
On second-and-10 from the Florida 38, Hicks had coverage responsibilities on Oklahoma's tight end. When the tight end didn't go out for a pattern, Hicks took off after Bradford and ran like hell, hoping the tight end hadn't tricked him, and leaked out.
"If he would have just done a delayed pass off play-action, if he'd have blocked down and rolled out, he'd have been wide open," Hicks said. "When I took off after that quarterback, I was running as fast as possible so he couldn't throw it."
The play went for a loss of 14, Oklahoma punted and Florida won 24-14, taking home its third national championship.
Chances are, though, what you remember about that season was not the BCS national championship game, but Florida quarterback Tim Tebow's famous rant after the Gators lost to Ole Miss.
That quote has been immortalized on Florida's campus and it ostensibly was a motivator for Tebow's teammates, but that particular moment was more for the public.
"We didn't see any of it until a couple days later," Hicks said.
–Tully Corcoran
The Tide's run began in coach Nick Saban's third season with a win over No. 7 Virginia Tech in the season opener. Alabama was No. 1 by the end of October, but even though it hadn't lost, Alabama spent the first two weeks of November looking up at Florida and Texas in the BCS standings.
For defensive back Dre Kirkpatrick, the first championship was the toughest to win.
"I feel like when you've been there, you're mature and you've grown into the young man you should be on the field," he said. "I feel like the second one was easier."
A blowout win over the Gators in the SEC championship game set a date with Texas in the Rose Bowl for the national title, a game billed as a showdown between SEC defense and Big 12 offense.
On Texas' fifth offensive play, Alabama lineman Marcell Dareus knocked UT quarterback Colt McCoy out of the game.
And at precisely that moment, Alabama replaced Texas as the dominant program in college football.
UT's backup quarterback, freshman Garrett Gilbert, went 15-for-40 with four interceptions and Alabama, no longer fearing the Longhorns' scoring ability, just started handing it to running backs Mark Ingram and Trent Richardson. Alabama quarterback Greg McIlroy attempted just 11 passes (for 58 yards) and the Tide won 37-28.
–Tully Corcoran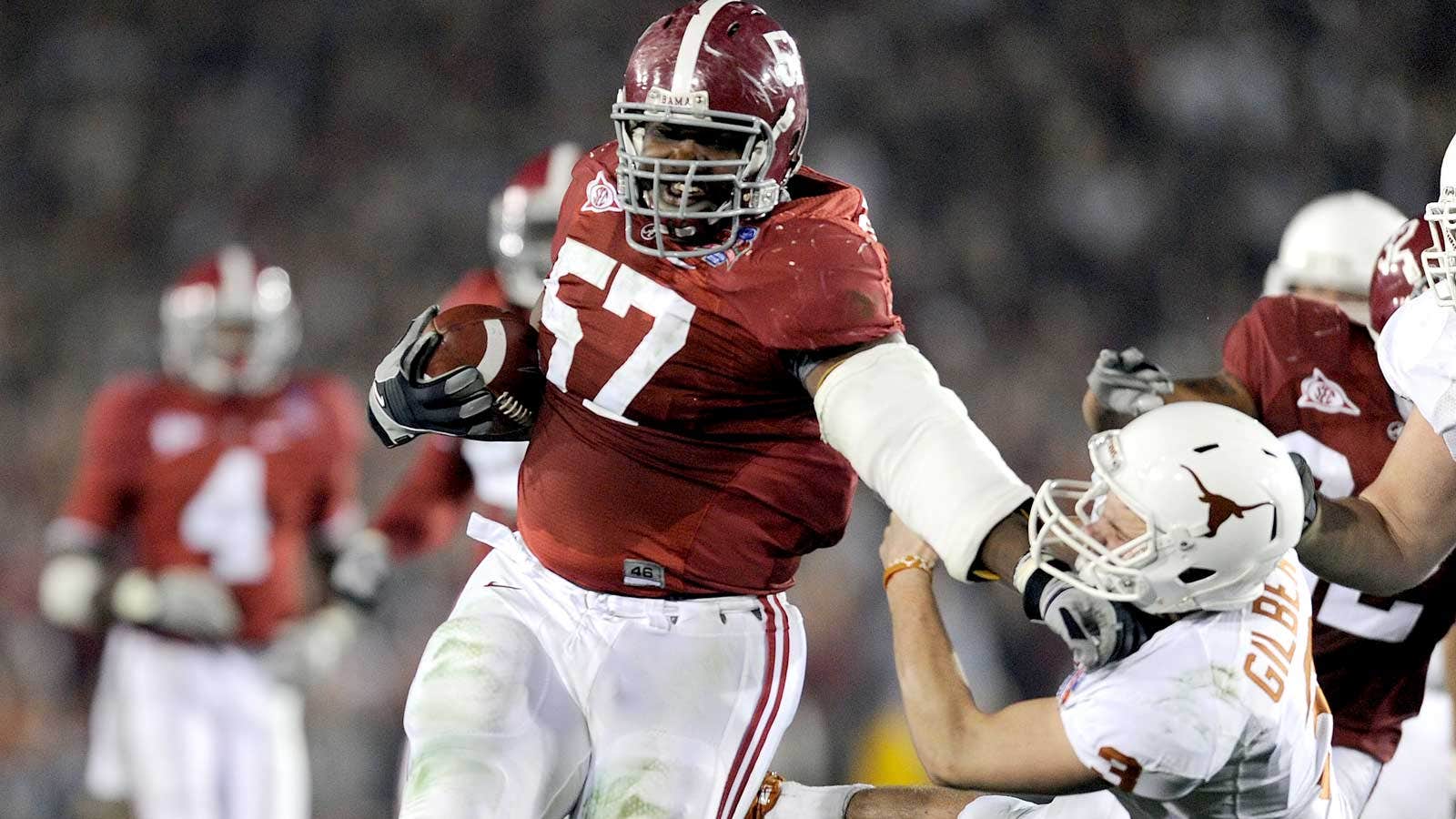 When Mike Blanc looks back at the 2010 Auburn Tigers, the first thing that comes to mind is a missions trip the team took to the Dominican Republic before the season.
"A lot of the captains from different positions attended that trip," Blanc, a defensive lineman (2006-10), said. "Me, Cam (Newton), Nick (Fairley) … after that trip, it really brought us closer, being real appreciative of our situation, being able to play college football."
That Auburn team was not supposed to be a national championship contender. It had gone 8-5 under first-year coach Gene Chizik the year before, and Chizik's hiring hadn't inspired a great deal of confidence, considering he went 5-19 in two seasons at Iowa State.
Well, there is an axiom in coaching that all coaches are about as good as the guy taking the snaps, and in 2010 Auburn wound up with a juco transfer named Cam Newton, who turned out to be one of the best collegiate quarterbacks of all time.
Newton accounted for 4,381 yards and 50 touchdowns during his only season at Auburn, and he led Auburn back from a 24-0 deficit against Alabama to a 28-27 win. He was an easy choice for the Heisman Trophy and seemingly unfazed by his being the center of an eligibility scandal that dominated the media for most of the season.
Auburn capped it off with a 22-19 win over Oregon in Glendale, Ariz., and the turning point was a safety recorded by Blanc. Auburn was down 11-7, when Blanc noticed an Oregon formation giveaway he had seen on film.
"I knew I was going to make the play before it even happened," he said. "I knew when they get into that single-back formation it was going to be a zone read play moving toward the right, and it would come back right to me. So me and Nick (Fairley), we looked at each other like, 'We know this play.'"
Blanc's safety made it 11-9 Oregon, and Auburn drove for a touchdown off the safety to make it 16-11 and never trailed again.
–Tully Corcoran
Alabama's appearance in the 2011 national championship game did more to popularize the idea of a playoff in college football than any columnist or pundit ever could. The basic argument against Alabama was this: If you didn't even win your conference's division, you don't deserve to play for the national championship.
It didn't help that Alabama's loss had been a dreadful, touchdown-less 9-6 overtime affair against LSU.
"At that point it was a tragedy," Dre Kirkpatrick said. "We didn't know if we was going to get a second chance."
Everyone seemed to agree, even afterward, that LSU and Alabama were the two best teams in the country, but the idea was that Alabama had its chance, and lost, and maybe Oklahoma State ought to get its shot at LSU.
Well, Oklahoma State blew it by losing to Iowa State, and so the national championship game was an LSU-Alabama rematch. And it wasn't much prettier the second time around.
LSU had a hell of a time just getting the ball past the 50-yard line, Alabama won 21-0 and the Crimson Tide pretty much felt like they had shut everybody up about that Oklahoma State thing.
"I didn't really care," Kirkpatrick said. "The BCS got it right. You can argue it up and down. At the end of the day, we won, we won big, we won 21-0. They didn't score. … We made everybody believe we were the best team in college football that year."
–Tully Corcoran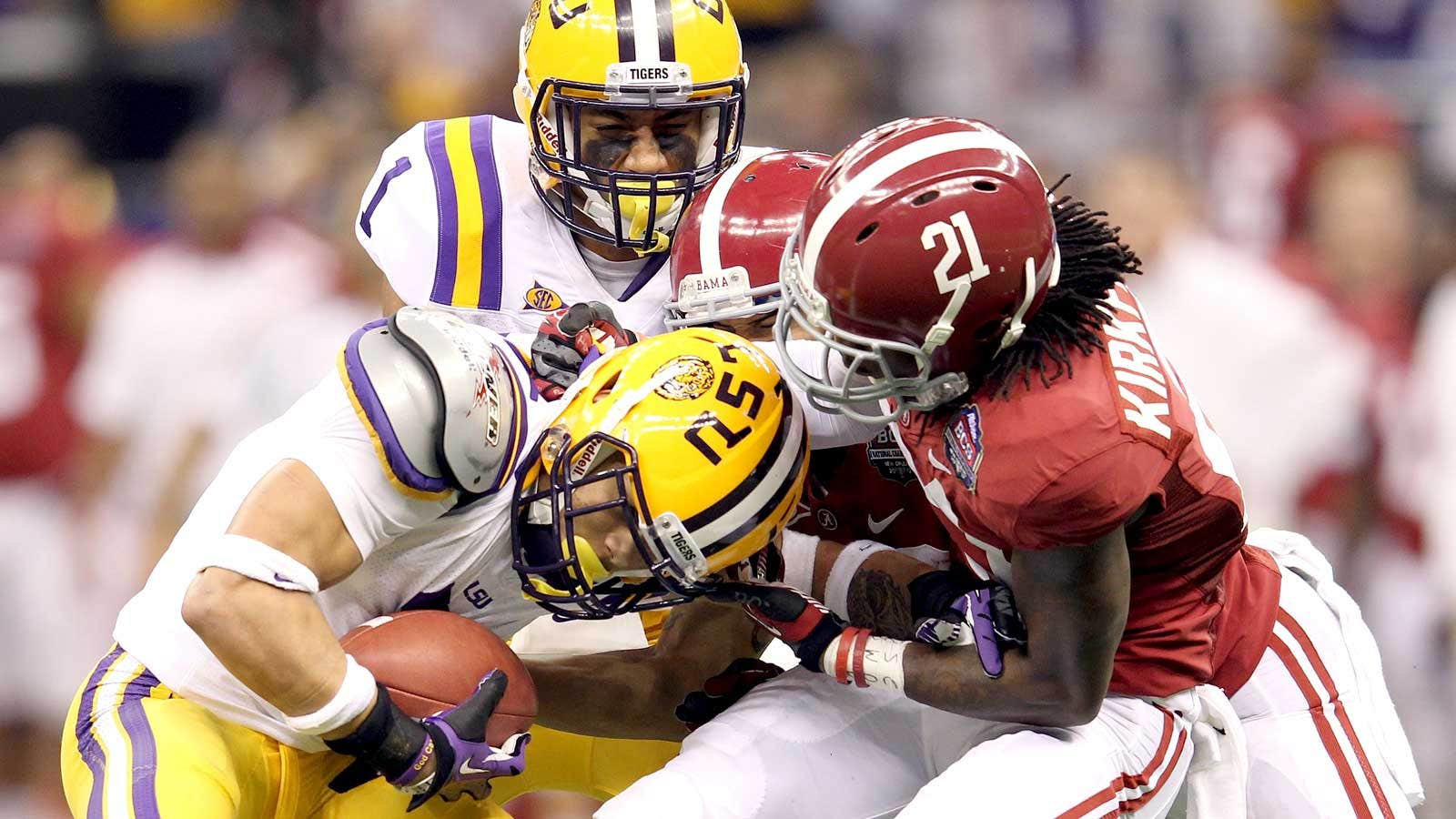 For unaffiliated college football fans, the most memorable thing about Alabama's championship season wasn't an Alabama win or even an Alabama player.
It was Texas A&M quarterback Johnny Manziel, whose jaw-dropping performance in Tuscaloosa ruined Alabama's perfect season and won him the Heisman Trophy.
To Square, the Texas A&M game existed in a vacuum, bearing little relationship to the rest of Alabama's season.
"A&M brings a personnel that nobody else brings to the SEC," Damion Square said. "When you're playing against a team like A&M, with the speed and the mismatches they try to create, not to mention the guy that has the ball in his hand every play, who is one of the best football players I ever played against or seen with my own eyes … your coaching plan kind of goes out the window. When you lose to a team like A&M, it's kind of hard to pinpoint why you lost the game. It's kind of like, 'I don't really know why we didn't come out with the W, but we're just gonna move on.'"
By then, though, Alabama had enough of a reputation that one loss was hardly a deal breaker for voters. The Tide opened the season with a 41-14 win over No. 8 Michigan, beat No. 3 Georgia in the SEC championship game and slaughtered Manti Te'o and No. 1 Notre Dame, 42-14, in the BCS national championship game.
–Tully Corcoran