Auburn Football vs. Arkansas: Q&A and Prediction with Razorbackers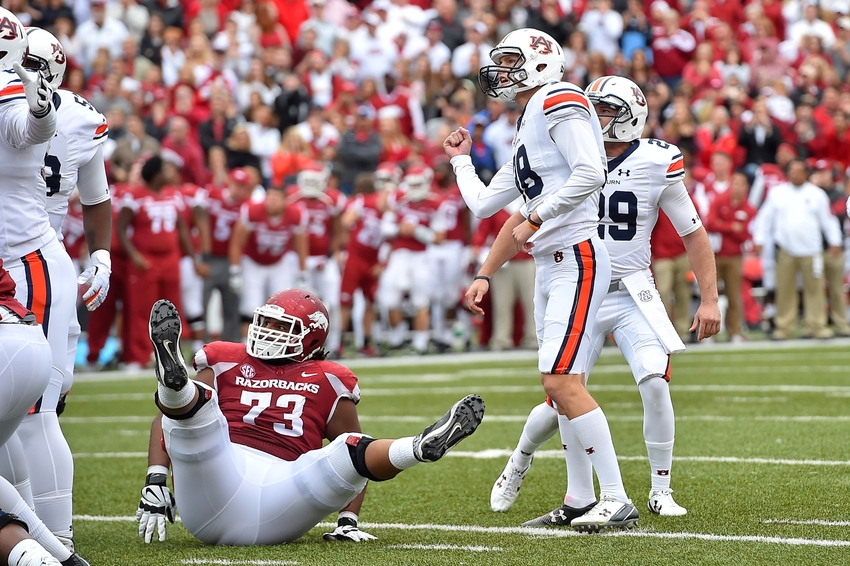 Here is our interview with Chris Jackson over at Razorbackers on the upcoming Auburn football game this weekend against Arkansas at Jordan-Hare Stadium.
1. Austin Allen has been very impressive in his first year as a starter for Arkansas. What makes him so difficult to stop? And how do you see him matching up against Auburn? 
I would love to say that Austin Allen is just blessed with a great offensive line that gives him time, but that isn't that case.
What actually makes Austin great is how he handles the pressure. He is actually the highest pressured quarterback in the nation.
I don't see this game being any different as far as Allen taking hits and having to perform under the gun almost every snap.
A lot of people talk about Texas A&M and their defensive ends, but you don't hear enough about the weapons Auburn has. I think they get to Austin, but as long as he maintains his level of play under pressure, I see him doing fairly well.
 2. It's no secret that the Arkansas defense has struggled to stop the run this season. How do you think they'll do against Auburn's running attack this weekend?
This is where the Tigers find the win or fall to the loss. If you guys get going on the ground game the way you have thus far in the season, I honestly see Arkansas having a tough time stopping it.
Arkansas leaves lanes so wide up the gut that you could drive two 18-wheelers through them.
I will say this, though, to Arkansas defensive coordinator Rob Smith's credit, they did look better at closing the gaps against Ole Miss.
It would be nice to see them continue this progression, but I just think Auburn is going to bust some of those 10-plus yard runs on us.
That is really weird to say by the way. When I think Auburn under Gus Malzahn, I think deep balls and high flying passing, not a deadly ground game. I'm kind of jealous.
3. Where is the one spot on the field that you think Arkansas will have the biggest advantage over Auburn in this game? Why?
Arkansas' passing game is the biggest advantage I see for the Hogs.
This kind of goes back to my first answer, but as long as Austin Allen can keep composure, he's a BAD, BAD MAN.
He had 371 yards passing on Texas A&M with zero picks, and 400 yards against Alabama. Both of which he was on his back every other play.
I expect him to keep the trend going and put up 300-plus yards on Saturday.
4. A lot of people, including myself, thought Arkansas would struggle to make a bowl this year. What are the feelings and expectations from Arkansas fans for 2016 now?
Oh man, it changes from day-to-day and minute-to-minute with our fan base.
One day the team's terrible, the next Bret Bielema is getting a statue built.
I think if you looked at the average expectation from fans now (especially after Ole Miss), you would find most fans would be happy with 6-7 wins.
They have to get to a bowl game without a doubt, but most fans realize we are still rebuilding.
There have been let downs this season, mostly on how bad our defense and the offensive line has looked, but we can wait to see what happens through the rest of the season before we start the hashtag fire someone campaign.
5. Your prediction for Saturday?
I see this being a major test for Arkansas. There could be a shootout, which keeps it close; however, the Hogs pull it off on the road.
Prediction:
Arkansas- 34
Auburn- 27
Good luck to you guys, and let's hope that both teams finish the day healthy. See you gameday, and Woo Pig!
This article originally appeared on