Alabama-Mississippi State Postgame Notebook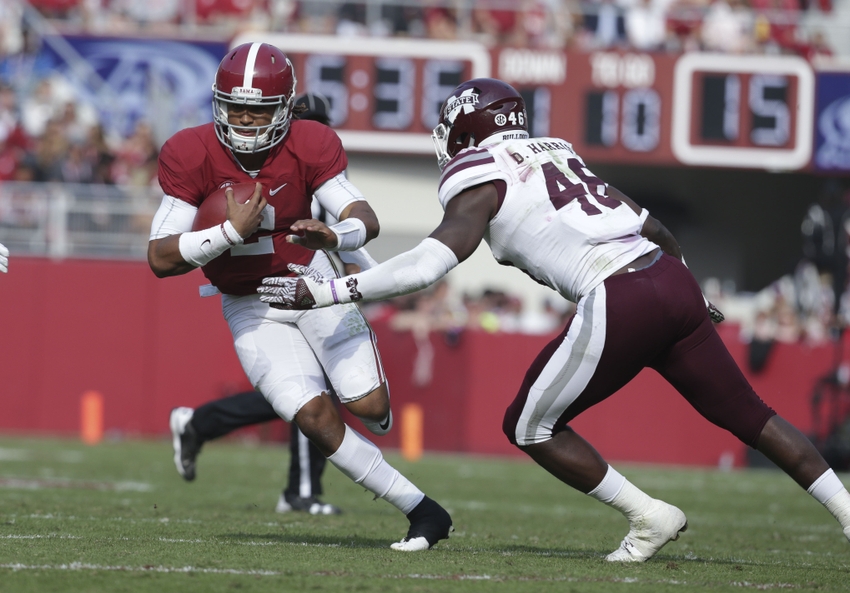 Postgame notebook from Saturday afternoon's game between No. 1 Alabama and Mississippi State in Tuscaloosa, Ala.
Saturday's game against Mississippi State was Alabama's 1,242nd college football game. That figure takes into account games both forfeited and vacated per NCAA rulings. Without accounting for those stipulations, the game was actually Alabama's 1,264th football game. Saturday's game was Alabama's 591st all-time SEC game and the Tide has an official record of 393-167-20 (.682), accounting for forfeiture and vacated games. Alabama's actual, on-field record in SEC games is 404-167-20 (.701). With the victory, the Tide's actual on-field record is 903-317-44 (.732), including a mark of 82-10 (.891) this decade.
Alabama's captains for today's game vs. Mississippi State were Reuben Foster, O.J. Howard and Dalvin Tomlinson.
With today's 51-3 win over Mississippi State, the Crimson Tide is 102-6 (.944) under Nick Saban when leading at the half. Alabama has held the lead in 19 of its last 24 games dating back to the start of the 2015 season, including eight of 10 games this season.
Alabama owns the longest winning streak in the Football Bowl Subdivision, having won 22 consecutive games dating back to last season (a loss on Sept. 19, 2015, vs. Ole Miss). The 22-game streak is the third-longest in school history (28 games twice: 1991-93 & 1978-80) and is the longest under the direction of head coach Nick Saban (previous long: 19 games in 2009-10). During this stretch, the Crimson Tide have won 10 games at Bryant-Denny Stadium, eight straight road matchups and four consecutive neutral-site contests while going 15-0 against teams from the Southeastern Conference. Alabama has outscored its opponents by 550 points (829-279; 37.7-12.7), an average of 25 points per game, during the streak.
With today's 51-3 victory over Mississippi State, Alabama reached the 10-win milestone for the ninth consecutive season. The nine straight years with 10 wins extends the school record. The previous total for most consecutive 10-win seasons was five, set by coach Paul "Bear" Bryant's teams from 1971-75. In 121 seasons, the Tide has won 10 or more games 36 times, equaling Oklahoma for the most 10-win seasons in college football history. Alabama has produced 11 10-win seasons since 2002 (2002, 2005, 2008-2016). Bryant had a school-record 13 10-win seasons at Alabama, while Saban is second with nine.
The University of Alabama has played 69 games as the nation's top-ranked team since the inception of the Associated Press poll in 1936. In those games the Crimson Tide boasts a 59-10 (.855) record. Those numbers get even more impressive when you look at the 10 seasons under the direction of head coach Nick Saban (2007-present). Since the ninth game of the 2008 season (111 games), Alabama has played 45 games while being ranked No. 1, posting a 40-5 (.889) record during that span.
Today's game against Mississippi State was Nick Saban's 45th career game coaching Alabama as the Associated Press No. 1 team. That ties him with Bobby Bowden for the second most at one school and leaves him one shy of Woody Hayes (46). Saban is 40-5 (.889), tying Bowden and Hayes for the most wins coaching the No. 1. Bowden was 40-5 at Florida State as No. 1 and Hayes went 40-6 with Ohio State. The difference is Saban is in his 10th season at Alabama and Bowden spent 34 seasons at FSU and Hayes was at OSU for 28. The Crimson Tide have been ranked No. 1 in 33 percent of its 132 games coach by Saban. By comparison, Florida State was No. 1 in 10.8 percent of the 417 games Bowden coached and Ohio State was No. 1 in 16.7 percent of the 276 games coached by Hayes.
Alabama head coach Nick Saban is 120-19 (.863) in home games during his college head coaching career. He owns the advantage at every stop he has made during his collegiate coaching career, including a 61-7 (.897) mark while at Alabama. Saban has won 32 of his last 34 contests at Bryant-Denny Stadium and has lost back-to-back matchups only once, with consecutive losses coming at the end of the 2007 season (LSU and ULM).
Alabama head coach Nick Saban owns a 49-10 (.831) all-time record when playing in a Southeastern Conference game at home, going 16-4 (.800) during his time at LSU and owning a 33-6 (.846) record at Alabama. While with the Crimson Tide, Saban has posted four perfect home SEC slates and has not lost more than one home conference game in any season other than 2007 (two losses). All six of his losses at home have been by seven points or less with half of those by three or fewer. Under Saban, Alabama has outscored its SEC home opponents 1,281-556 (32.8-14.2 points per game) and has limited the opposition to 14 points or less on 24 occasions, including six shutout victories.
Crimson Tide head coach Nick Saban owns a 102-26 (.797) career record in 128 games against SEC opponents. While at Alabama, he has compiled a 72-13 (.847) record versus conference foes, and is outscoring opponents by a staggering 3,370-1,300, or 39.6-15.3 points per game. Of his 13 losses against SEC opponents while at Alabama, all but two (Florida, 2008 and South Carolina, 2010) have been by seven points or less. Saban's first matchup with an SEC team came in the 1995 Independence Bowl against LSU, where his Michigan State Spartans fell, 45-26, to the Tigers. He would later go on to coach LSU to 30-12 overall record against conference opponents.
With the win over Mississippi State today, Alabama has defeated 64 consecutive unranked teams under head coach Nick Saban. The last loss to an unranked team came against Auburn to close out the 2007 season. The current streak began with a win over Colorado on Dec. 30, 2007, in the Independence Bowl. Under Saban, Alabama holds a 68-3 (64-3 after vacated wins) mark against unranked opponents, including a perfect mark in unranked matchups since 2008.
Alabama's 51-3 win over Mississippi State today marked the 64th time the Crimson Tide has held an opponent to 10 points or fewer under head coach Nick Saban since the start of the 2007 season and the seventh time in 2016.
Alabama limited Mississippi State to 94 yards on the ground today, and has surrendered just 688 yards rushing through 10 games this season. Alabama led the nation in rushing defense coming into today's contest.
Since the start of the 2009 season, no defense has allowed fewer touchdowns than the Crimson Tide. Alabama's defense has surrendered only 154 touchdowns over the last 104 games.
In head coach Nick Saban's tenure at Alabama, the Tide has limited opponents to under 300 yards of total offense 84 times, or 63.1 percent of the time. UA opened the 2016 season by limiting USC to just 194 yards in the Tide's 52-6 victory and followed that up by holding Western Kentucky to 239 yards on Sept. 10. Alabama held Kent State to 166 yards on Sept. 24, Kentucky to 161 on Oct. 1, Tennessee to 163 yards on Oct. 15, Texas A&M to 278 yards on Oct. 22, LSU to 125 on Nov. 5 and Mississippi State to 274 yards today.
Tim Williams' first quarter sack today give his a team-leading eight on the season and 20 for his career, moving him into sole possession of eighth place on the UA all-time list. Antwan Odom (2000, 2002-03) is seventh with 20.5.
Alabama's offensive performance vs. Mississippi State today ranks among the best single-game outings in school history. The Tide's 397 passing yards and 31 completions both rank as the fifth-best in UA history in their respective categories. The five touchdown passes thrown today ties for the second-most all-time behind the seven thrown by the Tide vs. Southern Miss in 1950. The 615 yards in total offense ties for 11th in Alabama history.
Alabama's school record consecutive games scoring streak was extended to 208 games with Adam Griffith's 30-yard first quarter field goal vs. Mississippi State today. Alabama was last held off the scoreboard in a 9-0 loss to Auburn on Nov. 18, 2000.
Today's four-yard touchdown pass from Jalen Hurts to Calvin Ridley marked the first time Alabama has scored a first-quarter touchdown in the game following the LSU contest since 2001, when Santonio Beard scored on a six-yard run with 7:51 to go in the quarter.
With 218 yards rushing today, Alabama is now 87-4 (.956) since the start of the 2008 season when rushing for at least 140 yards. The only losses were at Auburn in 2013, at Ole Miss and vs. Ohio State in 2014, and against Ole Miss in 2015. The Crimson Tide rushed for 140 yards or more 10 times in 2015 and has done so nine times this season.
Jalen Hurts' 100 yards rushing against Mississippi State gives him 735 yards on the season, making him just the second quarterback in Alabama history to rush for 700 yards in a season. Hurts is 56 yards shy of the single-season record of 791, set by Steadman Shealy in 1979.
With two touchdown passes and a scoring run against Mississippi State, Jalen Hurts moved into fifth place on the Alabama single-season touchdown responsibility list with 25. Hurts has thrown 14 touchdown passes and rushed for 11 scores this season. AJ McCarron (2013- 28 passing) and Derrick Henry (2015- 28 rushing) are tied for third. Blake Sims (2014) holds the single-season record with 35 touchdowns (28 passing, 7 rushing).
Jalen Hurts' 447 yards in total offense against Mississippi State is the third-highest single-game total in school history, trailing only Blake Sims (484 vs. Florida on Sept. 20, 2014) and Scott Hunter (457 vs. Auburn on Nov. 29, 1969).
Jalen Hurts' four touchdown passes vs. Mississippi State was one shy of the Alabama single-game record of five set by Gary Hollingsworth at Ole Miss on Oct. 7, 1969.
Jalen Hurts' 28 completions, 37 attempts, 347 yards and four touchdowns are all new career highs. His previous single-game highs in completions, attempts and yards were set in a 23-of-36, 287-yard performance vs. Western Kentucky on Sept. 10. Hurts had thrown two touchdowns in a game five times this season entering today. The 28 completions today ties for the fifth-most in school history.
Jalen Hurts' 100 yards rushing today is his fourth 100-yard rushing performance of 2016 and his third in the last four games. Hurts had a season-high 146 yards at Ole Miss on Sept. 17, 132 yards at Tennessee on Oct. 15, and 114 at LSU on Nov. 5.
ArDarius Stewart's three touchdown receptions today equals the Alabama single-game record, which has been reached six times previously, most recently by Amari Cooper vs. Auburn on Nov. 29, 2014.
Junior ArDarius Stewart's 156 receiving yards on eight catches is a new career high in yardage for the wideout. Stewart's previous high was 120 at Arkansas on Oct. 8.
With three field goals and five extra points in the first half today, senior placekicker Adam Griffith now has 91 points in 2016 (14 field goals and 49 PATs) to give him 319 career points (49 FGs, 169 PATs) to move into fourth place on the Tide's career scoring list, seven points shy of third place Michael Proctor who had 326 points (65 field goals, 131 PATs) from 1992-95. Griffith also ranks fourth on Alabama's all-time kick-scoring list just behind Proctor.
With five extra points in the first half today, senior placekicker Adam Griffith now has 49 this season to give him 169 for his career, the second-most in school history. Jeremy Shelley (2009-12) is the career leader with 172.
Punter JK Scott improved his FBS-leading 50-yard punting percentage with boots of 54 and 62 yards vs. Mississippi State. Scott now has 20 punts of 50 or more yards in 36 attempts this season, a 55.6 percent average, tops among all FBS punters.
This article originally appeared on