Alabama Football: What I learned watching Alabama play Arkansas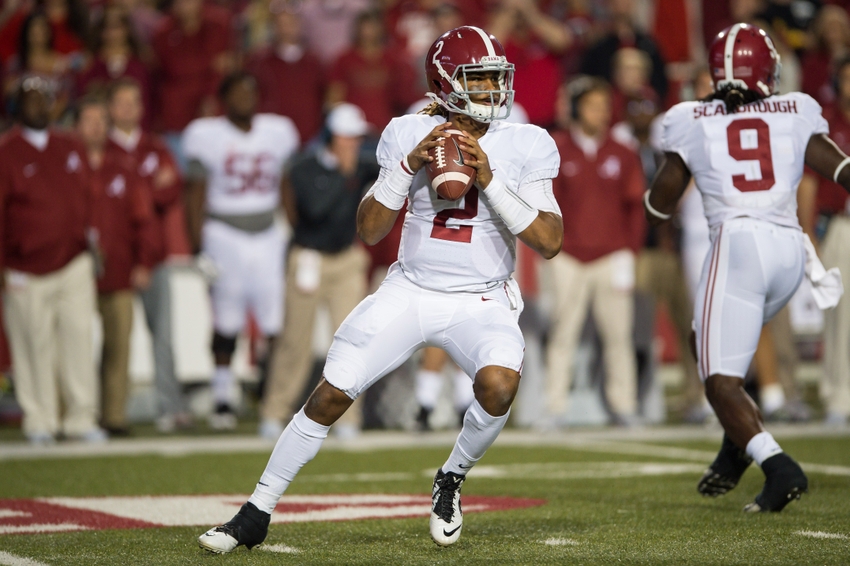 The 2016 Alabama football team advanced to 6-0 after a big play-fest against fellow Western Division foe Arkansas in Fayetteville, but what did we learn from the Crimson Tide on Saturday?
With each passing week we will learn more about the 2016 Alabama football squad.  We will spot trends as they emerge and puzzle at both the positive and negative outliers throughout the Alabama football season.
In this weekly feature I'll highlight a handful of the lessons this team is teaching me.
Pieces Coming Together
It's too early for this to carry much weight, but not too early to take notice: this team is starting to demonstrate characteristics of prior championship caliber teams under coach Nick Saban. The team demonstrates improvement each week, specifically, appearing to correct issues or perceived weaknesses from prior weeks. The emerging running game and fast start against Arkansas are obvious examples. But so too is the number of penalties, particularly those along the offensive line.
Yes, a good team should get better week to week. But it doesn't always happen, especially with a team carrying such hype and acclaim. Watch for both the secondary and the fumbles to tighten up as we track this trend forward.
Viva Beano Cook
For my taste, college football isn't quite the same without a little Beano Cook – so I try to invoke him each season as I can. This year, the emergence and development of Jalen Hurts brings Beano to my mind.
I'm not going to go full Ron Powlus and predict two Heisman trophies, but I'm going to come dangerously close. Hurts has developed remarkably well for a true freshman and we have witnessed first-hand how Kiffin can mold a first-year starting quarterback over a full season – see Blake Sims and Jacob Coker as Exhibits 1 and 2.
If Hurts' trajectory approximates that trend, and he continues it forward into subsequent seasons, look for him to win multiple national titles during his tenure with Alabama football.
Running Back Roulette
As if on cue, the Alabama football running game flexed its muscle against Arkansas – with 264 yards on only 34 carries. Equally impressive is the distribution of that workload, as two backs registered runs longer than 50 yards and three averaged at least 8 yards per carry.
Further, BJ Emmons could have potentially registered such numbers had the Tide been allowed more than 51 plays on offense.
With the full stable healthy for the first time in a month, watch for the running game to continue its emergence as the season progresses.
Jonathan Allen is a Smart Man
Many will recall Allen's 75-yard interception return against Ole Miss. During the return, his defensive escort gave way to celebration – which allowed the tiring Allen to be caught from behind. Fortunately, Allen crossed the goal line with the ball – so being run down is mostly lost to history. That is, to most everyone but Allen himself.
Against the Hogs, Alabama's Tim Williams picked up a fumble and rumbled 23 yards for another defensive touchdown, one of two on the game for the Tide. However, during the return Allen peeled off the escort to block a pursuing Arkansas player thereby preventing a potential rundown and ending his unplanned sprint down the sidelines – win and win.
Depth Watch
I give up. This now is officially a recurring topic until the team proves otherwise. Against the Hogs, the Tide defense ran 84 plays while Arkansas held the ball for better than 37 minutes. This is not sustainable for this year's stop squad.
Granted, some of this is self-imposed by allowing Arkansas to convert half of their third downs, but the toll on the thin front was equally as obvious. With only limited exception, the Tide's primary rotation along the front consisted of only four players. This required end Dalvin Tomlinson to slide to nose, rather than taking a breather on the bench, to allow DaRon Payne an opportunity to catch his breath. Were it not for a Tide-friendly lead/time-remaining ratio, Arkansas could have exploited the fatigue factor with its solid run game.
With two quality opponents standing between now and the Tide's bye week, getting this sorted quickly becomes a top priority.
Check back as I continue to track these and new items as they emerge from the field.  Also be sure to check out our podcasts as I explore and debate these topics and many more in a more animated format.
This article originally appeared on