Michigan State Basketball: Highlights, final score vs. Kentucky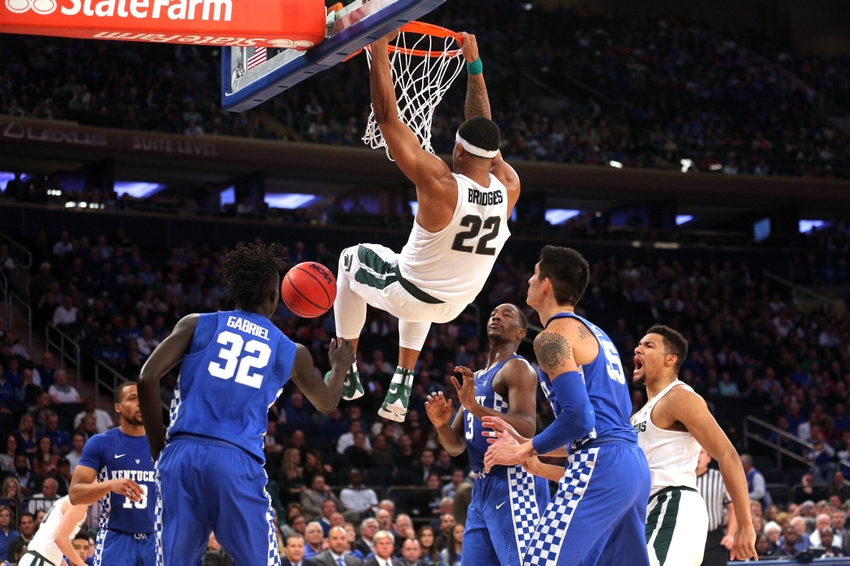 Michigan State basketball lost its second game of the season and it wasn't pretty against the Kentucky Wildcats.
It wasn't pretty. Michigan State basketball fell at the hands of the Kentucky Wildcats and it wasn't close after the first five minutes of action. After tying it up at 12, Kentucky went on a run and just didn't look back. The Spartans made it respectable at halftime, but the second half was all Kentucky.
Must Read: MSU Basketball: 5 bold predictions for November
The Spartans couldn't get anything to go in their favor as turnovers, missed free throws and just poor shooting doomed them. In fact, Michigan State had 20 turnovers to Kentucky's 14.
Miles Bridges had the worst game of his young career, scoring six points and grabbing 12 rebounds, but he turned the ball over nine times. The youth was evident in this one and the Spartans just didn't look smart. The sloppiness may be caused by the excessive traveling the team has already done, but they need to gel fast.
Michigan State drops to 0-2 on the season and Kentucky improves to 3-0. Not the ideal start for Tom Izzo's squad, but they're only going to get better from here on out. Tough tests to start the season mean deep runs in March.
Three Stars
1. Kenny Goins — the former walk-on continues to play bigger than he actually is. He finished with nine points and seven rebounds.
2. Nick Ward — the freshman provided a spark off the bench. He played with energy and had eight points with seven rebounds.
3. Cassius Winston — he was the best point guard on the team. When Tum Tum was inefficient, Winston came in and played well. He scored nine points and had two assists.
Highlights (there weren't many)
It's time to move forward as the Spartans will host Mississippi Valley State on Friday night. From here on out, it's all growth.
This article originally appeared on