Louisville Basketball: Projected starting lineups vs. Wichita State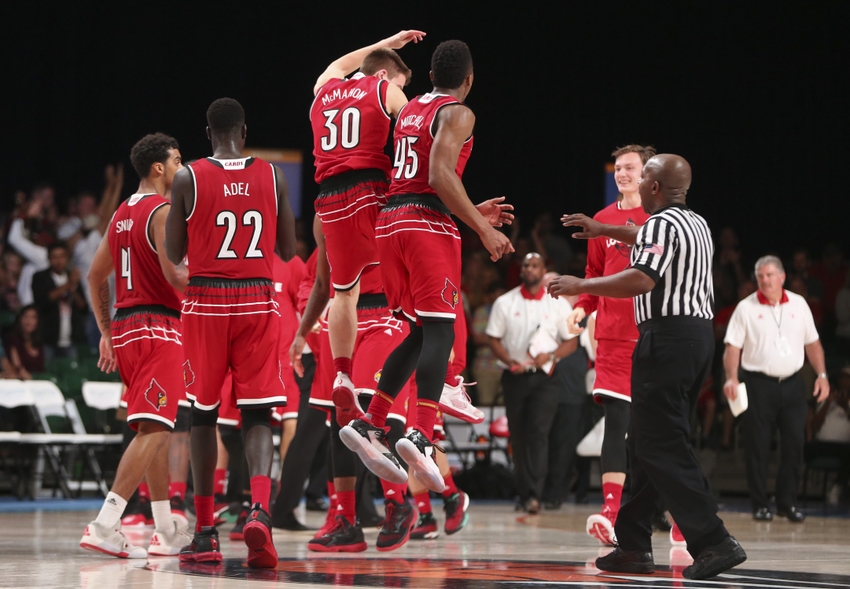 We take a look at the two projected starting lineups between the Louisville basketball team and the Wichita State Shockers.
The Louisville basketball team will be taking on Wichita State this afternoon in the Battle 4 Atlantis. Both programs are currently undefeated and looking to advance to Friday's championship game.
Want your voice heard? Join the Big Red Louie team!
Wichita State destroyed LSU in the first round, whereas Louisville barely escaped with a win over Old Dominion. However, those games are already played, therefore what matters is who comes out ready to play this afternoon.
The Cardinals may have their hands full with a talented and well-coached Shockers team this Thanksgiving afternoon.
Here is Louisville's projected starting line-up, according to Jeff Greer from the Courier-Journal:
G-Quentin Snider 6-2 Jr. 2.0 9.5

G-Donovan Mitchell 6-3 So. 5.8 11.8

F-Deng Adel 6-7 So. 3.8 9.5

F-Jaylen Johnson 6-9 Jr. 11.5 13.0

C-Mangok Mathiang 6-10 R-Sr. 7.3 8.8
Louisville has to get the ball to Jaylen Johnson this afternoon. He is clearly the best forward that the Cardinals have on their roster, therefore they must make the effort to get him the basketball in the paint. They cannot afford to let Mathiang and Mahmoud fumble the ball under the rim against Wichita State.
Also, let's see if Donovan Mitchell can continue his heroic performance from the game against Old Dominion. If it wasn't for his streaky shooting at the end of the game, the Cards may not be in position to head to the championship game with a win over the Shockers.
Here is Wichita State's projected starting line-up, according to Jeff Greer:
G-Conner Frankamp 6-1 R-Jr. 0.8 6.8

G-Landry Shamet 6-4 Fr. 2.8 9.8

F-Zach Brown 6-6 Jr. 4.0 9.8

F-Rashard Kelly 6-7 Jr. 5.8 6.0

F-Shaquille Morris 6-8 Jr. 2.8 6.4
Louisville fans need to understand that this is a dangerous team that can knock off the Cardinals if they come out hot again this afternoon. They beat the garbage out of LSU yesterday and shot the ball extremely well.
Frankamp went for 8 points yesterday and Shamet went for 12. They were 3-4 from three combined and will knock down any shot that Louisville's defense lets them have. The Cards must be disciplined on defense and defend the perimeter.
This article originally appeared on