Kentucky Basketball: Four Players Named Preseason All-SEC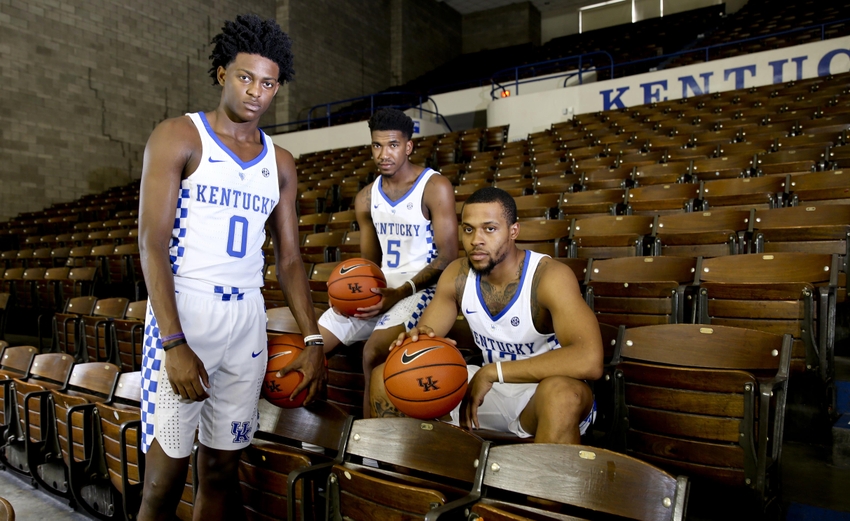 Kentucky basketball has one of the most star-studded rosters in the country. Media members selected four of those players to the preseason All-SEC teams.
---
The Kentucky basketball teams is preparing for what projects to be one of the most fruitful and rewarding seasons in program history. With a star-studded recruiting class and a returning sophomore with NBA upside, Kentucky has a chance to achieve greatness.
SEC media members seem to believe that four specific players hold the keys to Kentucky's future.
The Wildcats' 2016 recruiting class was ranked No. 1 by ESPN Insider and Rivals, and No. 2 by 247Sports and Scout. Its 2015-16 squad went 27-9 and won the SEC Conference Tournament championship, and the 2016-17 team returns one of the most valuable players from that group.
The SEC media members selected four Kentucky players—three incoming freshmen and a sophomore—to the preseason All-SEC Teams.
All four players deserve the recognition.
Bam Adebayo and De'Aaron Fox are projected Top 10 picks in the 2017 NBA Draft. Thus, it comes as no surprise that the Wildcats' freshmen phenoms are being heralded as preseason All-SEC First Team selections.
Adebayo is a physically dominant big man with a versatile skill set and Fox is an explosive point guard who can do a bit of everything on both ends.
Briscoe, a returning sophomore, was one of the most highly-touted recruits in the country leading up to the 2015-16 season. The same can be said about Malik Monk, who's widely regarded as top shooting guard in the class of 2016.
Both have their fair share of question marks, however, which is likely why they were named to the preseason All-SEC Second Team.
These four players deserve the praise they've received. Adebayo and Fox have collegiate superstar potential and similar upside in the NBA, and Briscoe and Monk could be one of the most exciting duos in the country.
Wenyen Gabriel could also be worth considering for an All-SEC bid come the end of the 2016-17 campaign.
The hype is tremendous in Lexington. Can the Wildcats live up to it?
More from Wildcat Blue Nation
This article originally appeared on