Indiana vs. Kansas: What to Watch for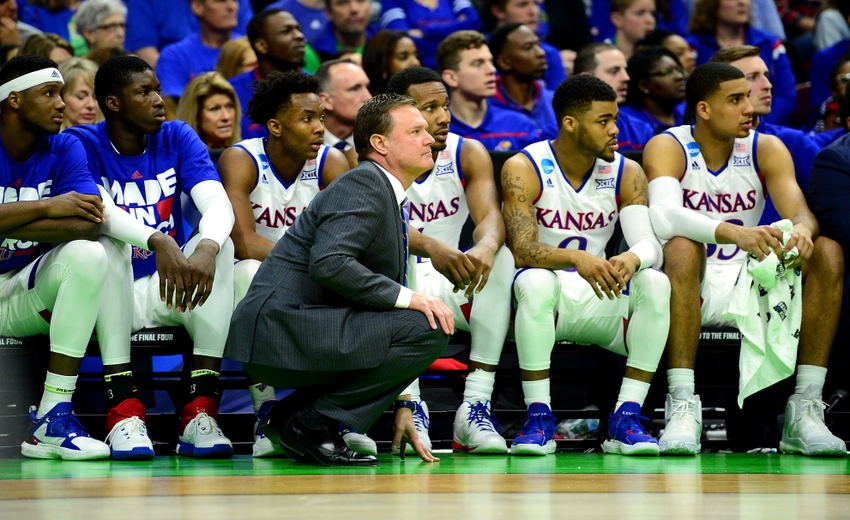 After two exhibition wins, KU basketball opens the season officially in Hawaii against Indiana. Here's what we'll watch for.
Bragg looked somewhat disjointed in KU basketball's two exhibition games, scoring only six and two points, respectively, and even fouling out against Emporia State. There are a couple reasons why this could be the case. First is that Bragg is pressing. He knows he will be counted on to score a lot in the post this season, as Landen Lucas isn't really a scoring threat. Bragg's transition from role player into star won't be an easy one, and some early growing pains aren't really an issue.
The second is just scheme. Bragg isn't a creator; he needs sets to put him in position to score and make plays. It's the reason he's such a great fit in the high/low and will be a nightmare against zone defenses. In the exhibitions, Kansas didn't run much, if anything designed to get Bragg good looks. He did play well on the possessions where Emporia State played zone. Look for Self to run more sets for Bragg, especially to get him looks in the post. Indiana plays mostly 4-out style basketball, so IU forward Ogugua Anunoby will likely guard Bragg. He's smaller than Bragg at 6'8" and 235 pounds, so it could be a matchup advantage for the Jayhawks.
Speaking of smallball, which small lineup has the advantage?
Indiana plays most of their minutes with a small lineup. This year, it will likely be Josh Newkirk (6'1"), Robert Johnson (6'3"), James Blackmon (6'4"), Anunoby (6'8"), and Thomas Bryant (6'10"). IU coach Tom Crean also has a lot of depth, with sophomore forward Juwan Morgan, freshman big man De'Ron Davis and guard Devonte Green coming off the bench. Early in the season, Self doesn't allow his defense to switch nearly as often in order to keep them from being lazy. This matchup will definitely be a challenge to that style. Blackmon is one of the best scorers in the Big Ten, and averaged 15.6 points per game last season, and shot over 46% from the three point line. Whoever guards him (likely Devonte Graham) will have his hands full.
Newkirk, a transfer from Pittsburgh, could be the weak link for Indiana on offense, which makes it a very good matchup for Kansas. Senior Frank Mason won't have to expend all his energy chasing around a dangerous scorer, so he could be KU's most dangerous offensive threat. I look for Mason to get good looks at the rim, as Hoosier center Thomas Bryant isn't a great rim protector, and averaged less than a block per game last season. Blackmon isn't a great defender either, and he'll likely start on Devonte Graham. Johnson is the better defender of the two, and will have an immense challenge against star freshman Josh Jackson.
If Kansas goes small, with Lagerald Vick or Sviatoslav Mykhailiuk on the floor instead of Bragg or Landen Lucas, I still think they have the advantage. The Jayhawks will still have the size to compete at every position, though rebounding will be a problem if Bragg is against Bryant. Because of that, I think Lucas would be the better anchor in a small lineup than Bragg. Lucas is an elite rebounder and good post defender, and could mask some of KU's weakness in those areas.
It's early in the season, so who makes fewer mistakes will likely win.
Indiana is a quality team, which is why they're ranked 11th in the country as the season opens. On a neutral floor, this game will likely be close. Neither team is anywhere close to where it wants to be, so mistakes could play a big factor. In the two exhibitions, Kansas committed 23 and 22 fouls. With frontcourt depth a question, Lucas and Bragg need to stay out of foul trouble. For the Hoosiers, Thomas Bryant is also foul prone, so getting him in early foul trouble could make this an early blowout.
For Indiana, turnovers could be an issue as well. They lost floor Yogi Farrell to graduation, and are breaking in Newkirk as the point guard. Look for Mason, Graham, and Jackson to try to force turnovers to put the Hoosiers in a hole early. Indiana is a very good shooting team and spreads the ball well, so no lead is safe. They play an aggressive style of defense and try to disrupt opponents' offensive rhythm, a challenge this Kansas team hasn't seen to date. I look for this game to be somewhat sloppy in that regard.
Bottom Line
Kansas is definitely a matchup problem for Indiana, especially if the Jayhawks go small. If KU doesn't turn it over a lot and shoots it well enough, they should win. However, Indiana can light up the scoreboard with the best teams in the nation, so keeping them from making shots will be key. I don't think, at this point, they have enough firepower to hang with Kansas. KU wins, 77-68.
More from Through the Phog
This article originally appeared on