FSU Basketball Game Preview: vs. Florida Gators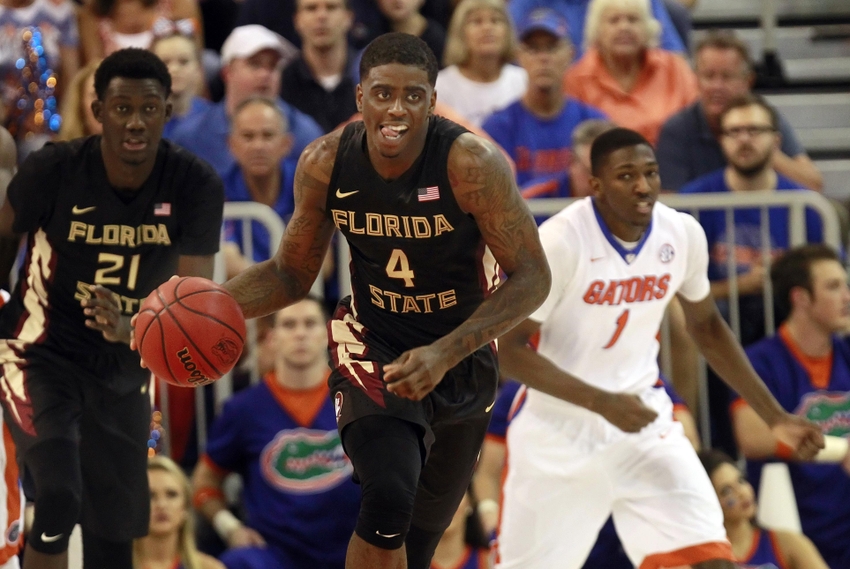 Here is a preview for FSU basketball and their next game of the 2016-2017 season as they take on the rival Florida Gators.
It is finally time. FSU basketball faces their toughest opponent of the season (by far) in the form of the Florida Gators. The team from Gainesville boasts a 7-2 record, and are coming off a loss to Duke, in Madison Square Garden.
Meanwhile, Florida State is 9-1, and off to their best start since 2009. Those were the days when Toney Douglas, Solomon Alabi and the legendary Ryan Reid were still around. Fun times.
Considering that his hip injury sounded minor, the Seminoles should have freshman star Jonathan Issac back in the starting lineup.
If he doesn't play, Florida State will need guards Dwayne Bacon and Xavier Rathan-Mayes to step up. Bacon leads the team in scoring at 17 points per game, on 50 percent shooting, and 40 percent from deep.
The Last Time The 'Noles Took The Court
So far, it's been cupcake week for Florida State. The Seminoles faced off against Southern Miss and Nicholls State, and won each by an average of 52 points.
The only thing we could really take out from either contest is that PJ Savoy is a human flamethrower. Besides that, Florida State playing hard and focused on defense, even despite their two inferior opponents, could be a great sign of things to come. The Seminoles defensive efficiency, which was a weakness to start the year, has improved to 47th in the country (via KenPom). If they can maintain that level going forward, while still having a top-20 offense, they'll be tough to beat.
If you'd like a more detailed recap of cupcake week, direct yourself right over here, please.
Opponent Preview
Let's talk about the Florida Gators. As previously stated, they're easily the best team Florida State has played thus far. They are the 14th team in the country on KenPom, with a top-25 offense and the ninth overall defense. Their losses this season have come to two of the best teams in the country: Duke and Gonzaga. And they already notched a big win against the Miami Hurricanes.
Although their offense has been efficient to start the year, the complaint Gator fans elicit most is deficiency of offensive firepower. (Doesn't Florida having an elite defense with a so-so offense sound a little too familiar?)
The Gators only have three players averaging double-digit points.
Further, their leading scorer, KeVaughn Allen, is good for just 13 per game. If a team only has a few guys scoring double digits nightly, you'd like at least one of them to be averaging more than 13 points. Allen is shooting 44 percent from the floor, and 33 percent from deep. FSU must force him to jack up a of lot threes, while keeping him out of the paint.
'Nole fans probably remember Allen from last year, as he scored a career-high 32 points against the Seminoles. He and the then-freshman Dwayne Bacon put on quite the show in Gainseville, though we all recall how that ended.
Senior point guard Kasey Hill is Allen's back-court partner. Although the former blue-chip recruit hasn't lived up to his recruiting status, he's still a guy FSU has to keep track of. He averages four assists per game, to go along with eight points on 37 percent shooting. Though he's never been close to a good offensive player, he's a pest defensively when motivated. And he'll be motivated playing against his in-state rival. He's from Florida, so he knows the stakes.
FSU Basketball Recap: Seminoles Dominate Southern Miss, Nicholls State
Devin Robinson is another UF player to watch out for. The junior forward is projected to be a second-round pick in this year's draft (via DraftExpress). He averages 12 points and five rebounds, but his specialty is defense.
Another key cog for the Gators defensively is junior center John Egbunu. Though he struggles on offense (averaging just nine points on 42 percent shooting), he's an absolute force on defense.
The last guy 'Nole fans should know about, although he only plays about 20 minutes per contest, is Justin Leon. He's a shooter that Florida State must remain attached to when he's on the floor. The senior forward is a 50 percent shooter from deep, and has made three three's in two games already this season. Leon's shooting prowess means that a defense must be wary of him at all times.
Interesting Fact
Did you know that the Florida State Seminoles have beaten the Florida Gators four straight times in football, and six out of the last seven? Oh wait, sorry, this is a basketball preview. Okay, let's try that again: did you know that the Seminoles have won two in a row against the Gators in basketball as well?
I already showed you how Florida State pulled out a win in Gainseville last season, but do you all remember how we beat them in Tallahassee two years ago? Allow me to jog your memory.
Hilarious.
XRM, meanwhile, has adapted to his role as a facilitator nicely. The junior point guard is averaging 10 points and five assists (to just two turnovers), per contest. Over his last three games, he's also shooting 55 percent from three. He doesn't need to be a big-time scorer with this roster, but does need to take care of the basketball and make open three-pointers. Hopefully he continues to do the latter.
This is a huge game for the Seminoles. It would be the out-of-conference win they need to look good for the selection committee come March. Although FSU will most likely make the tourney even with a loss to Florida, we'd rather not leave it up to chance. The ACC is just absurdly good, and the 'Noles have a very tough schedule coming up in conference play. So having a big cushion before then will be vitally important.
The Seminoles are favored by -2.5 (via OddsShark), and the game tips off from Tallahassee at 4PM, on ESPNU. Not much more to say but go 'Noles, and beat those damn Gators.
This article originally appeared on