Florida Gators Basketball: Can UF Go Deep With No Star?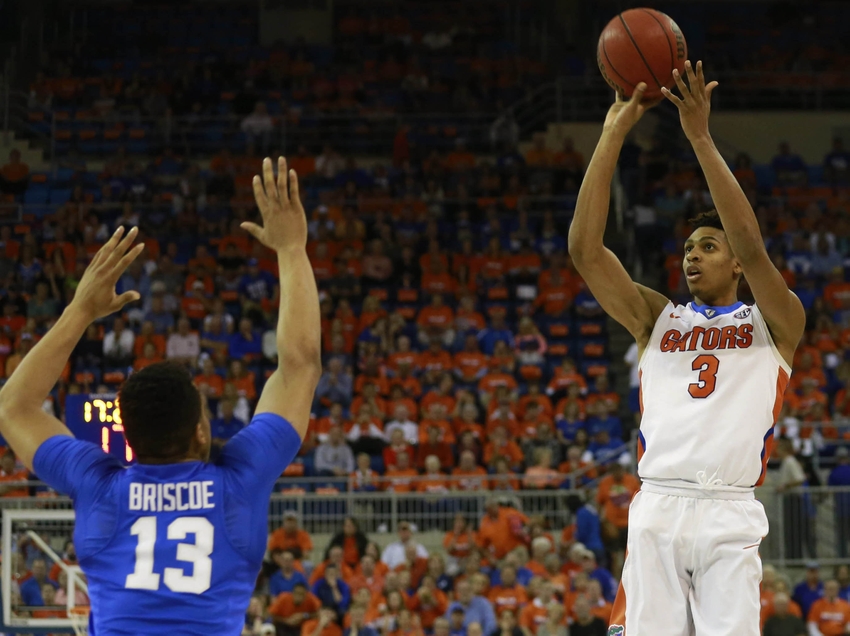 The Florida Gators basketball team has quality depth and a 3-0 record, but can Mike White's crew make a deep run without the emergence of a star?
---
Through three games, the Florida Gators are 3-0. Mike White has led his team to victories over a Florida Gulf Coast team that made the 2016 NCAA Tournament and a St. Bonaventure squad that went 22-9 a season ago.
Florida also defeated the Mercer Bears, which went 19-15 and earned an impressive overtime victory over the Arkansas Razorbacks in 2015-16.
Having started strong, the Gators have reason to be optimistic early in 2016-17. No one player is being depended upon to lead Florida to victory and no opponent has eclipsed 70 points against what could be a dominant defensive front.
The question is: how far can Florida truly go without the emergence of a genuine go-to player?
Through three games, three different players have led the Gators in scoring. Devin Robinson had a team-high 14 points in the season opener, Justin Leon went off for 17 against Mercer, and KeVaughn Allen and Canyon Barry both had 16 points against St. Bonaventure.
Robinson is currently Florida's leading scorer at 13.3 points per game on a seemingly unsustainable slash line of .636/.667/.800.
It's possible that a player will break out, and one not doing so in the first three games is nothing to be alarmed by. Barry is a dynamic talent, Allen and Hill are the same, and both Leon and Robinson can be matchup nightmares.
In order to upset the Kentucky Wildcats for the SEC Championship and make a deep run in the 2017 NCAA Tournament, however, a star will likely need to be born.
Stardom is a relative term, but in this instance, it touches upon the need for a go-to playmaker in the clutch to emerge. A number of players have flashed the potential of being able to fill that role, including Hill, but it's not a process to take lightly.
Florida plays a style that often breeds close encounters—encounters during which the outcome is decided in the second half.
Robinson has star potential, which is evident in the fact he's averaging 19.8 points and 10.9 rebounds per 40 minutes through three games. Barry could take over by season's end, just as he did during his time with the College of Charleston.
Hill has flashed star potential, Leon is a lethal 3-point shooter, and Allen had a productive freshman year that should be improved upon in 2016-17.
Though all are intriguing, Allen and Hill are the players to watch as crafty finishers who can put the ball on the floor and create. Robinson joins them as a player with legitimate star potential, but it's Allen and Hill who can take over as playmakers.
While Hill has been slow out of the gates, Allen scored 16 points against St. Bonaventure, had 13 points and five assists against Mercer, and had games of 32, 27, and 22 points in 2015-16.
The question is: will he be able to live up to his star potential in 2016-17?
The encouraging news is that Florida has a number of players who can go off without a moment's notice. The ball must have an outlined destination when the game is on the line, however, and that's something Mike White should address sooner than later.
Florida has the potential for a big and rewarding bounce-back season in 2016-17.
Who's going to step up and lead the charge?
More from Hail Florida Hail
This article originally appeared on