Duke Basketball: Freshman trio not expected to play versus Michigan State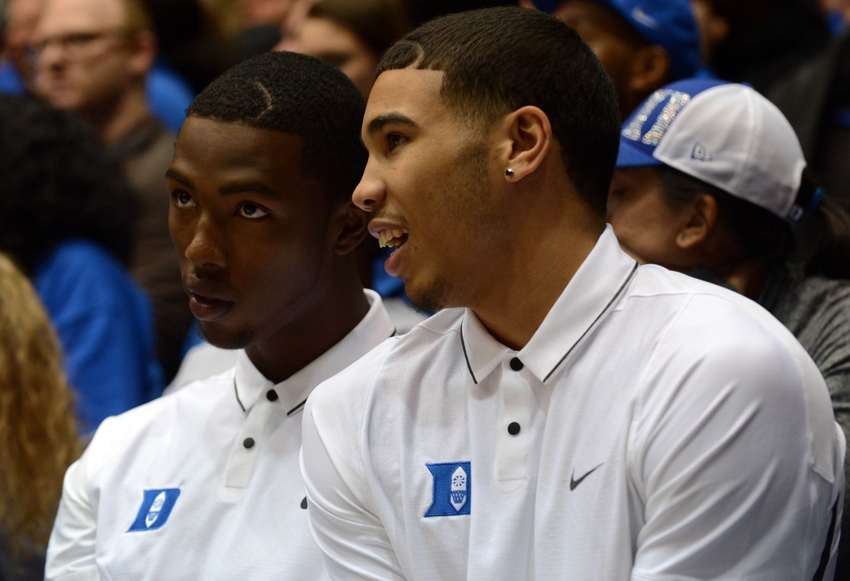 It's unfortunate, but we won't be seeing the return of Marques Bolden, Harry Giles and/or Jayson Tatum on Tuesday night.
As recently as Wednesday against William & Mary, Duke five-star freshman Marques Bolden and Harry Giles were warming up with their teammates. They did not play in the actual game, nor did they take part in Duke's match-up against Appalachian State today.
However, this recent development sparked the thought that two, or possibly all three, of Duke's injured freshman would be ready to play on Tuesday night against Michigan State in the ACC/Big Ten Challenge. 
That won't be happening though, according to Duke head coach Mike Krzyzewski.
Krzyzewski added that the injured freshman trio of Harry Giles, Jayson Tatum and Marques Bolden will not play Tuesday against Michigan State.

"We had this unbelievably deep team, supposedly, and we really the last month have been back to what we've done the last two years," Krzyzewski said. "There's no contact in practice, we can hardly practice, you're in therapy, and that's frustrating, but you do what you need to do."
So instead of seeing a match-up between Miles Bridges and Duke's freshman forwards, we will see a showdown between two injury ravaged teams. It will still be a highly competitive game because of the stature of both programs, the venue (Cameron Indoor Center) and of course, the opportunity to watch Bridges. But it does lose a lot of flair.
Duke is being very cautious with their top three stars, but it is promising that Giles, in particular, is participating in warm-ups. The five-star freshman has had multiple knee surgeries, including a recent clean up at the beginning of October.
Giles was supposed to be the last of the three first year players to return to the court. Instead, he looks like he is close to returning – at least more-so than Jayson Tatum, who wasn't on the floor for warm-ups at all.
The game between Duke and Michigan State on Tuesday matters more to the Spartans than it does to the Blue Devils. Tom Izzo's team is currently 4-3 with some question marks that need to be answered. A road win, even against a team that is missing the majority of their starting lineup and has a banged up Grayson Allen, would be a boon to their confidence.
Duke is going to be the clear favorite to win it all if Bolden, Giles and Tatum all return to the floor. While it's obviously important to win games now, getting their best players to 100 percent is their number one concern right now.
More from Busting Brackets
This article originally appeared on