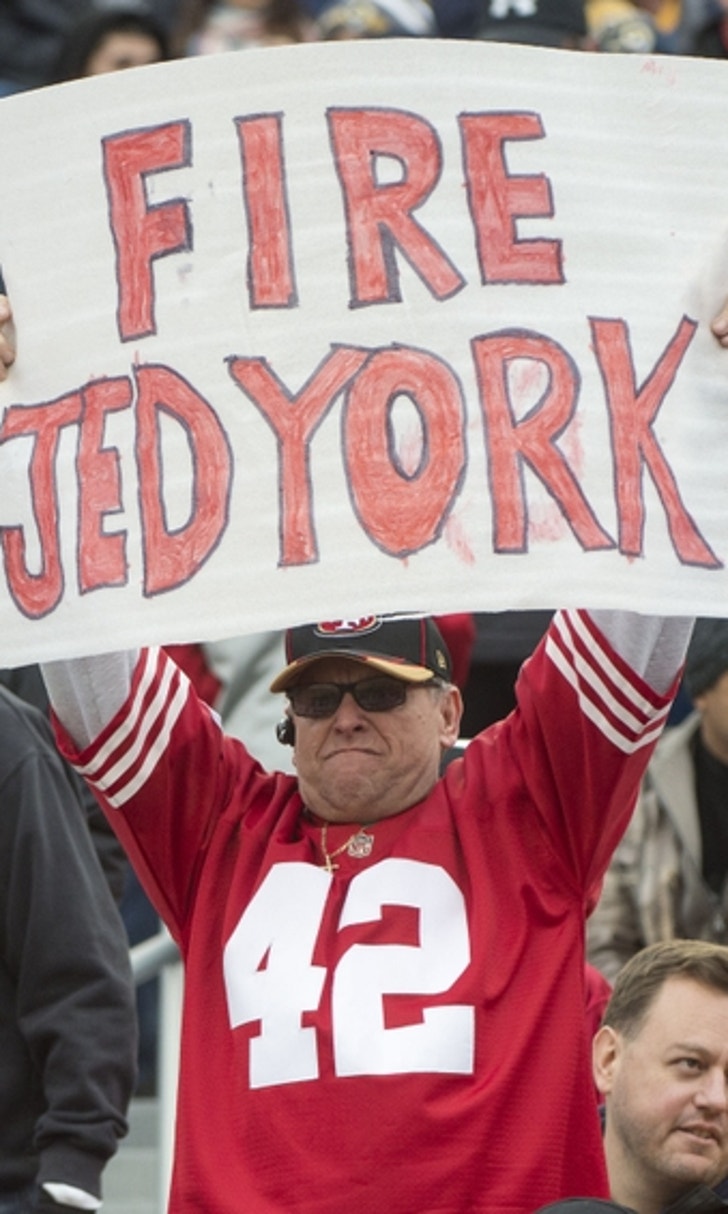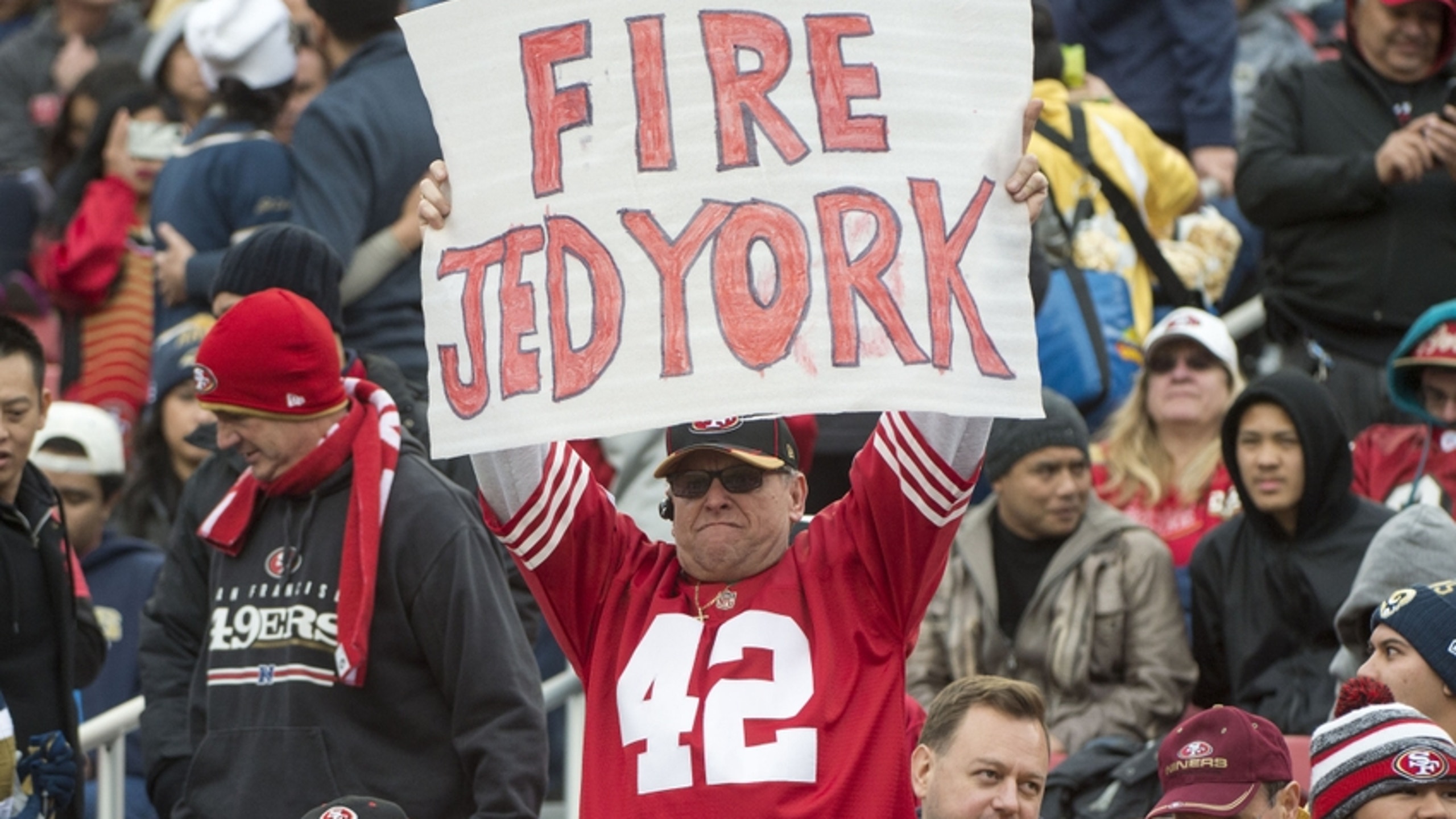 What San Francisco 49ers fans really want this holiday season — Part 12
BY Fansided and Eric Gamboa/FanSided via Niner Noise • December 25, 2016
Welcome to our concluding article in our 49ers fans' wish list series. In this article, Niner Noise will cover the front office. Like in previous posts, Niner Noise will assess the front office and make offseason suggestions to improve the team.
Nov 6, 2016; Santa Clara, CA, USA; San Francisco 49ers fans hold signs referencing general manager Trent Baalke and CEO Jed York before the game against the New Orleans Saints at Levi's Stadium. Mandatory Credit: Kelley L Cox-USA TODAY Sports
Niner Noise assesses the 49ers front office.
In just a few years fans have gone from loving General Manager Trent Baalke to harboring utter hate and disgust at the man running the 49ers' football operations. Baalke's performance as the team's GM has gone from excellence to dumpster fire.
First things first, there are many fans and commentators that have a belief that Baalke inherited a team from his former boss Scot McCloughan (currently the Washington Redskins GM).
This notion that Baalke benefited from McCloughan is only partly true.
In order to have the right context, fans need to see things for what they really are. So, before we delve into Baalke's effectiveness, let's put some things to bed.
Dec 4, 2016; Glendale, AZ, USA; Washington Redskins general manager Scot McCloughan against the Arizona Cardinals at University of Phoenix Stadium. Mandatory Credit: Mark J. Rebilas-USA TODAY Sports
Addressing the Scot McCloughan Myth
Back to the myth Trent Baalke's early success came at the hands of the previous GM. Former Niners general manager Scot McCloughan should get credit for bringing in players like Frank Gore, Patrick Willis, Justin Smith, Alex Smith, Michael Crabtree, Ray McDonald, Ahmad Brooks, Vernon Davis, Delanie Walker, Dashon Goldson and Joe Staley.
Baalke should then also get credit for bringing in Mike Iupati, Anthony Davis, NaVorro Bowman, Aldon Smith, Colin Kaepernick, Chris Culliver, Daniel Kilgore, Bruce Miller, Eric Reid, Jimmie Ward, Carlos Hyde, Chris Borland and Aaron Lynch.
In addition, Baalke should also get credit for bringing in players like Anquan Boldin, Antoine Bethea, Donte Whitner and Stevie Johnson.
Oct 30, 2016; London, United Kingdom; Washington Redskins general manager Scot McCloughan reacts during game 17 of the NFL International Series at Wembley Stadium. The Redskins and Bengals tied 27-27. Mandatory Credit: Kirby Lee-USA TODAY Sports
As far as talented players go, Baalke drafted 13 to McCloughan's 11 players. As far as who brought in more elite talent that definitely goes to McCloughan but Baalke was no slouch when you consider he drafted Iupati, A. Davis, Bowman, B. Miller and Eric Reid.
Baalke should also get credit for drafting the current 49ers quarterback Colin Kaepernick. Love him or hate him, Kaepernick played a significant role in the success of those 2011, 2012 and 2013 49er teams.
Also, many forget that Baalke was Director of Player Personnel under McCloughan. As McCloughan's right-hand man, Baalke would have had a major say in which players the 49ers drafted. So it is hard to know how much of the credit belongs to McCloughan alone.
In addition, many have failed to acknowledge that McCloughan also made his own series of gaffes during his tenure as the team's GM.
Nov 22, 2015; San Diego, CA, USA; San Diego Chargers linebackers coach Mike Nolan looks on during the second half of the game at Qualcomm Stadium. Kansas City won 33-3. Mandatory Credit: Orlando Ramirez-USA TODAY Sports
Head Coaching Hires
Under Scot McCloughan, the 49ers were led by head coaches like Mike Nolan and Mike Singletary. Both of whom played their roles in the deterioration of first-round quarterback Alex Smith (not to mention never posting a winning season).
Jan 17, 2015; St. Petersburg, FL, USA; East head coach Mike Singletary looks on during the first quarter at the East-West Shrine Game at Tropicana Field . Mandatory Credit: Kim Klement-USA TODAY Sports
Trent Baalke deserves praise for reeling in Jim Harbaugh. Recruiting Harbaugh, who was a highly coveted college coach, was a major win for Baalke. Failing to remember Harbaugh had many suitors distorts Baalke's overall performance as the team's GM. Crediting Baalke for landing Harbaugh is fair.
Hiring Jim Tomsula as the 49ers head coach following Harbaugh's departure reeks as a decision made by 49ers CEO Jed York and not a decision made by Baalke (but more on that later).
Replacing Tomsula with current head coach Chip Kelly looks like a Trent Baalke hire.
Determining if Kelly is a good coach for the 49ers is way too early to make. Kelly should get one more season with better talent considering he inherited a mostly starless roster.
But, even if you include Tomsula as a Baalke hire, Baalke still has a better history of hiring head coaches than McCloughan (or at least the
possibility of being a talented head coach as is the case with Kelly).
Baalke gets the edge over McCloughan as far as HC hirings go. Baalke also deserves much more credit for building those Harbaugh teams than McCloughan. Now, with that argument put to bed, let's decide if Baalke is worthy of keeping as the team's GM heading into 2017.
Nov 20, 2016; Santa Clara, CA, USA; San Francisco 49ers general manager Trent Baalke before the game against the New England Patriots at Levi's Stadium. Mandatory Credit: Kelley L Cox-USA TODAY Sports
Baalke the "Draft Ninja"
Trent Baalke has and continues to maneuver up and down the draft board, often stockpiling draft picks.
Baalke's ability to acquire double-digit draft picks paid major dividends early on. Since 2010, few GMs have been able to accumulate draft picks like Baalke.
Having a plethora of draft picks allowed Baalke to maneuver around the board and to orchestrate draft-day trades for players like Stevie Johnson and Anquan Boldin.
In fact, his early draft success was so evident that he was named the NFL's 2011 Executive of the Year.
Of course that was five years ago. Since then, much has changed.
Dec 28, 2014; Santa Clara, CA, USA; San Francisco 49ers chief executive officer Jed York (left) shakes hands with head coach Jim Harbaugh (right) before the game against the Arizona Cardinals at Levi's Stadium. Mandatory Credit: Ed Szczepanski-USA TODAY Sports
The "Mutual" Parting of Ways
This story is widely known and honestly has become quite tiresome to rehash over and over again.
However, reopening this wound (that seemingly never heals) we must. Let's discuss the infamous "mutual parting of ways" of the 49ers and former 49ers head coach Jim Harbaugh.
For as much credit as Trent Baalke deserves for reeling in Harbaugh, he also deserves plenty of blame for failing to make it work with Harbaugh. Eventually the full story of what led to the divorce between the 49ers and Harbaugh will come out. But for now, all we can do is speculate.
There are a few stories that have surfaced and it is clear that all parties involved had their hand in the split — Harbaugh included.
Aug 20, 2016; Denver, CO, USA; San Francisco 49ers cornerback Will Redmond (23) prior to the game against the Denver Broncos at Sports Authority Field at Mile High. Mandatory Credit: Isaiah J. Downing-USA TODAY Sports
The ACL Strategy
While most of Trent Baalke's team building strategies are widely considered sound (building through the draft, not overspending in free agency, etc.) one confounding strategy is his strategy to select players with previous ACL knee injuries.
While this may have been a potentially, sound strategy in 2012 when the 49ers were stocked with pro-bowlers, it certainly was not sound come 2015. Prior to the start of the 2015 season, the 49ers experienced a mass exodus of talent that few had ever seen.
Baalke's decision to repeatedly attempt to pull in good players that slipped due to injury has absolutely blown up in his face and hurt the 49ers depth. Baalke's "draft and stash" strategy combined with the so-called mass exodus, left the 2015 and the 2016 49ers with very little good talent.
Aug 16, 2015; Philadelphia, PA, USA; Indianapolis Colts running back Frank Gore (23) on the sidelines during game against the Philadelphia Eagles in a preseason NFL football game at Lincoln Financial Field. The Eagles defeated the Colts, 36-10. Mandatory Credit: Eric Hartline-USA TODAY Sports
The Mass Exodus
Right after Jim Harbaugh's firing… um, mutual parting of ways, came a talent departure not seen in the modern salary cap era. Teams face player turnover every offseason, but no other team lost as much pro-bowl level talent like the 49ers experienced that offseason. Many reported the same feeling such as Scout.com's John Holler.
Players like Justin Smith, Patrick Willis, Anthony Davis and potential star in the making Chris Borland retired. Some departed through free agency (Frank Gore, Michael Crabtree and Delanie Walker).  Stud OLB Aldon Smith and excellent DE Ray McDonald were cut due to their significant off-the-field issues.
The losses of Gore and Walker can be directly attributed to Trent Baalke. Baalke attempted to keep Crabtree, but Crabtree wanted out. That's not on Baalke.
Still, the loss of Harbaugh looks to have caused the mass exodus which resulted in the 49ers current state of affairs. Baalke's firing of Harbaugh, which acted as team's catalyst for the mass exodus, should be rightly attributed to him. Leading us to ask.
Feb 18, 2015; Indianapolis, IN, USA; San Francisco 49ers general manager Trent Baalke speaks at a press conference during the 2015 NFL Combine at Lucas Oil Stadium. Mandatory Credit: Brian Spurlock-USA TODAY Sports
What should the 49ers do with Baalke? Keep Baalke? Fire Baalke?
The 49ers are a 1-13 team. 1-13 seasons cause fans to go insanely mad. Fans become bloodthirsty. Fans are demanding that heads roll. If you need evidence then please check this video out:
Need more evidence that fans demand blood? Then check this out:
Or this:
Question is, whose head(s) should roll? There is plenty of speculation Trent Baalke will be fired at the end of the season. Along with that sentiment are reports that Baalke would get hired almost immediately.
CSN Bay Area reported that Baalke would end up with the Denver Broncos. If he is a bad GM, why would the defending Super Bowl champs want him in their front office (even as a scout)? That hardly makes sense.
So how much should Baalke be to blame for the current mess and what should the 49ers do with him?
Letting Jim Harbaugh leave was clearly a mistake. The ramifications of that decision are still being felt today.
As much as fans want it be over, the "Harbaugh hangover" will not be "cured" until this team starts to win again.
Hurting Baalke's stock even more has been his stubborn drafting of injured players. This was clearly not paying off back in 2014. Deciding to continue with the All-ACL strategy in 2015 and 2016 is baffling.
Firing Baalke is the best thing to do at this point. The 49ers can no longer continue with Baalke at the helm. For all of his early success, it is his last four years that have put a nail in his proverbial coffin. Even this writer, who would be okay with Baalke returning for one more year, believes that Baalke should be let go.
December 11, 2016; Santa Clara, CA, USA; San Francisco 49ers head coach Chip Kelly looks on during the fourth quarter against the New York Jets at Levi's Stadium. The Jets defeated the 49ers 23-17 in overtime. Mandatory Credit: Kyle Terada-USA TODAY Sports
So What Now?
Here are some potential outcomes:
That last option would most likely result in the 49ers firing head coach Chip Kelly as a new GM would likely want to select their own head coach. Of the available options, No. 1 is the best option.
More from Niner Noise
Gamble has been interviewed for many GM positions in the past and is seen by many as a deserving candidate. His association with Baalke hurts his reputation with fans but fans should not hold Baalke's sins against Gamble.
Gamble is his own man and should not be painted with the same brush as Baalke.
If that were the case, the Green Bay Packers would not have hired Mike McCarthy as their head coach. McCarthy used to be the 49ers offensive coordinator under former 49ers head coach Mike Nolan. McCarthy was obviously not "ruined" by Nolan's influence as McCarthy has gone on to win a Super Bowl as the Packers head coach.
Still, if Gamble gets the GM position, the 49ers will need to make changes to their scouting department including finding a new director of player personnel. Changes to the team's scouting department should be made even if Baalke remains.
Last Note (My largely unproven theory, or is it?)
A few weeks ago, Baalke came out and issued a statement taking full responsibility for the state of the 49ers. This was an odd admission from a man who rarely makes public statements. Some reporters believe that this is Baalke's way of trying to be loyal to 49ers CEO Jed York and hoping to remain in York's favor.
Well, I don't buy it. This stinks of a coverup. Like when you enter a room and smell febreeze trying to cover for the smell of cigarette smoke. It smells good at first and then the smell of smoke hits your nose.
This smells like a Febreeze cover up to me. I bet that Baalke gets one more year, not because he is loyal but because he is covering up for York. York interfering with Baalke's ability to manage the 49ers is exactly what he would do. York himself just about confessed to it at the end of last season.
How much York has interfered is unclear.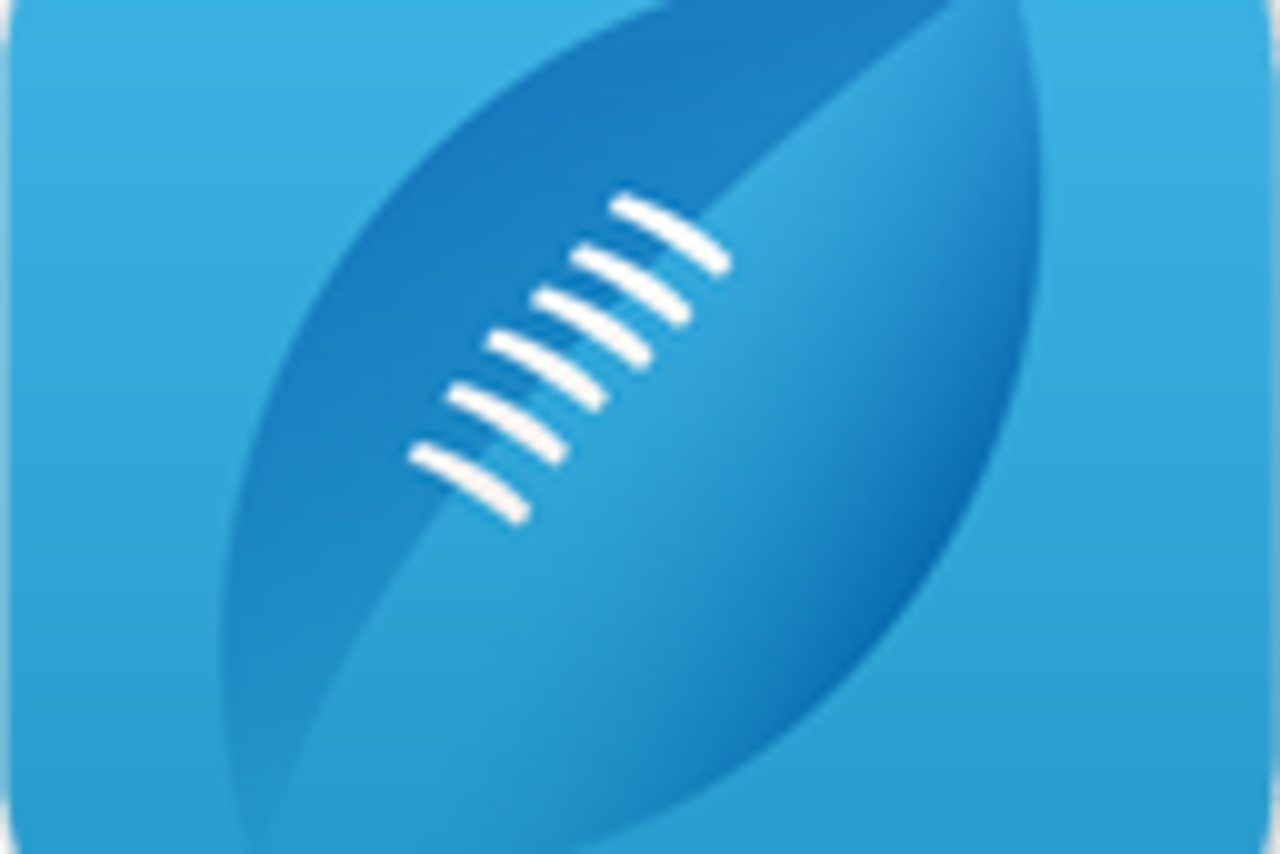 Get the Spin Zone App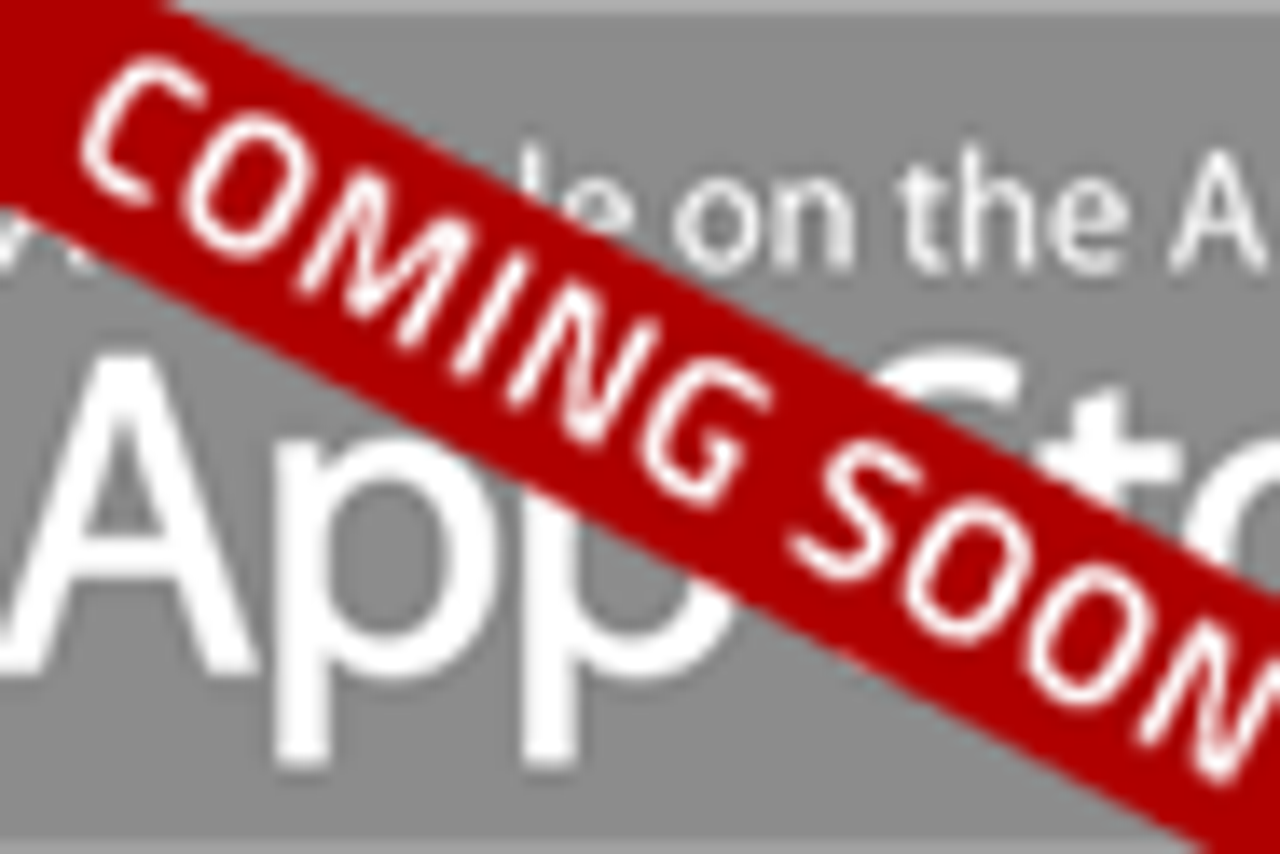 It is not a revelation York has muddled on the football side of things. I mean he is the CEO, right? Plenty of other team's CEOs have made football decisions despite having a GM (here's looking at you, Jerry Jones).
So, what if Baalke has been hampered by York? What if, the "mutual parting of ways" resulted in York's larger role of playing as the team's GM?
Can you see Harbaugh respecting York the general manager? Yeah, no one can either. That would help explain the "mutual" part of the "parting", right? Harbaugh would want anything to do with a team managed by Jed.
The team's roster decisions took a sharp turn during the 2013 draft. After that draft, decisions made have not exactly been like Baalke's previous offseasons. It doesn't follow his previous formula that he used in 2010 and 2011.
Which leads me to this theory.
January 20, 2016; Santa Clara, CA, USA; San Francisco 49ers chief executive officer Jed York addresses the media in a press conference after naming Chip Kelly (not pictured) as the new head coach for the 49ers at Levi's Stadium Auditorium. Mandatory Credit: Kyle Terada-USA TODAY Sports
Jed York Is the Team's True GM
Beyond Jed York's press conference and Trent Baalke's recent statement, there isn't much evidence. Still, the hiring of Jim Tomsula, the ACLs, the firing of Jim Harbaugh? There is plenty of circumstantial evidence that says that York is pulling the strings while the experienced Baalke acts as his adviser.
After all, this is what Jed's parents did with Scot McCloughan. For years (2005 through 2007), McCloughan held the title of Vice President of Player Personnel before getting the title of GM. During those years, the 49ers front office made football decisions that reeked of incompetence.
This again flies in the face that an experienced GM like McCloughan was making all of the decisions. It certainly appeared then that team management decisions were being made by the Yorks, probably against the McCloughan's advice.
In 2010, shortly after McCloughan stepped down as the team's GM, Baalke continued to serve as the team's VP of player personnel. Just like McCloughan, Baalke only got the GM title seemingly once York felt comfortable that Baalke would be okay with York's direct involvement with football decisions. Baalke must have agreed to this arrangement during his "interim GM" phase in 2010 before Jed agreed to give him the full title of GM.
In San Francisco, the title of GM is merely a mask meant to shoulder the blame for when ownership makes mistakes. However, if the team does well then ownership wants all the credit.
The battle of egos surely played a role in the Harbaugh breakup. After all, no one is giving York credit for those Harbaugh teams. Harbaugh received all of the credit. The war between York and Harbaugh was inevitable. The decision to let Harbaugh go was probably never up for Baalke to make.
More from Niner Noise
This is why I believe that Baalke took full responsibility and praised York in the process. This would also help explain why Baalke was not let go last year and why he will probably be kept for one more year.
After all, York would have a hard time letting go of Baalke when he can only blame himself for the 49ers woes. Which brings me to my last bit of evidence, Harbaugh's cryptic message, "You reap what you sow" which was I believe was directed at York.
With York pulling the trigger for most of the front office decisions, the 49ers will be unable to attract any quality GM candidates. Who the heck would want to do that unless you get promoted from within, right? This ultimately makes Gamble the most likely Baalke successor.
If my theory is true, all anyone can do is hope York gets out of the way come next offseason. Hoping York leaves football decisions to men of football is at the top of every fans' holiday wish list. So Jed, stop being playing the Grinch, move over and let the 49ers come back to its rightful place as a storied franchise.
---
---