Week 2 injury updates: A bloody Sunday for QBs
BY foxsports • September 20, 2015
It was an ugly, painful Week 2 in the NFL on Sunday, and no position suffered the brunt of the blows more than the league's signature spot, quarterback.
A week after star received Dez Bryant broke his foot in a Week 1 win over the Giants, Dallas Cowboys quarterback Tony Romo broke his left collarbone in Sunday's 20-10 win at Philadelphia. A 2-0 start for the Cowboys, but forgive the good people in Big D if they aren't in a celebrating mood come Monday.
That is when tests will be performed to determine how long Romo is out, the 35-year-old told reporters after the game.
Romo was sacked and slammed onto the turf late in the third quarter against the Eagles. X-rays on the shoulder revealed the broken collarbone. He clutched his left shoulder and was down for several minutes before he sat up and eventually walked off the field. Romo returned with his left arm in a sling. He had a similar injury in Week 7 in 2010 and missed the rest of the season.
Earlier in the day, Chicago Bears quarterback Jay Cutler left a 48-23 loss against Arizona with an injury. Cutler was stiff-armed while trying to make a tackle on an interception return and landed on his right shoulder, though the team said he left the game because of a hamstring injury.
Detroit Lions quarterback Matthew Stafford had X-rays on his chest and ribs after a 26-16 loss at Minnesota. Stafford was seen shaking his right arm, which was banged up in the opener, in pain at several points through the game.
In other injury news:
** In the Sunday night game, the Green Bay Packers saw three players exit the game in the first half. The first was star running back Eddie Lacy, who left the game against the Seattle Seahawks on a cart. Initial camera shots of the sideline appeared to show trainers looking at Lacy's ankle. Later, receiver Davante Adams left the game with an ankle injury, the team tweeting that was an ankle injury. And defensive tackle Josh Boyd followed him off the field on a cart, as well. The Packers announced on their Twitter handle that Lacy would not return, NBC said the same about Boyd to start the second half of the telecast. Adams returned in the second half.
** Earlier in the day, Buffalo Bills safety Aaron Williams went through a series of tests on his neck and head area and was released from a hospital. Williams was hurt after diving to make a tackle in a 40-32 loss to New England, landing his helmet on receiver Julian Edelman's back and having his head bounce off the turf. Bills coach Rex Ryan said Williams was taken to the hospital for what he called a "cervical precaution."
** San Francisco running back Carlos Hyde was taken out of a 43-18 loss at Pittsburgh because of a head injury, and 49ers coach Jim Tomsula said the rookie was cleared after an evaluation for a concussion. Hyde ran for 43 yards on 14 carries gaining 168 yards and two yards on the ground in Week 1.
** Miami Dolphins running back Lamar Miller had an ankle injury in a 23-20 loss to Jacksonville. Miller was limited to 14 yards rushing on 10 carries over the first three quarters of the game.
** New York Giants cornerback Dominique Rodgers-Cromartie sustained a concussion after a second-half injury during a 24-20 loss to Atlanta. Giants left tackle Ereck Flowers went out with a sprained left ankle in the second half. Falcons rookie running back Tevin Coleman hurt his ribs in the first half after scoring his first career touchdown.
** Philadelphia linebacker Kiko Alonso, acquired from Buffalo for LeSean McCoy, left in the first half because of an injured left knee. He missed all of last season with a torn anterior cruciate ligament in the same knee. Eagles linebacker Mychal Kendricks was also injured against the Cowboys, leaving the game with an injured hamstring.
** Houston right tackle Jeff Adams was carted off the field in the second quarter after trainers put an air cast on the right leg. Adams was engaged with Carolina defensive end Kony Ealy when his leg gave out and he fell to the ground. Teammates immediately yelled for the trainers and took a knee around him during the 24-17 loss at Carolina.
** Tennessee offensive guard Chance Warmack strained a knee ligament in a 28-14 loss at Cleveland and is scheduled for an MRI on Monday.
---
---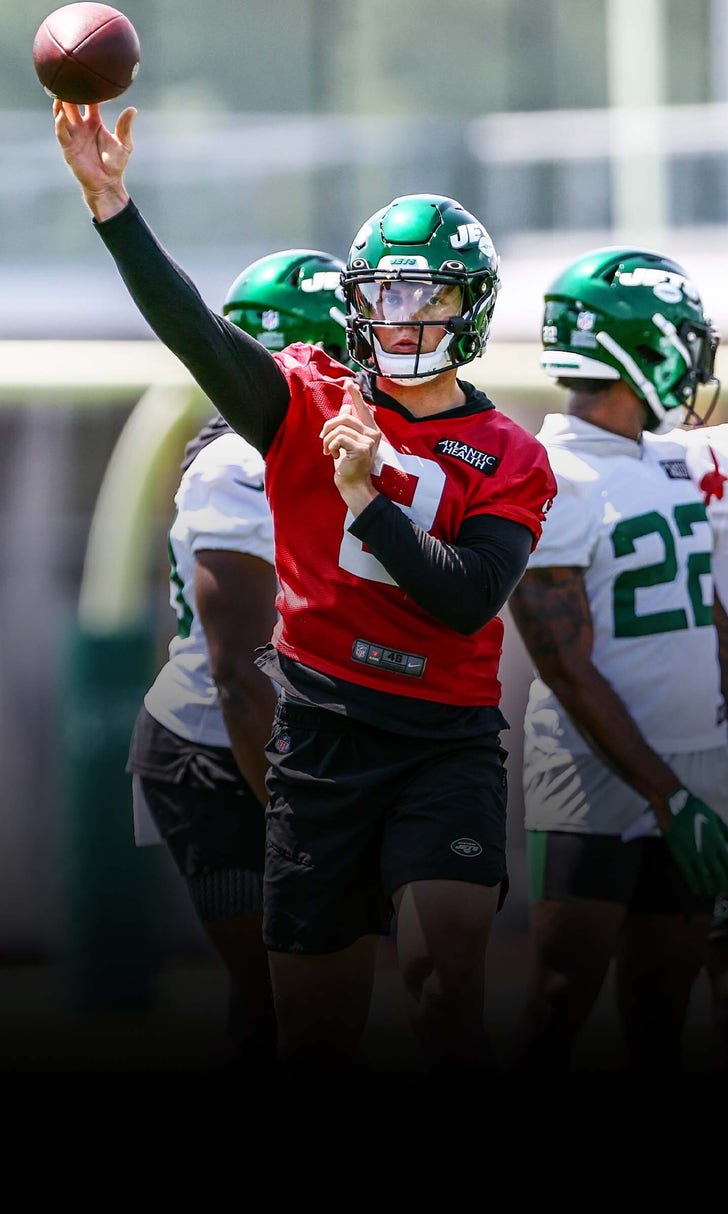 Jets' Zach Wilson 'doesn't need to be Tom Brady' in Year 2