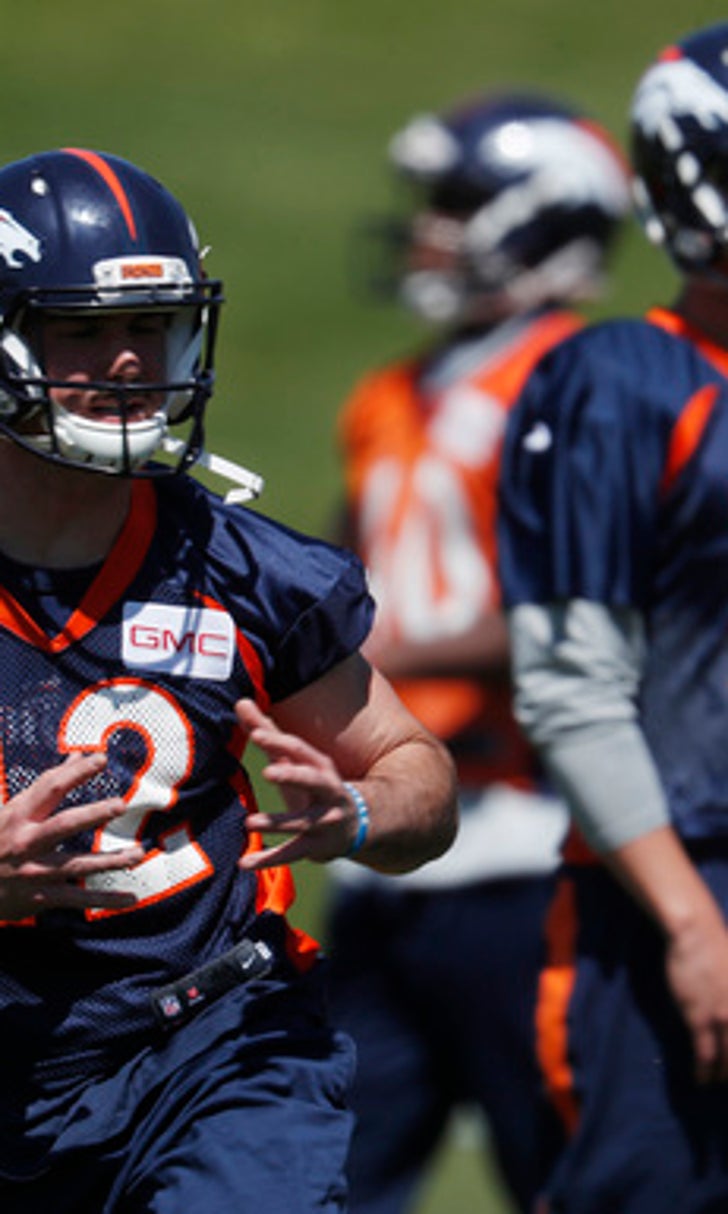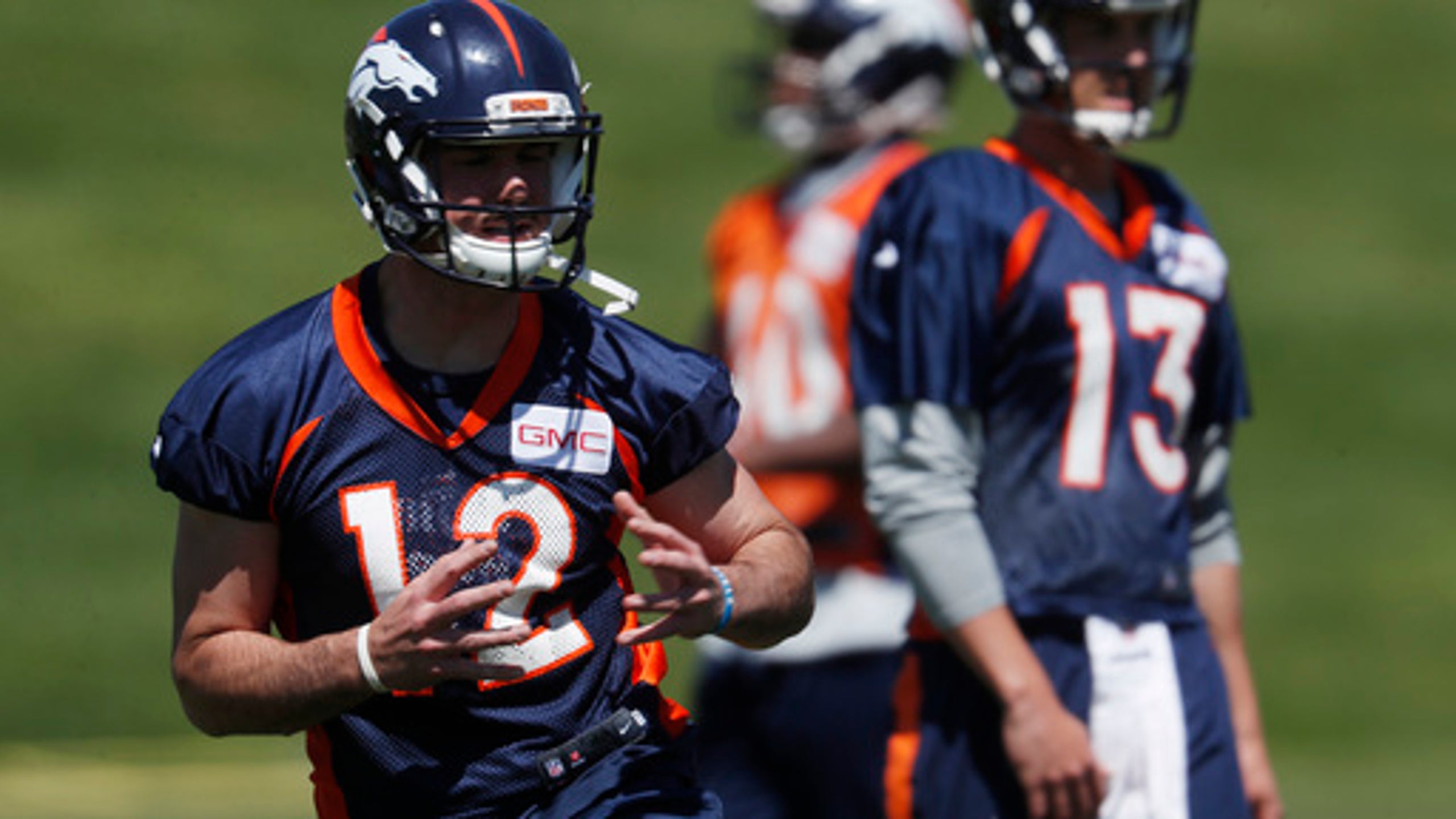 Joseph: Broncos aren't grading their quarterbacks just yet
BY AP • May 30, 2017
ENGLEWOOD, Colo. (AP) Heading into OTAs, Denver Broncos first-year coach Vance Joseph declared that every period of every practice would be graded. Yet, when it comes to his quarterback competition , it's still time to teach, not test.
Paxton Lynch is trying to beat out incumbent Trevor Siemian and looks much more comfortable in Year 2, but his performance with the starters Tuesday was peppered with bad decisions and poor passes just like the one day last week that was also open to the media.
Lynch lost the football on one scramble during 7-on-7 drills and on the last play of the day he threw into the teeth of the ''No Fly Zone'' secondary and paid the price when safety T.J. Ward batted it down a split second before cornerbacks Chris Harris Jr. and Aqib Talib were about to get to it.
That meant push-ups for the offense.
''I'd say it's a little bit unfair because they're putting in a new system really, in the red zone, and we're running pretty much the same (system),'' Harris said. ''So, we've got a jump on them right there.''
Siemian was sharp with the second-stringers just as he'd been with the starters last week.
Ignore all that for the moment, though.
Joseph said the Broncos are still introducing the QBs to Mike McCoy's new offense and won't really test them until training camp.
''I think Paxton's been fine. He's made some really impressive throws. He's made some bad ones. Both guys have,'' Joseph said. ''And again, guys, it's the learning stages of a new offense. So, the point of OTAs in my opinion, for the quarterbacks, is to learn Mike's system now so in training camp they can really compete for a job.''
Last week, general manager John Elway said ''there's no lead'' in his quarterback competition.
Joseph noted that mistakes in the spring aren't always the quarterback's fault, either: ''It's tough to evaluate the quarterbacks with everyone learning,'' Joseph said.
Especially when they're facing Denver's defense.
Coordinator Joe Woods said last week he's only making small tweaks to the system Wade Phillips ran for the last two years: ''I don't want to come in and change the fingerprints or the foundation of our defense,'' Woods said. ''All I want to do is sprinkle a little sugar on it.''
The sweet defense has been making the retooled offense look bad at times, with or without any true jostling for the starting QB job.
''This is a new system for both of those guys,'' Harris said. ''So, they still make a couple of mistakes here and there just because they're learning the new system.''
Still, wide receiver Emmanuel Sanders said he sees growth in both quarterbacks.
''Trevor is trying to fill in that leadership role,'' Sanders said. ''You see him speaking up a lot more. Paxton is not that deer in the headlight anymore. He's out here competing and he understands what's at risk. He wants the job. Both guys want the job. So, we'll see how it goes.''
NOTES: Pass rusher Shaq Barrett is seeking additional medical opinions on his injured hip. If Barrett is lost for an extended time, Vontarrius Dora and Kasim Edebali will try to fill the void. ... Ty Sambrailo is splitting time with Donald Stephenson at left tackle with first-round draft pick Garett Bolles working with the second team until he learns the offense. ... WR Demaryius Thomas (personal) and G Billy Turner (ankle) were out Tuesday. ... Harris, on being named No. 63 in the NFL Network's top 100 players of 2016: ''I might be the only first-team All-Pro that didn't make it in the top 50. But I need something like that, I guess, getting all these accolades and awards and things, I guess it's good to have one that to where it just keeps me motivated. I mean, it's a joke, though.''
---
For more NFL coverage: http://www.pro32.ap.org and http://www.twitter.com/AP-NFL
---
Follow Arnie Melendrez Stapleton on Twitter: http://twitter.com/arniestapleton
---
---