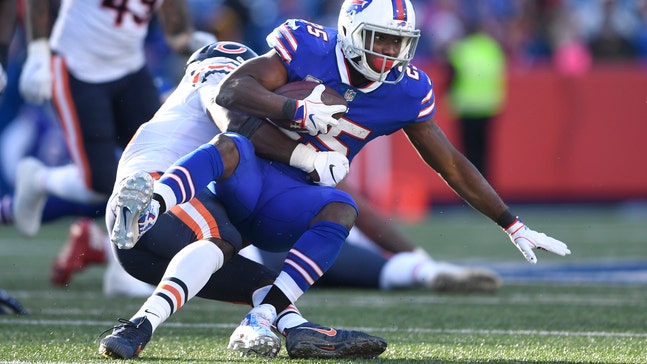 Bills RB McCoy breaks silence by saying he's frustrated
Updated
Mar. 4, 2020 2:01 p.m. ET
ORCHARD PARK, N.Y. (AP) — Buffalo Bills running back LeSean McCoy ended his near two-week silence by saying he wanted to keep his frustrations to himself in what's been a miserable season.
"I was just upset how everything's been going, 2-7," McCoy said Friday, referring to the Bills' record. "That's frustrating. I want to win games, so I just kind of took that approach. Just kind of upset. But my mindset is just try to get better."
The comments were the first from McCoy since a 25-6 loss against New England on Oct. 29. He's ducked interview requests ever since, including canceling his weekly news conferences each of the past two Wednesdays after combining for 23 yards rushing on 22 carries over two games.
"There's plays to be made and we're not making them. Got to play smarter. Got to play better. Simple as that," McCoy said. "Can't complain or pout about it. Just got to find ways to win games and make it happen."
What bothers him even more is that at 30 , McCoy is beginning to realize he's running out of time to achieve various objectives. They include winning a championship and establishing himself as one of the NFL's premier running backs by becoming just the 17th player to reach 12,000 career yards rushing.
"Oh, it'll take a little longer than I expect now," said McCoy, whose 267 yards rushing this season have upped his career total to 10,359.
"The urgency is up. I want to win now. I want to add on to my legacy of course, a chance to get a ring. And those things are on my mind," McCoy said. "So the frustration about losing, all them things, every player has a clock."
In getting off to the worst start of a season in his 10-year career, McCoy hasn't reached the end zone since scoring twice in a 24-17 win over Miami on Dec. 17. And he hasn't topped 100 yards since finishing with 156 on a snow-covered field in a 13-7 overtime win against Indianapolis on Dec. 10.
At the rate the Bills' anemic offense is producing in having scored an NFL-worst 96 points, McCoy wasn't making any promises when the droughts might end with Buffalo preparing to play at the New York Jets on Sunday.
"I don't have the answers, why and when, but I just look forward to getting there," he said. "Just got to find a way to do it."
McCoy didn't want his frustrations to be interpreted as him being unhappy to still be in Buffalo after the NFL's trading deadline passed on Oct. 30. And he's pleased to hear general manager Brandon Beane say McCoy remains in the team's plans through the final year of his contract next season.
"They've been good to me. I'm a loyal person, and I'm happy here," said McCoy, in his fourth season in Buffalo since being acquired in a trade with Philadelphia. "I think sometimes people get that mixed up with the frustrations of losing. But for me to be in their plans, I like the way that sounds."
Beane told The Associated Press this week he maintains his confidence in McCoy's ability.
"We don't see a guy who's a declining player. We see a guy who's still playing well, and he's one of the better players at his position in the league," Beane said. "He is working hard. He's trying to be the best he can. And he's going to continue to do that. And if he wasn't, then we probably would've moved on."
---
---