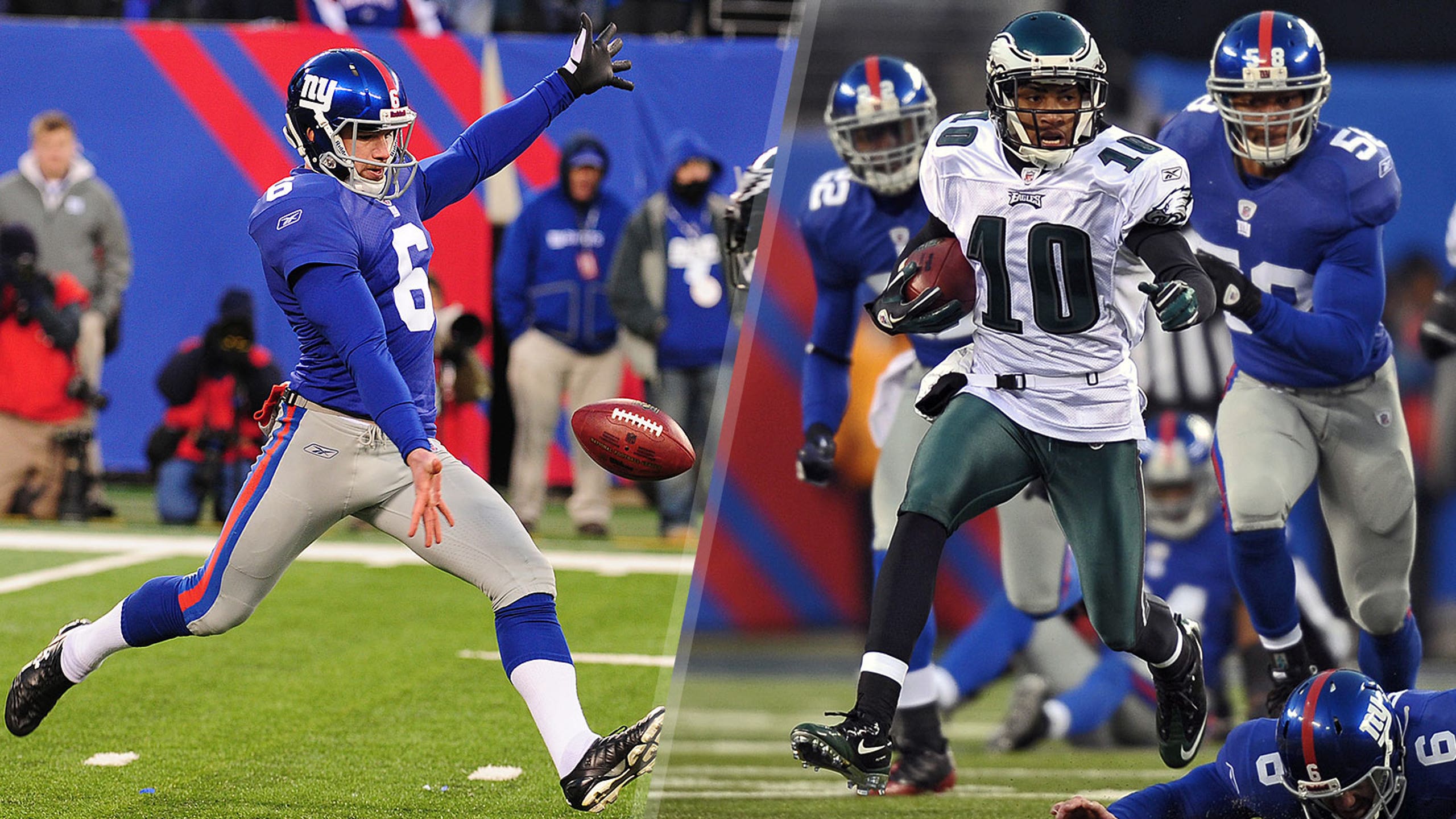 After botching the punt, ex-Giant Matt Dodge getting a kick out of life
BY foxsports • January 28, 2016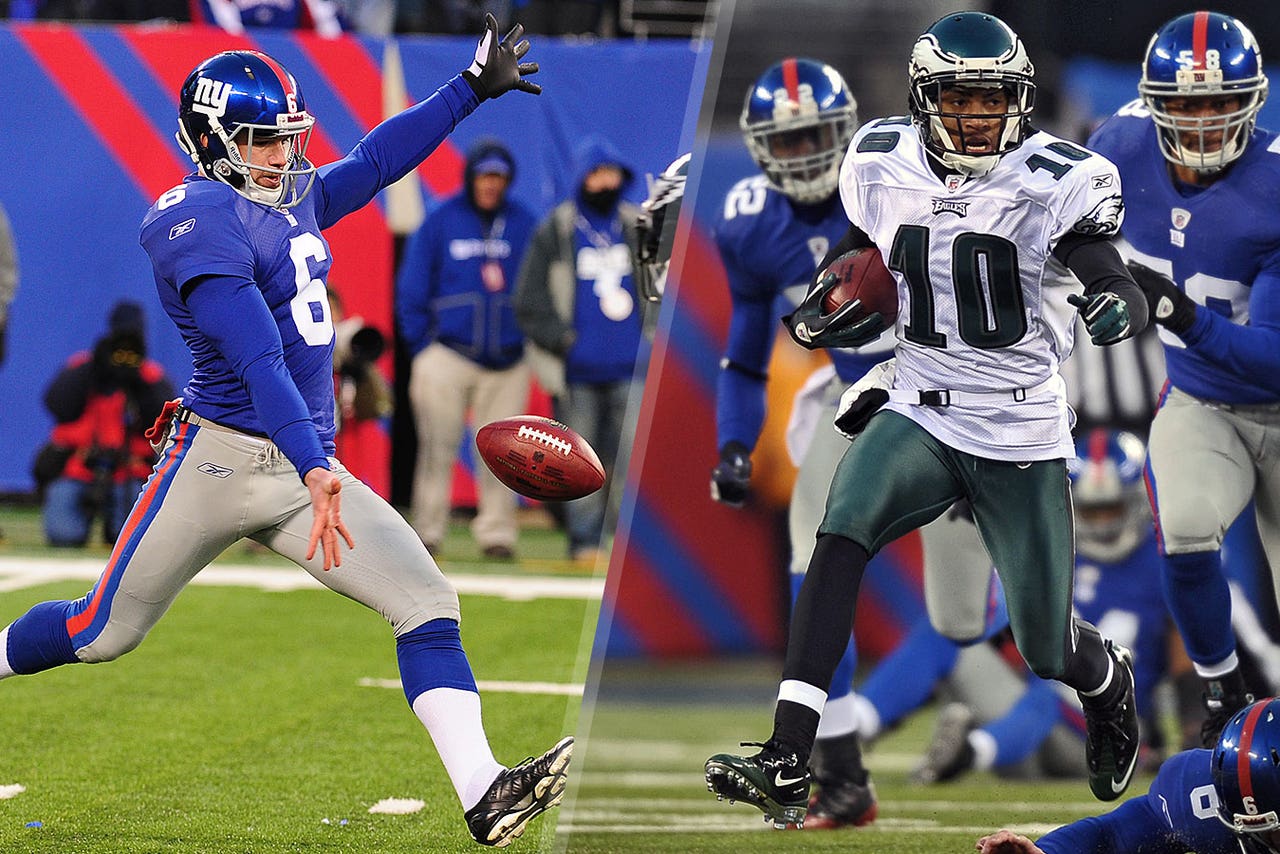 Draped in Eagles green, the dangerous DeSean Jackson stood at his own 30-yard line circling back and forth, a shark awaiting his prey. Head tilted down as he waved his hands up in a "bring-it-on" motion, knowing there was a good chance he would never get to use those hands.
It was Dec. 19, 2010, and the 9-4 New York Giants played host to the 9-4 Philadelphia Eagles in a pivotal NFC East battle that would ultimately determine who would win the division and who would watch the playoffs from home.
Playing in the newly built MetLife Stadium, the Giants held a commanding 31-10 lead with 8:17 left in the game, but that might as well been a lifetime ago now.
After dominating for three-plus quarters, New York was in the midst of an epic collapse and stood tied with the Eagles at 31 thanks to a scrambling Michael Vick and an onside kick that allowed Philadelphia to evaporate the deficit. 
With 12 seconds left on the clock, make that 14 after the officials huddled up and decided to tack on two ticks, the Giants' last attempt to win the game in regulation stalled at their own 29-yard line. Their only move now was to punt and hope to regroup before overtime.
The game plan was simple: Don't let Jackson, one of the NFL's top punt returners, get his hands on the ball. Just punt it out of bounds. Every one of the record 81,233 fans in the stadium knew it. The millions watching at home knew it. New York head coach Tom Coughlin knew it and told it to first-year punter Matt Dodge before he took the field. Heck, Jackson knew it.
"I was actually sitting back there looking at (14) seconds, I'm just thinking to myself, 'They're really not going to kick it to me. They're going to kick it out of bounds,'" Jackson said at the time.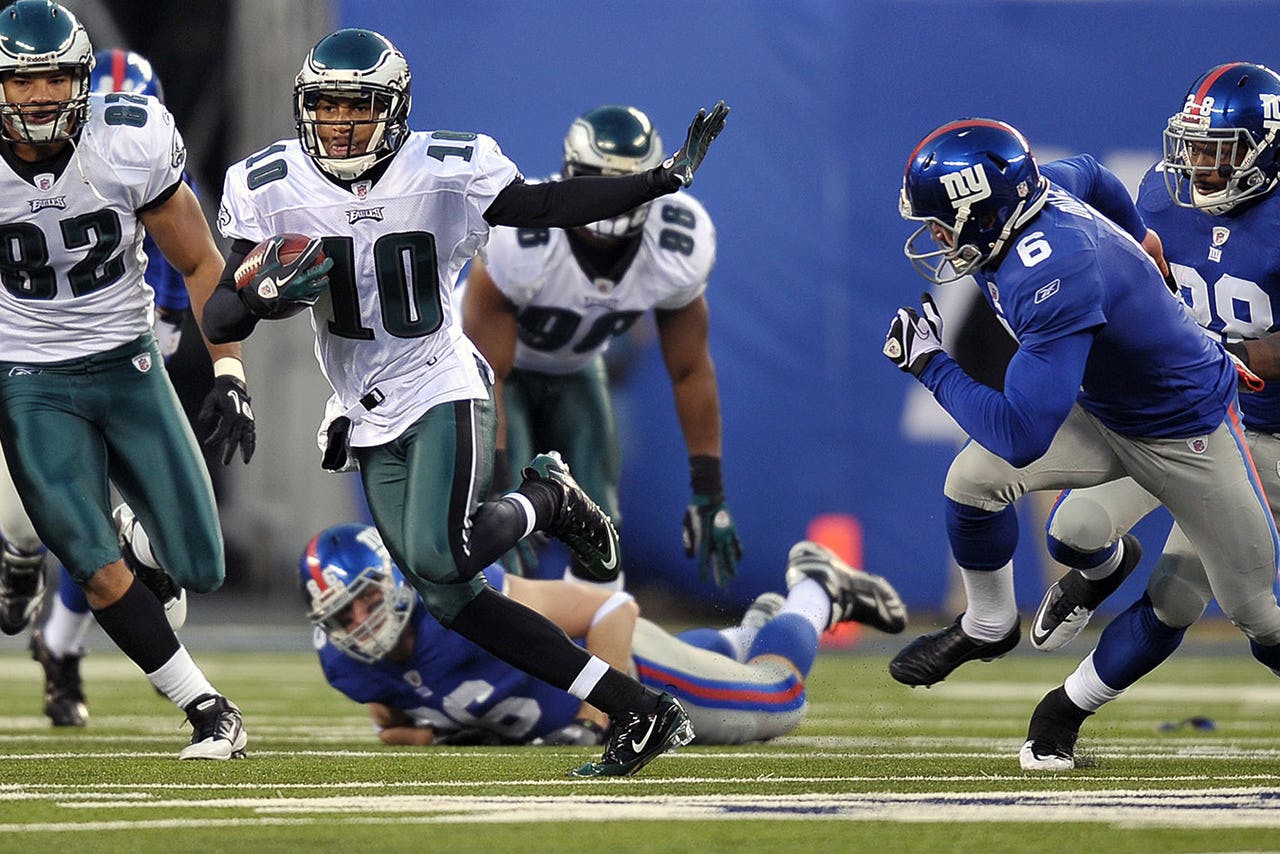 DeSean Jackson is off and running.
Except they did kick it to him. A horrific, low, line drive punt right down the middle of the field.
But this isn't a story about Jackson or the ensuing 65-yard touchdown return that would be voted the greatest play in NFL history. With the Super Bowl right around the corner there will be plenty of hero stories on the horizon.
This is a story about the Blair Walshes, Brandon Bosticks and the Scott Norwoods who had to fry in the sun in order for someone else to have their moment in it.
It's a story about how one play transformed an unknown punter from a small coastal town in North Carolina into the most infamous man in the entire Tri-State area, and how that man refused to let that one play define him.
The accidental football star
All it took was a minute.
In just 60 seconds one timeline was shut down and another created that placed a rocket-foot boy from Morehead City, N.C. on the path to the NFL.
"When I got to (West Carteret) High School I was actually going to play soccer. I wasn't even signed up to play football my freshman year," Dodge said.
That all changed when he irked his coach by arriving a minute late to practice.
"I'm 14 years old, it's not like I could drive. I got dropped off," Dodge said. "The coach looked at me and said, 'You're not taking this seriously. Get off my field and leave.' I was like, 'What the hell? I'm a minute late and you're kicking me off.'"
Stuck with nowhere to go, Dodge noticed the varsity field goal kicker and his father practicing on an adjacent field. The two took an interest in the exiled soccer player and would go on to help foster his high school kicking career.
"A lot of people always ask me, 'Were you always dreaming of playing in the NFL?' And I'm like, "You know what, if I was on time to soccer practice I may not have ever even played professional football," Dodge said. "Of all the sports I played (football) was probably my least favorite, but it just so happens that I could kick stuff really hard."
"Don't let this guy beat you"
It was no secret that Jackson, in the midst of his second straight pro-bowl season, could turn the tide of a game in the blink of an eye.
Though Jackson was battling a foot injury heading into their Week 15 matchup, Giants special teams coach Tom Quinn would leave nothing to chance.
"We were both 9-4 and the week before the game the special teams meetings were 100 percent 'Don't let this guy beat you. If you give this guy too many opportunities he's going to beat you,'" Dodge said. "There's not many returners that scare you as much as he did -- Devin Hester is a guy that comes to mind that would scare the crap out of you. -- But yeah, that whole week we really wanted to make sure we got the ball out of bounds or forced a fair catch. Going into it I was confident. We had a good game plan."
The tallest midget in the circus
Dodge didn't grow up dreaming of being an NFL player, never mind a punter. Participating in only a small portion of a game never sat right with the kid that grew up playing five sports and dabbled in professional body building.
"Every other sport I played in I played like 90 percent of the game, I really felt like an athlete.
"But when it came to playing football I might only have five or six plays in a game," Dodge said.
"When I tell people I played in the NFL they're like, 'Oh great, what position?' and I'm like, "I was a punter.' Being a professional punter is like being the tallest midget in the circus. It's not really anything that's amazing."
However, the reluctant Dodge always understood his gift was kicking the ball. He just preferred to do it for points.
"I talk a lot more about field-goal kicking than I do punting because that's what I thought I was going to play in college," Dodge said. "It just so happens that, that didn't work out."
Dodge graduated from West Carteret in 2005 as a two-time all-state performer. Despite his kicking success he constantly found himself cornered into punting.
At both Appalachian State, where he spent his freshman year, and East Carolina, where he transferred as a sophomore, Dodge was initially brought on to be a kicker but would ultimately end up a punter.
"I think it was more a necessity for the different teams. There are a ton of good field-goal kickers but not as many good punters," Dodge said. "Appalachian State recruited me saying, 'We score a ton. You're going to have a chance to kick a lot of points.' But when I got there they were like, 'We'll, we need a punter.' ... Everywhere I went they needed a punter more than a kicker."
Turning Nolan Ryan into Tom Glavine
In 2009, Dodge wrapped up one of the finest punting careers in East Carolina history.
Highlighted by a 73-yard punt versus Memphis, the chiseled 6-2, 220-pound power-punter ranked second in the FBS with a 45.8 yards per attempt average and was named a second-team All-American by Sporting News and Sports Illustrated.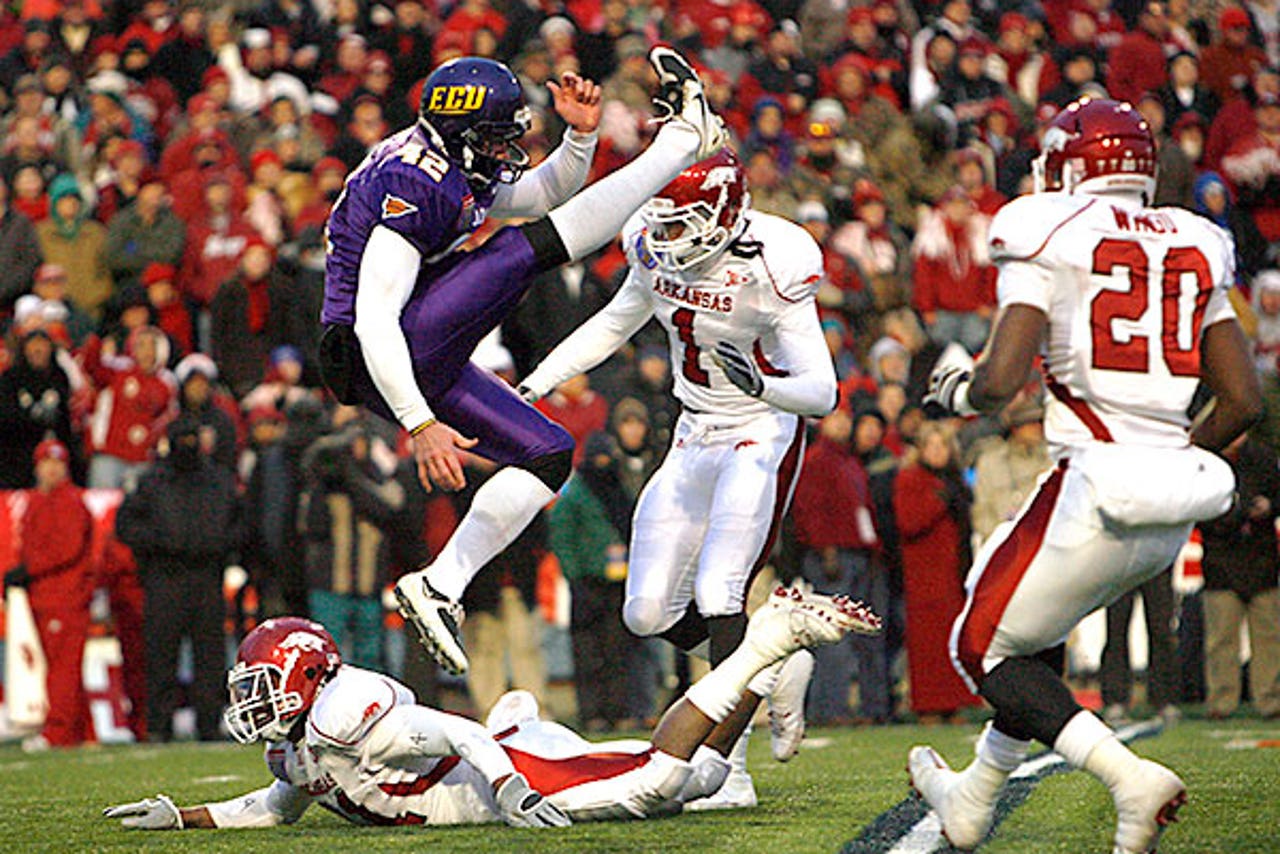 Matt Dodge was a seventh-round pick out of East Carolina.
His strong leg caught the eye of several NFL scouts and on April 24, 2010, New York drafted its first punter in 13 years when it selected Dodge in the seventh round with the 221st overall pick.
Ironically, the man who couldn't kick the ball out of bounds was drafted to replace Jeff Feagles, one of the best directional punters in NFL history, who at the age of 44 was about to retire due to an ailing back.
"He was a directional punter, obviously, and if you watched my film in college I was not a directional punter in the slightest," the self-deprecating Dodge said with a laugh.
It wasn't so funny when the Giants attempted to turn him into one.
"I remember my first day in minicamp I was all jacked up and I was just trying to punt bombs and I was hitting them really, really well down the middle," Dodge said. "But if you watch my film long enough you'll know that I will have a 65-yard punt, a 50-yard punt and a 31-yard punt for like a 44-yard average.
"Well, Coach Coughlin, he was not about that. He didn't want to see that. He'd grown used to seeing Jeff Feagles go 40 yards and out of bounds every single time. ... After that practice Coach (Tom) Quinn sat me down and was like, "Ok, we're going to turn you into a directional punter.' And that was the beginning of one of the hardest years of my life."
For Dodge, that meant completely scrapping everything he'd known about punting and rebuilding his mechanics from scratch.
"We changed everything about how I punted. It was really tough. ... We changed how I caught the ball. How I stood. How I gripped the ball. How I dropped it. Everything," Dodge said. "I haven't really put this out to the media at all because I don't want it to sound like I'm trying to make excuses or anything like that because I'm really not, I'm just being honest.
"But I compare the directional punting, for me, it's like taking Nolan Ryan and sitting him down and showing him tape of Tom Glavine and saying, 'Hey, we want you to pitch like this: 90 miles per hour on the outside of the plate.' That's essentially what they were doing to me."
Though the changes were awkward, Dodge went ahead full speed.
"The reason why I was all in on these changes is because I knew they were the right things," he said. "I felt I needed to do these things to get better and be more consistent." Dodge said. "I would drop the ball thousands of times a day.
"I remember we changed it during minicamp. I had a few weeks before training camp and Coach Quinn was like, 'Matt, don't put too much pressure on yourself. It's like they say, 'It takes 10,000 reps before it becomes a habit.' And I'm like, 'Great. We play our first preseason game in like three weeks.'" ... I had to learn on the fly but it definitely made me a better punter, but when you're playing with a team like the New York Giants that just recently won a Super Bowl you don't have time. You can't redshirt until you figure it out. You need to be great today."
"Holy crap I have to punt"
Up 14 points at the start of the fourth quarter, the Giants increased their lead to 31-10 when Eli Manning connected with tight end Kevin Boss for an eight-yard touchdown with 8:17 left to go.
Dodge showed no signs of the inconsistences that had plagued him throughout his rookie season.
Up to that point, he had punted six times with three landing inside the 20, one going for a touchback and two being returned for a combined total of 10 yards. However, none of those punts were fielded by Jackson, who due to his foot injury, had not been used as a returner for the first three quarters.
"I was having one of my better games of my short career leading into that last punt, so it's ironic that the game ended that way," Dodge said. "We forced a couple of fair catches, we had a couple inside the 20 and I was feeling really good. We were dominating."
Dormant all day, the Eagles' offense caught a spark when Michael Vick hit a wide open Brent Celek for a 65-yard touchdown. That spark turned into a fire when Philadelphia recovered the ensuing onside kick, leading to a four-yard TD run by Vick that cut the deficit to 34-21 with 5:28 reaming.
By the time Jeremy Maclin pulled in a 13-yard touchdown pass that fire had become a raging five-alarm blaze that left the score tied at 31 with 1:16 showing on the clock.
With one last chance to win it in regulation, Manning threw two incompletions before being sacked, and that's when all eyes turned to Dodge.
"I can still remember we get the ball back with like a minute left and in the back of my mind I'm thinking, 'Alright, we're going to drive down the field and kick a field goal and win this game," Dodge said. "I didn't think I was going to have to punt but I started getting ready anyway. We had a few incompletions and I started thinking, 'Holy crap I'm going to have to punt.'"
"My heart just sank"
Before the game started Jackson, the Eagles' biggest home run threat, told head coach Andy Reid he would be available for a Kirk Gibson-type situation should one arise.
"Coach Reid asked me before the game about what I wanted to do about punt returns and I told him if we need it and the game is tight, just put me back there," Jackson said at the time. "I got that whistle and I knew it was Coach Reid (saying) 'Get your butt back there.' So I went back there and even when I was on the field, he kept whistling at me, saying, 'make sure you get it.' I said, 'Coach I got this one.'"
With both the New York and Philadelphia special teams units on the field, the anticipation was heightened thanks to a delay in which the officials gathered together to discuss the game clock.
Once their huddle was broken, the clock was adjusted from 12 seconds to 14 and it was time to resume play. 
"I ran out on to the field and to say I wasn't nervous would be a lie, but it wasn't like I was freaking out or anything," Dodge said. "They brought extra people up on the line to make it look like they were going to block it, which is very smart to do against a punter because you're going to want to shorten your steps and try to get the ball off faster. Any time you rush anything you're not going to do as well."
The Giants' plan was to kick it out of bounds or at least near the sideline where it would be easier to corral Jackson. However, with the perceived pressure from the Eagles in mind, Dodge fielded a snap that sailed a touch high and failed to kick the ball squarely. What happened next would go down as one of the most exciting plays in NFL history.
Jackson fumbled the punt at his own 35-yard line, which turned into a plus because it bought his blockers time to get in position. With the ball firmly in hand, Jackson circled back, then cut straight up through the center of the field, magically evading defenders and ultimately blowing by a diving Dodge to score the first walk-off punt return in NFL history.
"I still remember it like it was yesterday. I caught the ball a little bit on the inside (of my foot) and my heart just sank. I was like, 'Oh no,'" Dodge said. "But (Jackson) bobbled the ball a little bit and I'm like, 'Alright, we're going to make this tackle.' And literally he just started putting on video game jukes and it was like the parting of the Red Sea: Me and DeSean Jackson. I'm paid to kick a ball. Tackling never looks real pretty when it's a specialist versus that guy.
"I dove for him and I remember laying on my stomach watching him run to the goal line completely by himself and he had the wherewithal not to run straight into the end zone. He actually ran parallel to it and stepped in as time ran out." 
Time to face the music
Coughlin was furious. The Giants' head coach slammed his headset down on the turf and immediately began walking toward Dodge, chewing out his first-year kicker.
"Anytime anything like that happens you're kind of in shock at first about what just happened," Dodge said. "I knew I screwed up. ... I remember running toward the sideline and I actually I ran straight to Coach Coughlin. I was like, 'If I'm going to get beat up for this I might as well get it out of the way.'
"He wasn't crazy pissed off at me -- I mean he was -- but he wasn't like dog-cussing me. He was just like, 'Why didn't you kick it out of bounds?!' You can get the idea of what he said."
Dodge said he holds no ill will towards his former coach. In fact, he had nothing but praise for the man who recently parted ways with the organization following a 6-10 season in 2015.
"I actually got a lot a text messages in support from my friends back home and they were like, 'Man, we're going to kill Coughlin. Why is he yelling at you like that? Everybody was trying to paint him as a mean dude, but of everybody he was the fairest to me. I tell people I could have been cut many times that year but the fact that he stuck it out with me ... In my eyes he was one of my biggest supporters."
After the game Coughlin would say he felt "empty," and though he gave Dodge a public flogging, the Giants coach never threw him under the bus when he spoke with the media.
"I've never been around anything like this in my life," Coughlin said after the game. "It's about as empty as you get to feel in this business, right there."
"I'll take full responsibility for the last play. With (Jackson) back there, you don't punt the ball to him."
Inside the New York locker room Dodge found the media waiting, but he also found support from his teammates who knew that it was unfair for the rookie punter to shoulder all the blame for an epic collapse.
As Dodge took the first degree from reporters, veteran safety Deon Grant stepped in on his behalf.
"I've got something to say for him," Grant said. "It should never have come down to him kicking the ball. So he doesn't have any reason to hang his head. Point no finger at him. This is on the defense. The score was 31-10 with eight minutes left. It ain't his fault."
The aftermath
Once the grilling session was over, Dodge retreated to his house, where he received a reminder of what's truly important in his life.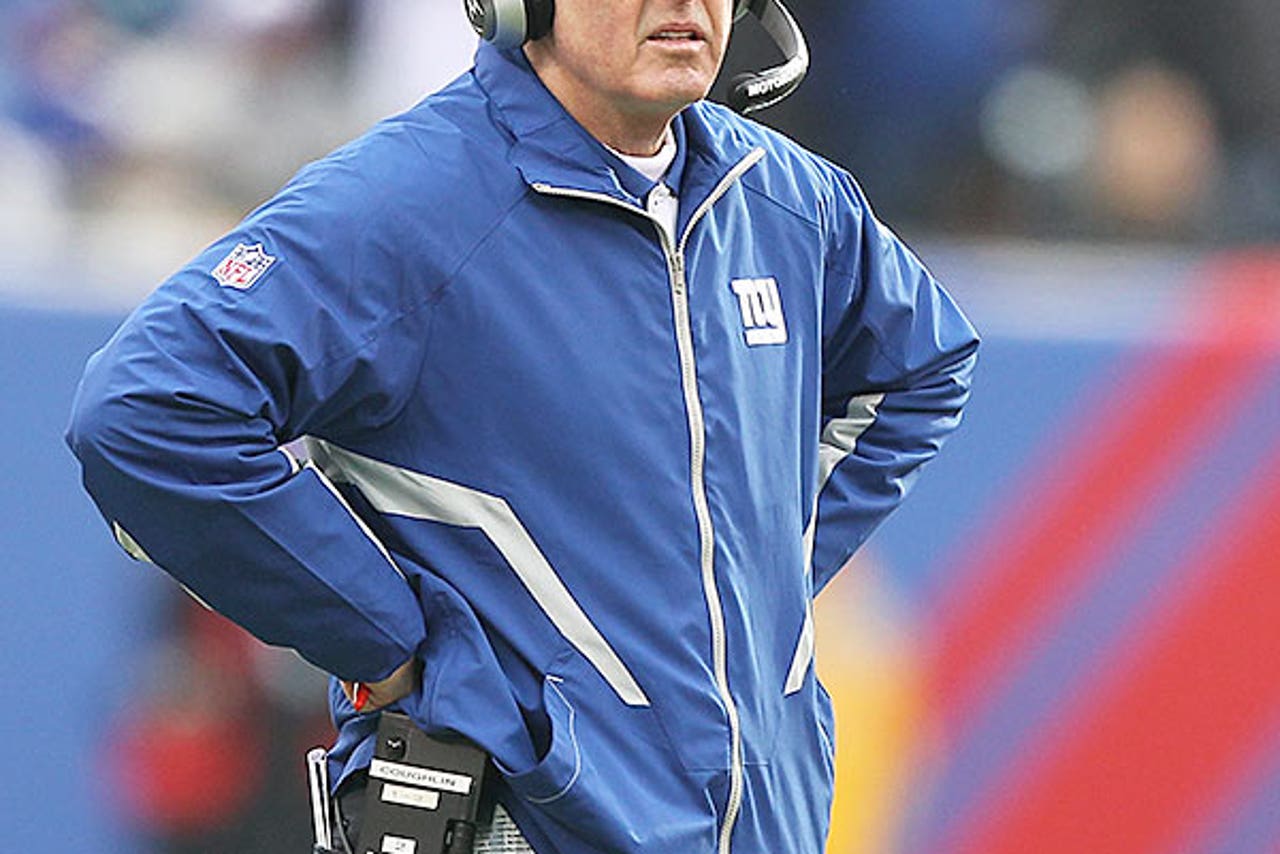 "I actually had my whole family in town for the game, or at least most of them, and also my pastor and my deacon from church were in New York at the time watching that game," Dodge said. "So directly after the game I was shocked. Then I was just pissed at myself. But what was really, really cool was that I didn't have time to really have a pity party because I had everybody in town for Christmas. We actually opened gifts that night.
"I actually went to go get pizza that night with my pastor and it was really neat to be around people who loved me before I ever played football because if I was by myself at that time I could have done something really destructive."
The presence of friends and family brought immediate relief to Dodge, but it could not shield him from all of the blowback.
"I didn't really understand the gravity of it all at that time, but that marked a really difficult time moving forward," Dodge said. "There was 20 or 30 reporters sitting around my locker. I got booed off the field. I started getting death threats. I started having people reach out to my family. It got crazy. That was really my first time seeing how big the game of football was and just how serious people took it. That was very, very tough."
In a rush to take out their frustration, Giants fans took to Twitter to harass Dodge except they didn't take the time to find the right one. All of which made for life unpleasant few days for one particular journalism student named Matt Dodge.
Meanwhile, the real Matt Dodge could do nothing to dodge his newfound infamy.
"The backlash from that was tough," Dodge said. "I tell you what was even tougher was the fact that I came home and every single person I talked to or saw me brought that play up. It was insane."
Dodge recalled a time when he was asked to speak about overcoming adversity. The infamous punter expected to field questions about how he handled a tough time in his life, instead all he got was another realization that this play was going to haunt him for much longer than he anticipated.
"I remember I had an opportunity to speak to a church when I came home and I told my story and stuff and talked about how God got me to the NFL in the first place. I shared my testimony and at the end I was like, 'All right, does anyone have any questions about what it was like in the locker room and stuff, and all I got was some guy that was just like, 'Well, just how fast is DeSean Jackson? That was like the only question anybody asked me. I was like, 'Crap, I'm never going to live this down."
One and done
For Dodge, the 2010 season would be his only one in the NFL. The following year he found himself on the losing end of an ultra-competitive training camp battle with veteran punter Steve Weatherford.
"That was a tough, tough decision," Coughlin said at the time. "It was a tough call and a difficult thing to talk to Matt. He responded in a class manner and made it very easy.
"I told him it sometimes takes a while for a punter to develop. I saw tremendous improvement on Matt's part this year."
After being cut Dodge would return to what he knew: the gym. He worked as personal trainer while keeping his body in shape for potential free-agent tryouts. The strapping 6-2, 220-pounder entered a few body-building competitions and entertained the thought of starting his own gym before punting on the idea.
He did, however, collaborate with a client that he trained to start an LLC called "Highway Surfers," which was a dispatch company for truckers all over the country. That lasted less than a year before he felt the urge to make a comeback attempt.
"I did that for a while but it just wasn't for me," Dodge said of the trucking business. "If there's one good thing about the NFL it's that you make a lot of money. The only negative thing is you made a lot of money, so it felt like making money was really easy.
"I got into trucking under the impression that it would be really easy and we'd make a lot of money. I found out that I had to work really hard and I didn't necessarily enjoy it that much. So about eight months into it I felt another calling to give the NFL another try."
Dodge estimated he attended 18 tryouts from 2011-13 but instead of signing contracts all he saw were signs telling him that the NFL wasn't for him.
"In 2013 I really got the itch to get back into football," Dodge said. "Interestingly enough, one of the players I keep up with the most is Steve Weatherford, the guy who took my job. He has a house near San Diego and I told him what I wanted to do. He was out there training with (former San Diego Chargers kicker) John Carney so I flew out there for a week to do some training. I was all fired up to get back into playing football.
"The second day I was there I was working out with Steve and I completely jacked up my back. But it really kind of showed me there -- when I saw how much Steve prepared and how passionate he was and how everything he did was about making him a better football player -- I just kind of noticed that I'm not. I wasn't willing to put that in for football. I had to look myself in the mirror and figure out that this wasn't what I wanted to be doing."
That realization was hammered home during one of his last NFL tryouts.
"I remember I had a workout with the Chicago Bears and I hadn't been punting as much as I should have," Dodge, now 28, said. "I punted okay but they could tell that I wasn't sold out for it and they looked at me and were like, 'Matt, do you want to do this?' Like, they asked me straight up, 'Do you want to do this? Because you can't pretend.'
"At that time I was like, 'I really don't.' And it was a very freeing feeling. It released me from the grasp of the NFL machine as being the best part of my life."
Dodge currently enjoys a life working as a wealth management consultant where he helps people map out a future for their post-retirement days, something he would like to do some day for fellow athletes as well. The topic is the bases for his book, which is titled "Halftime Shift. Understanding the money game in the second half of life."
While Jackson's epic punt return marked the lowest point in Dodge's life, it also placed him on path that would enable to find a new career, become a published author and meet his wife, Allison, who he married in July of 2015.
"I tell people that if that play never happened and I was released the next training camp anyway nobody would know who I am. They wouldn't remember me," Dodge said. "Meaning that because that happened that has opened up so many doors for me. It's one of those, God works in very mysterious ways things."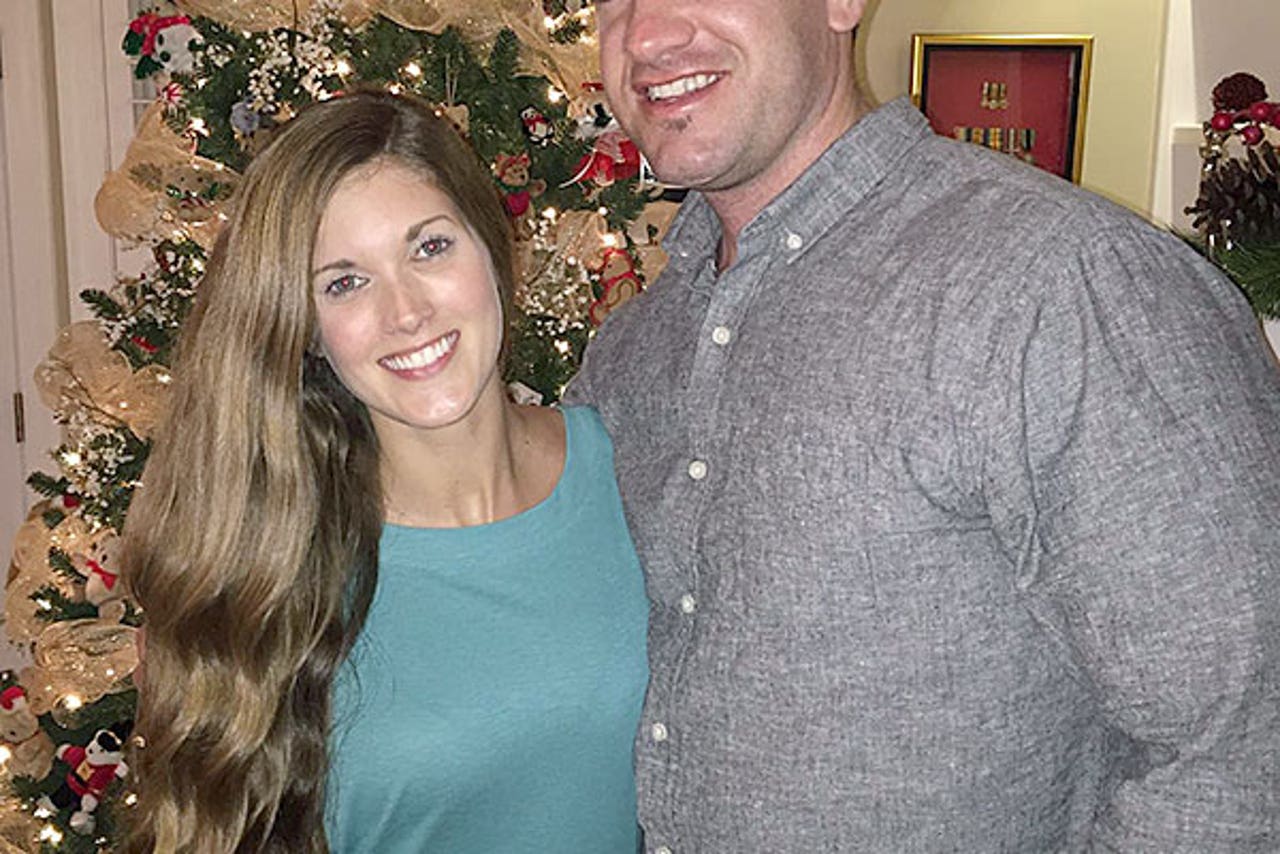 ---
---