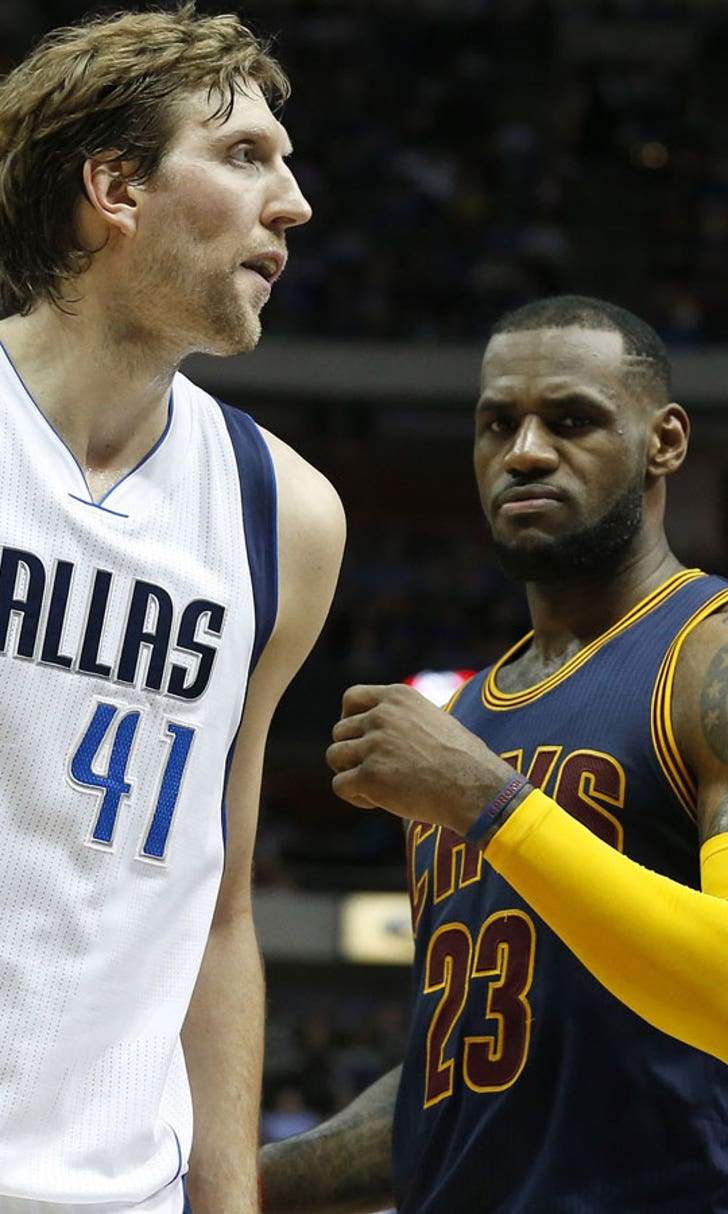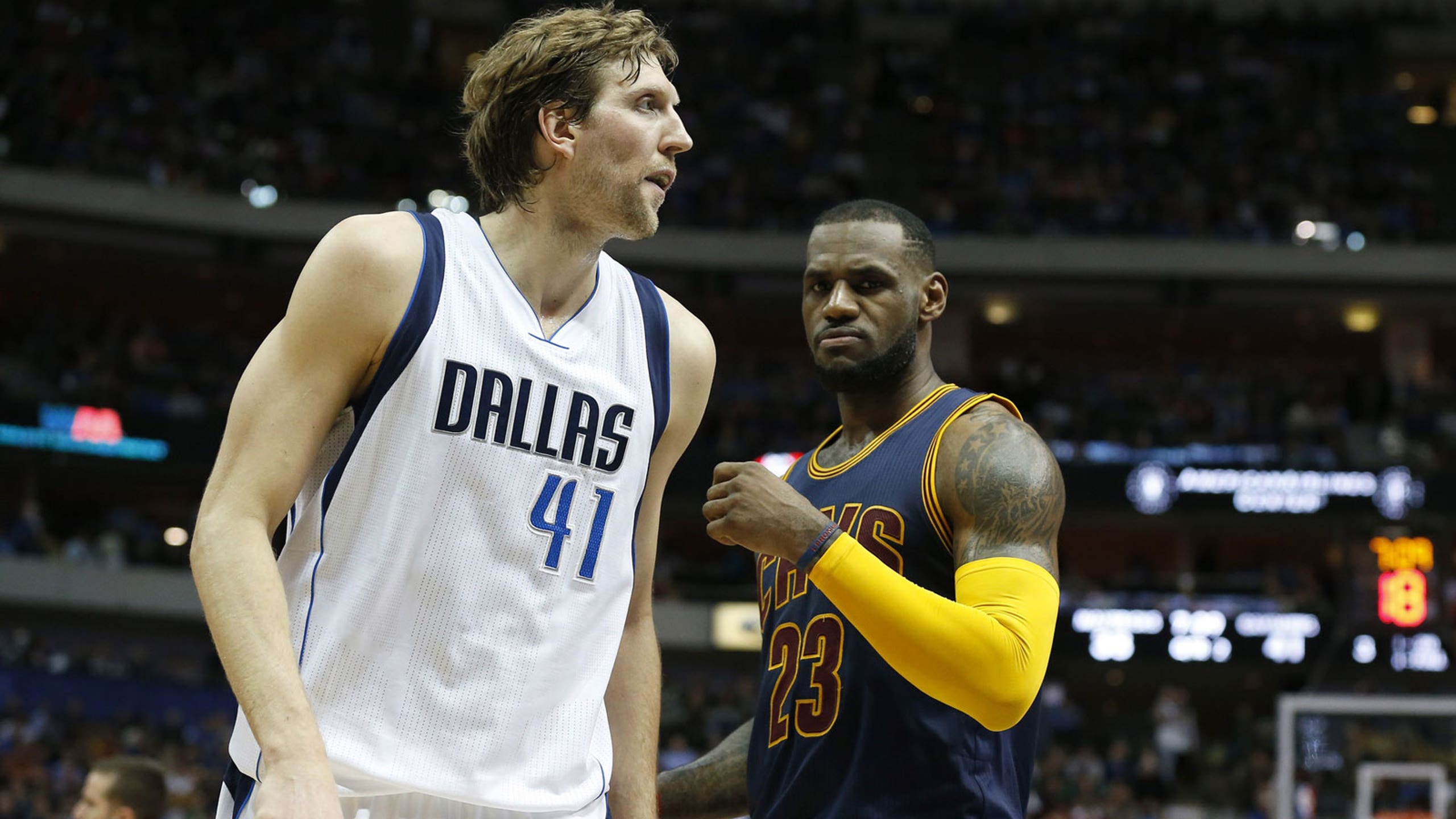 Nowitzki knows LeBron, KD will pass him -- but how high can they go?
BY Jeff Caplan • January 12, 2016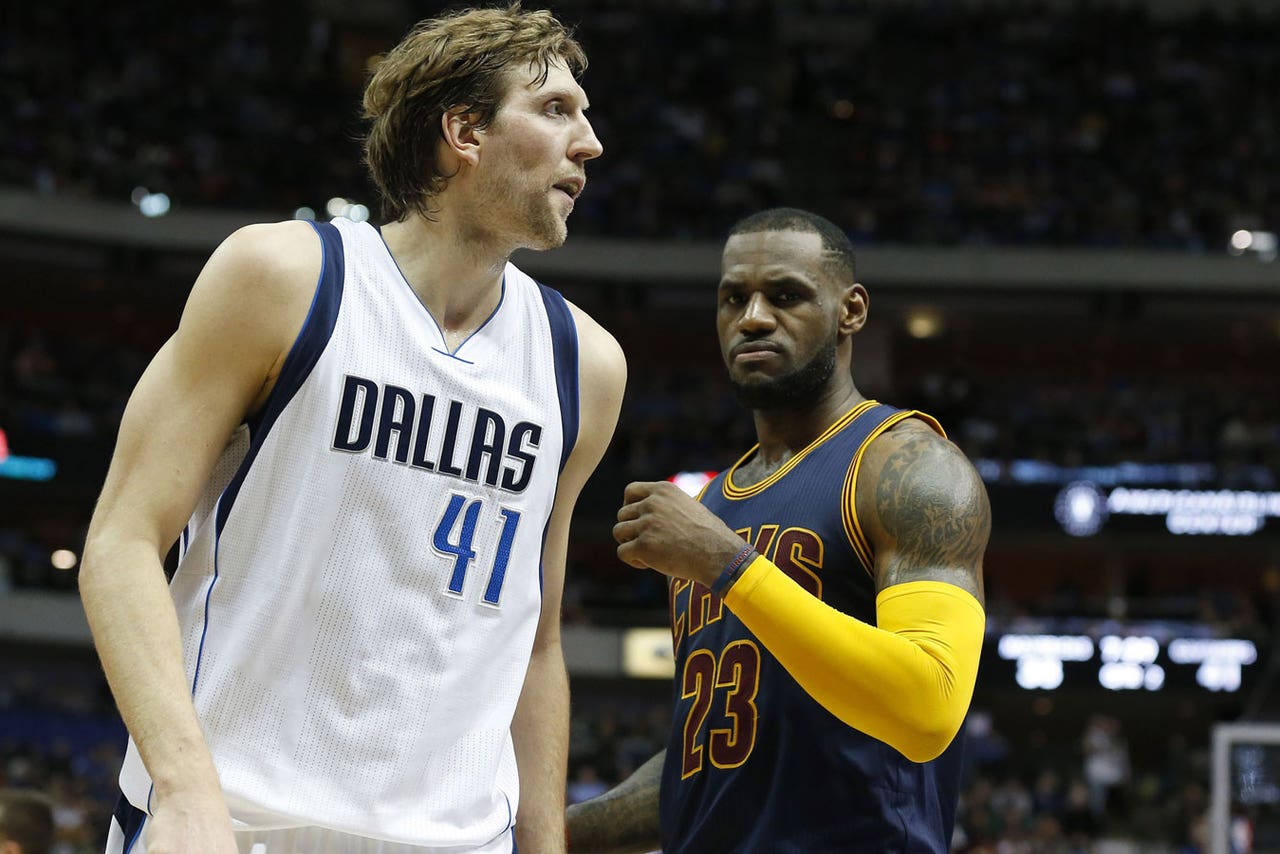 The last few seasons, Dirk Nowitzki has blasted up the NBA's all-time scoring list. A few weeks ago he passed Shaquille O'Neal to move into sixth place. Whether Nowitzki wants to play long enough to collect the 2,663 points he needs to move into fifth place ahead of Wilt Chamberlain will be seen.
Nowitzki, 37, also isn't fooling himself. He knows his stay in sixth, or possibly even fifth, won't last terribly long. He fully expects tonight's opponent, LeBron James, to blow by him in due time. James, 31, is already 17th on the all-time scoring list with 25,790 points, and from here it's going to be a pretty quick ascension into the top 10. And James won't be alone in passing the big German, as Nowitzki told reporters (via Dallas Morning News):
"Yeah, I think a few guys will," Nowitzki said Monday. "KD (Kevin Durant) is obviously well on his way. That's the name of the game. There's always going to be somebody that's better than you, more talented. You leave your mark by playing hard, giving all you got to the franchise and then once it's over, it's over."
Durant is already a four-time NBA scoring champ and has amassed 16,359 points in eight-plus seasons. Durant, 27, played in only 27 games last season due to a foot injury, and has missed seven games this season after experiencing near-pristine health his first seven seasons in the league.
Health will play a major factor in just how high James and Durant can climb on the all-time list. Nowitzki has had remarkably good health -- as well a high pain threshold -- throughout his now 18-year career.
James has also mostly remained exceedingly healthy. Last season's 69 games played was a career-low due to various non-serious injuries which includes a recurring back issue that requires monitoring.
James has averaged just shy of 2,000 points per season over the last five seasons, which includes just 62 games played in the lockout-shortened 2011-12 season. If he averages 1,800 points over the next five seasons, starting with this season, he will have 34,790 points at the end of the 2019-20 season. At age 35, James would sit behind only Karl Malone (36,928) and Kareem Abdul-Jabbar (38,387). 
Entering the 2020-21 season, which would be James' 18th NBA season, he would need 3,598 points to become the league's all-time scoring leader, and 5,210 points to become the NBA's first 40,000-point scorer.
Injury might be the only thing that can prevent Durant from finishing in the top three all-time in scoring. Last season's 686 total points hurt his totals, but he's now back to averaging more than 26 points a game. Not including the lockout season or last season, Durant otherwise has four consecutive seasons of scoring at least 2,200 points.
If he averages 2,000 points over the next eight seasons, he'll have 31,357 points at the end of the 2022-23 season at only 34 years old. Currently, that point total would put him just ahead of No. 5 Wilt Chamberlain and just behind No. 4 Michael Jordan.
Dirk is right. They're coming.
---
---