NBA playoff preview: LeBron's Cavs are East's real top seed
April 16, 2015

The NBA's regular season is finally over, and it's time for the real fun to begin. The great thing about the playoffs is that matchups dictate the series winners much more than the standings do. Having a dominant regular season and being a No. 1 seed doesn't always translate to postseason success — just ask the 2014 Indiana Pacers or the 2012 Chicago Bulls. Will this year's top-seeded Hawks fall victim to the same fate? That's just one of several interesting storylines in the Eastern Conference. Some others: Can LeBron's Cavaliers roll right to the Finals? Just how good is a healthy Bulls squad? Will the Raptors or Wizards make any postseason noise?
Now that the bracket is set, here's a look at the conference that probably deserves to have five teams eliminated in the first round.
1. Cavaliers (2): They have the best player in the world and won 34 of their final 43 games — they're the Las Vegas favorites for a reason.
2. Hawks (1): Spurs East won 60 games and were one of just three teams (including Golden State and San Antonio) to rank in the top seven in offensive and defensive efficiency. Despite their lack of star power, they're legit.
3. Bulls (3): If Derrick Rose can stay healthy and provide All-Star-level production — granted, a big if — their two-way ceiling is as high as anyone's.
4. Raptors (4): Toronto's elite offense will keep it in almost every game. It's just a matter of whether Kyle Lowry and DeMar DeRozan can regain their mojo and consistently dominate other backcourts.
5. Wizards (5): Washington has veteran leadership, a star point guard and the most physically imposing frontcourt in the conference. That's generally the recipe for a deep playoff run.
6. Bucks (6): Defense wins championships, and Milwaukee has the second-best defense in the league. The Bucks' length and athleticism are advantages only Cleveland can match, but inexperience will be their undoing.
7. Celtics (7): Outside of Cleveland, no East team is hotter. Brad Stevens is coaching his tail off, and he has his funky, undersized team maximizing its potential every night.
8. Nets (8): Brook Lopez is a nightmare to defend inside, and Joe Johnson and Jarrett Jack are deadly in crunch time. The Nets just have to find a way to keep their games close.
MATCHUP WE CAN'T WAIT TO SEE
Cavaliers-Bulls, conference semifinals. Is there really any other choice? Basketball purists may favor the possible (inevitable?) Cleveland-Atlanta conference finals tilt for its beautiful ball movement and shooting, but traditionalists will love the budding Cleveland-Chicago rivalry. Cavaliers-Bulls is the Eastern Conference matchup we've been hyping since the preseason, only it'll come a round earlier than expected. On paper, these are the East's two most talented teams. Both have multiple All-Star candidates and unfairly deep benches. What's more, LeBron and the Bulls — Joakim Noah, in particular — really don't like each other, which adds to the likelihood of on-court altercations and post-game trash-talk. The individual matchups are simply tantalizing. Kyrie Irving vs. Derrick Rose. LeBron vs. Jimmy Butler. Kevin Love vs. Pau Gasol. David Blatt vs. Tom Thibodeau. This series has star power, history (Jordan vs. Ehlo), drama and a dash of fate. The matchup would be a bloodbath, and it only makes sense that these two would have to go through each other on their quest to the Finals. Let's hope it happens.
BREAKOUT CANDIDATE
Kevin Love, PF, Cavaliers. This may seem like a crazy choice, but Love is primed to take his game to another level in this year's playoffs. The days of Minnesota-era Love are over. He's been miscast as a spot-up shooter and decoy in Cleveland's offense, and clearly doesn't get along with his teammates. But he's much better than his current averages (16.4 points and 9.7 rebounds per game), and the Cavs would desperately need him to step up to beat Chicago and Atlanta in the slower, grind-it-out playoff atmosphere. It's also Love's first time in the postseason. He raised his game with Team USA on the world's biggest stage, so why he couldn't he do it again with Cleveland? At the least, he needs to reaffirm he's a franchise cornerstone for potential free-agent suitors this offseason. Having a monster postseason would do just that.
1. LeBron James, F, Cavaliers (25.3 PPG, 7.4 APG). Stephen Curry or James Harden will win the MVP, but LeBron is still the all-around best player in the world.
2. John Wall, G, Wizards (17.6 PPG, 10.0 APG). Wall's elite defense, rebounding and passing put him in a stratosphere no other East point guard can match.
3. Kyrie Irving, G, Cavaliers (21.7 PPG, 5.2 APG). A magician with the ball and an effortless scorer, Irving is held back only by his porous defense.
4. Pau Gasol, F/C, Bulls (18.5 PPG, 11.8 RPG). The NBA's double-doubles leader (54) has enjoyed an impressively rejuvenated season in the Windy City.
5. Jimmy Butler, G/F, Bulls (20.0 PPG, 5.8 RPG). When he's making his shots, Butler is the East's most devastating two-way force behind LeBron.
PREDICTIONS
First round: Hawks over Nets, Cavaliers over Celtics, Bulls over Bucks, Raptors over Wizards.
Second round: Cavaliers over Bulls, Hawks over Raptors.
Conference final: Cavaliers over Hawks​.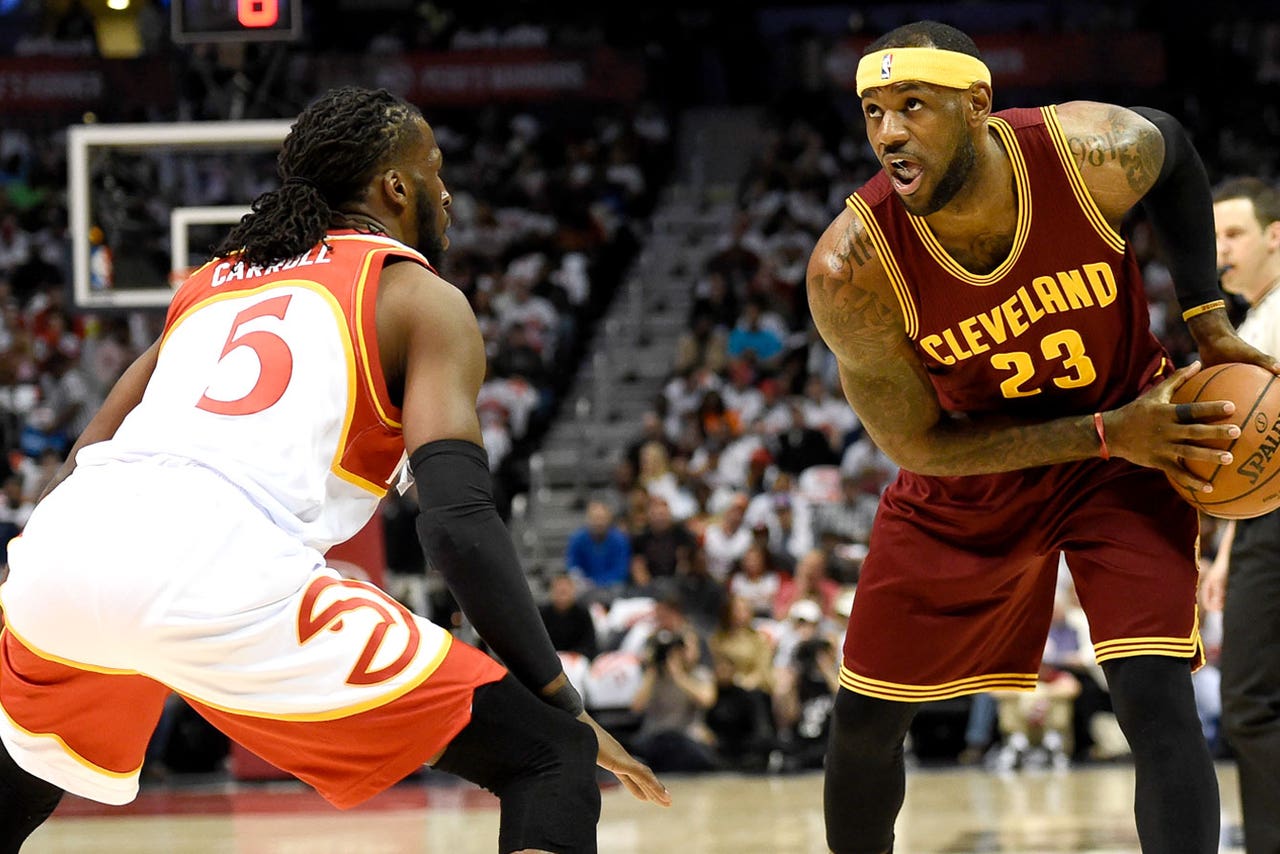 It'll come down to LeBron vs. the Hawks, and, guess what, LeBron will win.

---
---