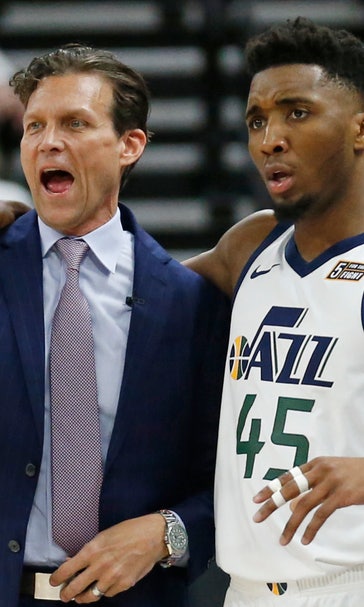 Mitchell helps Jazz stave off elimination
April 23, 2019
DETROIT (AP) — Donovan Mitchell scored 19 of his 31 points in the fourth quarter to rally the Utah Jazz to a 107-91 victory over the Houston Rockets in Game 4 of their Western Conference series on Monday night.
Jae Crowder added 23 points. Ricky Rubio chipped in 18 points and 11 assists and Derrick Favors finished with 12 points and 11 rebounds. Utah staved off elimination to force Game 5 on Wednesday.
James Harden scored 30 points to lead Houston. Chris Paul added 23 points, eight rebounds and seven assists. Eric Gordon chipped in 16 points.
Utah's offense got a major boost from Crowder and Rubio in the first quarter. The duo combined for 25 points on 9-of-11 shooting in the quarter to help the Jazz carve out a double digit lead.
The Jazz opened the fourth quarter with a 15-1 and outscored the Rockets 31-12 in the period. Mitchell scored 13 points in three minutes to fuel the run after totaling just 12 points in the first three quarters. He capped off the surge with back-to-back 3-pointers, giving the Jazz a 91-80 lead with 9:02 remaining. Mitchell later had an incredible alley-oop dunk when he caught an errant pass and threw it down.
BUCKS 127, PISTONS 104
DETROIT (AP) — Giannis Antetokounmpo scored 41 points, and the Milwaukee Bucks beat Detroit, completing a four-game sweep of the Pistons and advancing to the second round of the playoffs for the first time since 2001.
Milwaukee closed the third quarter with a 17-3 run, taking a 10-point lead into the fourth after the Pistons had led much of the way. Detroit set an NBA record with its 14th consecutive playoff loss, a skid that began in 2008.
The Bucks will face Boston in the second round. The Celtics are coming off a sweep of their own against Indiana.
Reggie Jackson scored 20 of his 26 points in the first half for Detroit. Blake Griffin fouled out with 7:06 remaining after scoring 22. The home fans gave him a nice ovation — then many headed for the exits.
---
---