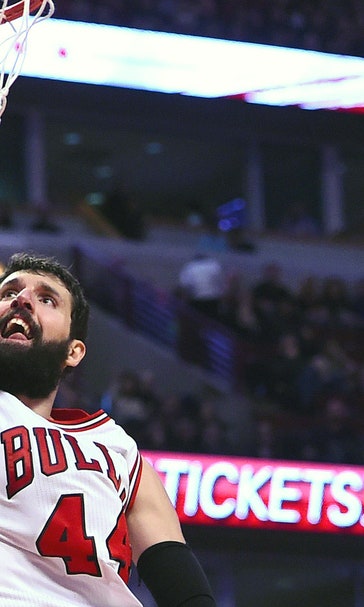 Mirotic, Noah lead Bulls past Lowry-less Raptors; Gibson returns
BY foxsports • March 20, 2015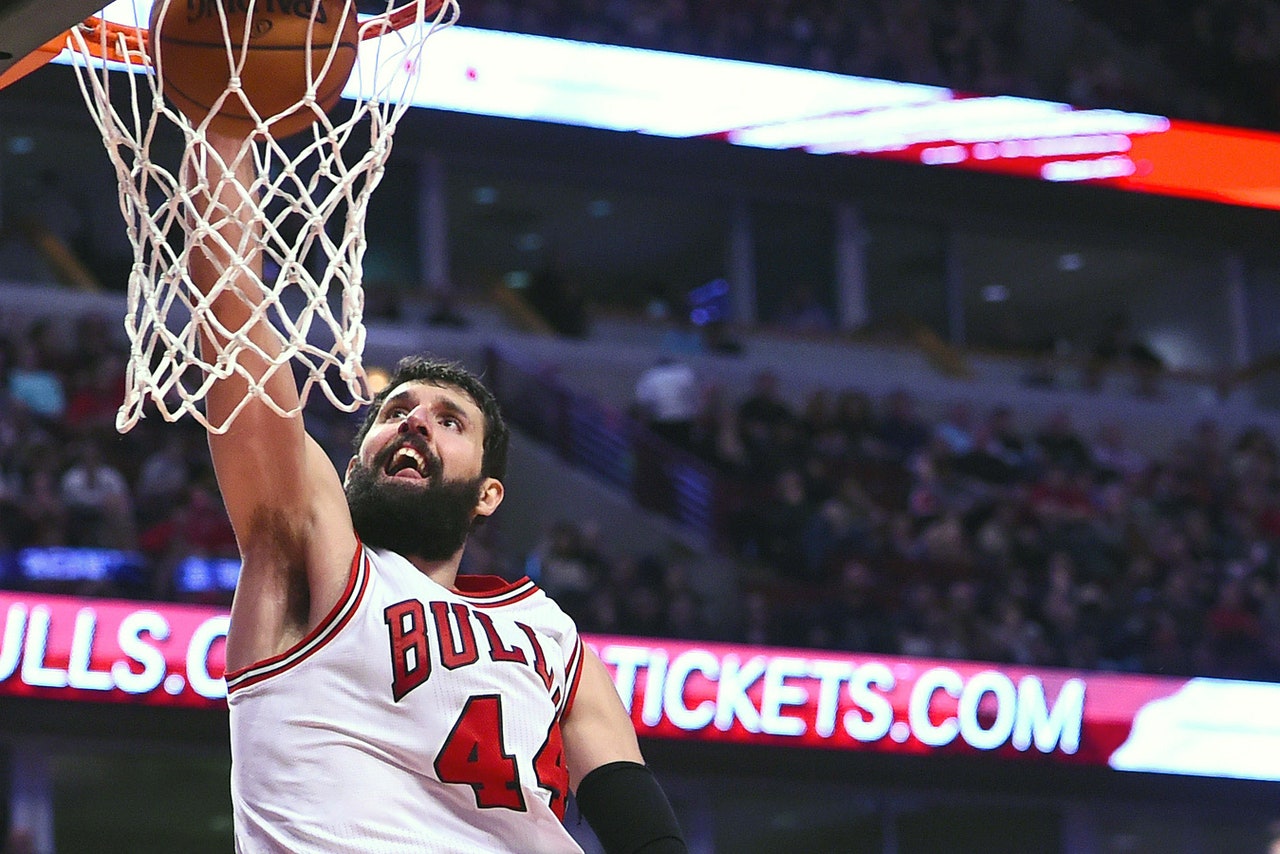 Nikola Mirotic's maturation on the court has impressed everybody around the Chicago Bulls.
Mirotic matched a career high with 29 points to propel Chicago to a 108-92 victory over the Toronto Raptors, who were without All-Star guard Kyle Lowry.
Mirotic had 11 rebounds to go with his 29 points for the Bulls, who pulled a half-game ahead of the Raptors for third place in the Eastern Conference.
"I'm working hard to improve, especially on the defense because I know the offense is not a problem," Mirotic said. "If I want to be on the floor, it's playing good defense, and I'm working on that."
The Bulls also took a 3-0 lead in the season series, assuring them the edge in any potential playoff tiebreaker. They're in that position after Friday thanks in part to Mirotic, who scored at least 20 points for the sixth time this month.
Joakim Noah had 10 rebounds, equaled a career high with 14 assists and scored eight points to come within one basket of a triple-double, while Mike Dunleavy had 21 points for Chicago.
Mirotic continued his strong March. Heading into Friday, Mirotic was averaging 20.8 points and 8.2 rebounds this month. He was also proud of his defense, something he knows is important to Bulls coach Tom Thibodeau.
"Just a continuation of what he's been doing," Thibodeau said. "It's been a great run for him, and he's doing it. ... It's effortless for him right now."
Things weren't as easy for the Raptors without their All-Star as they failed to win their third straight. Lowry is averaging 18.1 points and 6.9 assists for the season and he was missed by Toronto, as the Raptors shot 38 percent from the floor.
DeMar DeRozan led Toronto with 27, while Patrick Patterson had 17. Starting in place of Lowry, Greivis Vasquez had 11. Lowry dressed, but didn't play after bruising his back against Minnesota on Wednesday night.
"I couldn't do it. I couldn't go out there and play," Lowry said. "I tried to go out there and warm up. It just didn't happen."
The Bulls, who won their second straight and third of five despite playing without Derrick Rose and Jimmy Butler, stayed in their offensive groove against Toronto. They entered Friday averaging 114.5 points per game against the Raptors and stayed near that pace by shooting 53.2 percent from the field with 32 assists.
It was an effort that didn't please Toronto coach Dwane Casey.
"They just kicked our butt in every which way you wanted to go in the first half," Casey said. "I thought we came out with some fight in the third quarter but it was too, too late. They punched us and we never recovered."
Chicago, meanwhile, got a contribution from someone who hadn't played all month.
In his first game since spraining his left ankle Feb. 27 against the Timberwolves, Bulls forward Taj Gibson had six points and three rebounds in 10 minutes. The trusted reserve missed Chicago's previous 10 games and played after testing the ankle during pregame warmups, checking in for the first time with 4:03 left in the first.
Gibson made an immediate impact, dunking after a lob pass from Pau Gasol with 3:33 left in the opening quarter. Later in the first, he threw down a one-handed slam with 55.9 seconds to go in a period that ended with Chicago up 32-24 on a one-handed leaner by Mirotic.
That was just one of Mirotic's first-half highlights. He scored 15 during the first 24 minutes, helping Chicago take a 60-48 lead into halftime as the Bulls had 26 baskets on 20 assists, capped off by Dunleavy's buzzer-beating 3-pointer.
"It was a good win for us tonight," Noah said. "We needed it real bad."
TIP-INS
Raptors: Casey coached his 299th game with Toronto. Casey also needs 10 wins to tie Sam Mitchell (156) for the most in franchise history. ... Bulls coach Tom Thibodeau had high praise for Lowry. After listing Lowry's positive attributes such as his shooting, finishing and competitive nature, Thibodeau called the Raptors star "one of the elite point guards in our league."
Bulls: Noah's 14 assists gave him 270 on the season. According to STATS, Noah is just the third center in the last 20 years to have three straight seasons of 250 or more, joining Vlade Divac and Hakeem Olajuwon. ... Noah played 33 minutes and came within two points of his first triple-double since April 9 of last year against Minnesota.
GOTTA START BETTER
The Raptors entered the third quarter down 60-48, continuing a trend of slow starts. That's something DeRozan is not happy with. "We've got to stop doing that. We've found ourselves in too many games in that same situation where we get down and then a light bulb comes on for us to fight," DeRozan said.
PROGRESS
Thibodeau said Butler (left elbow) would travel to Detroit, but said he's day-to-day. "He's pretty close, but we just want to make sure," Thibodeau said of Butler, who hasn't played since March 1.
UP NEXT
Raptors: Sunday at home against New York.
Bulls: Saturday night at Detroit.
---
---