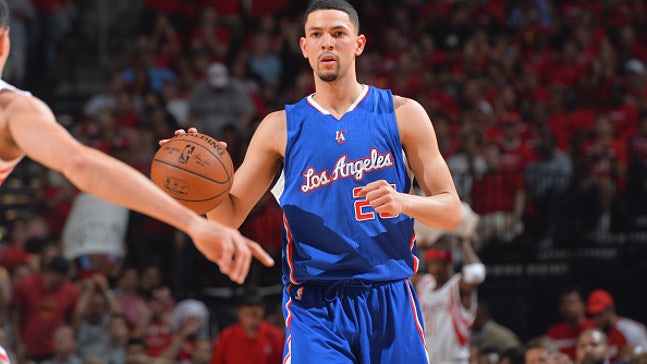 Maybe Austin Rivers is good at basketball
Published
May. 5, 2015 12:15 p.m. ET

By Joseph Nardone
Austin Rivers is only 22 years old. I think we forget that. There was a time when being so young meant we would not judge someone's NBA career so harshly this early in the process. Whether it was the expectations people developed after his much-hyped emergence as a Duke prospect, or the fact that teaming up with Anthony Davis in New Orleans failed, Rivers has been a running social media joke for a few years.
Don't get me wrong, either. Rivers hasn't been killing it since being drafted 10th overall in 2012. It has been mostly the opposite, to the extent that he has averaged only 21 minutes per game during his career, while shooting a woeful 39.7 percent from the floor.
So, yes, up to this point we can consider his career a substantial disappointment. Yet, I do think we are not giving enough thought to the possibility that he's still a work in progress.
Players such as LeBron James, Kevin Durant, and even more recent rookies such as Andrew Wiggins, have spoiled us. We reside in a time when succeeding immediately is the norm. Outside of seven-footers, we are conditioned to think that if a player struggles early in his career, it is a sign of monumental underachievement.
Maybe that is fair. Or, maybe, we shouldn't use a group of extremely good players to form a fictional young player projector scale, in which we use players' early years in the NBA to tell the rest of the world how good a player is, or how good he is going to be.
Everyone develops at different speeds. That is worth noting.
For the parents in the audience here, one of your kids might have been able to go on the potty quicker than the other. That doesn't mean that the latter is going to be dumb, a criminal, or some sort of deviant down the road. S/he just might not be ready for the big stage that is the toilet life. 
It could be as simple as that. Our expectations of Rivers — coupled with a lack of success this early in his career — have made many of us judge him before he is the player he will eventually be. This can be applied to several younger players in the league, but the spotlight has been on the son of Doc Rivers for so long, we have come to the conclusion that he has failed us — and we all know that hell hath no fury like someone not living up to other people's expectations.
There isn't really proof that Austin Rivers is going to be good, though. A few good games in the playoffs would certainly be jumping the gun of coming to that particular endgame. However, the NBA playoffs are where good players are supposed to shrink, and where iffy-at-best types are no longer seeing minutes.
Rivers, on the other hand, has been playing above his averages. Now shooting .412 from the floor; over .460 beyond the arc; and being given the keys to the Clippers while their best player, Chris Paul, had to sit a game due to injury, Rivers is producing at levels which aren't normal for a "bad" player.
There was no reason to expect good things from Rivers in these playoffs. Even after the infamous #AustinRiversGame (Game 4 at San Antonio), most of us viewed that as an anomaly… for good reason, too. The entire point of an #AustinRiversGame hashtag was the absurdity of it all. He doesn't belong, or at least he isn't supposed to.
Then Game 1 of the Clippers' series against Houston began, which felt like months since the infamous hashtag game, and Rivers played, well, like a good basketball player. Not great, but certainly not below competent, and even more certainly better than average. He wasn't a liability, but an asset.
Seriously, that was an NBA playoff conference semifinal, where lesser players are meant to fade into oblivion. Rivers looked like he belonged. Heck, he looked better than simply looking like he belonged — he looked like he mattered.
None of that means anything as far as his long-term success is concerned. It is silly to use the limited vacuum of eight games — not all of which he played well in — and parlay that into some idea that he is going to be a terrific NBA player.
What we could do, though, is start to kick the tires on the idea that he isn't an abomination of a player, nor a guy we should regularly trash on the mean streets of Twitter. I mean that — Rivers could still be a player so young in his basketball development that he is just learning how to use his skill set at a higher level.
Is Austin Rivers good? Certainly not yet. However, he isn't bad, either. He is floating around somewhere in the middle, but in a space much better than any of us has given him credit for, and his career is still just getting started.
More from Crossover Chronicles:
---
---