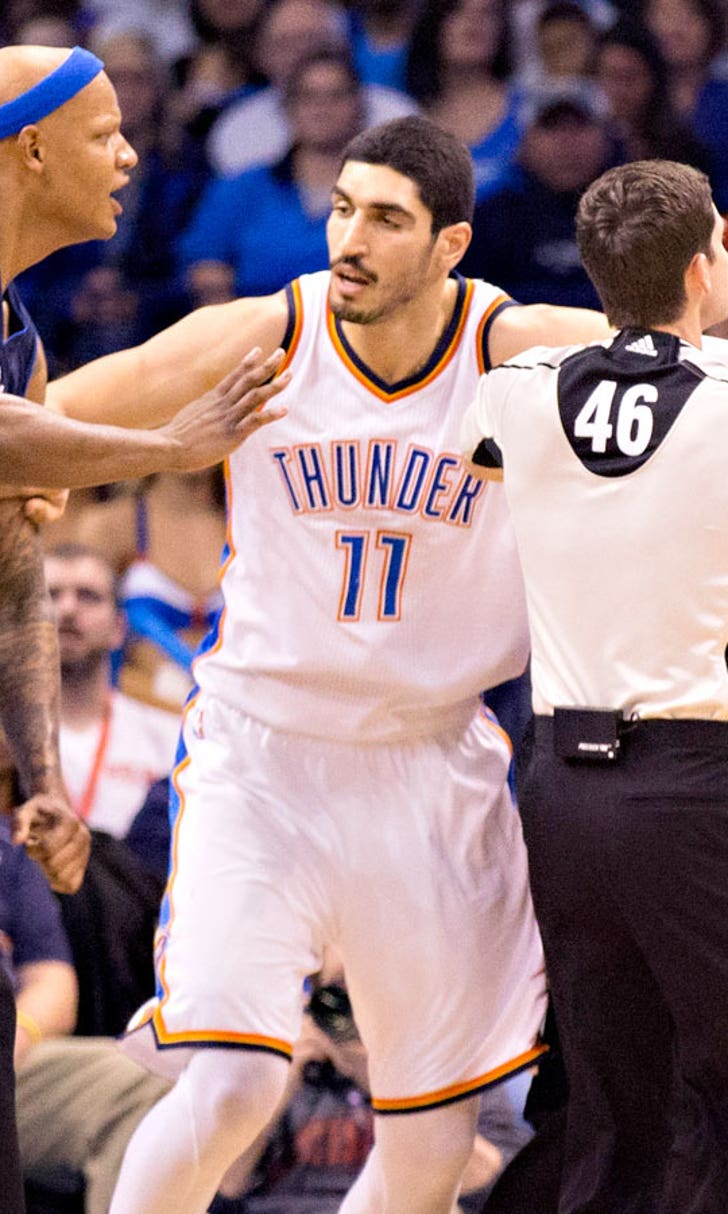 Mavs' Villanueva gets tossed after going for Westbrook's throat
BY Jeff Caplan • January 14, 2016
Even without Dallas playing all five starters, things got heated Wednesday in Oklahoma City between these two rivals. Mavericks forward Charlie Villanueva was ejected after he grabbed Russell Westbrook's throat.
A mini-melee broke out after pesky Mavs guard J.J. Barea and Westbrook went chest-to-chest after the two got tangled in the lane as Westbrook attempted to drive to the basket. Barea, who stands a few inches under 6-foot, is one of the league's great defensive agitators, and Westbrook, a relentlessly aggressive offensive player, took exception to Barea's defense on the play. As they untangled, Barea swiped his arm across Westbrook's chest and Westbrook retaliated with a chest bump. 
Villanueva was in the vicinity and came to Barea's defense. While being restrained, Villanueva reached his right arm toward Westbrook's throat and wrapped his hand around Westbrook's neck before he quickly flung it aside. Villanueva then pointed at Westbrook as several Thunder players pushed him away.
After a long replay review by the referees, Villanueva was hit with two technical fouls and was ejected. Barea, Westbrook and Thunder forward Serge Ibaka were all assessed technical fouls.
A few minutes later, Westbrook was sent to the showers with a second technical after he again became frustrated with Barea's tight defense.
The Thunder's 108-89 victory was a strange one from the start with Dallas coach Rick Carlisle electing to sit all five starters following Tuesday night's overtime loss against Cleveland. Dirk Nowitzki, Wes Matthews, Chandler Parsons and Deron Williams were all scheduled not to play. Center ZaZa Pachulia was a late scratch with a sore right Achilles. 
It moved the Mavs' usual reserves into the starting lineup, pitting Barea against Westbrook. These two teams meet again on Jan. 22 in Dallas. With the Mavs' starters surely returning for that one, it should be interesting.
---
---