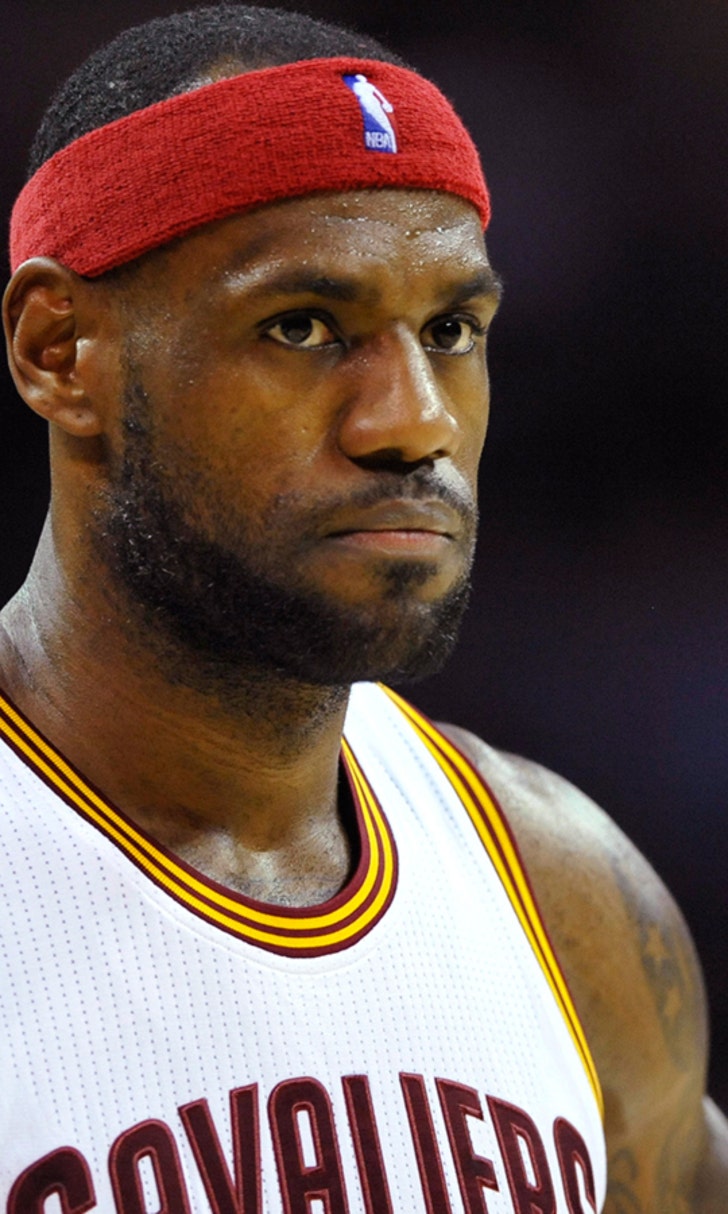 LeBron says rioting in Ferguson 'not the answer'
BY foxsports • November 25, 2014
On Monday night, LeBron James was one of many who took to social media to share thoughts on a grand jury's decision not to indict a police officer in the fatal shooting of unarmed black teenager Michael Brown in Ferguson, Mo.
On Tuesday, James continued to speak out on the topic, saying such acts of violence have to stop.
"In some way, shape or form that has to stop from a pedestrian with a firearm or a cop with a firearm," James reportedly said after Cavaliers practice Tuesday, referring to the Ferguson shooting and the Trayvon Martin shooting from 2012. "It's a sensitive subject and it's a thing that we just can't continue to go through."
Shortly after the announcement of the grand jury's decision on Monday, James posted this on Instagram, depicting Ferguson teen Michael Brown, who was shot by police officer Darren Wilson in August, and Martin, an unarmed African-American teen who was shot by George Zimmerman, who was on neighborhood watch in Florida in 2012. At the time, James led the Miami Heat in a protest of the Martin shooting.
"It's not just one instance," he said Tuesday. "It's not just Mike Brown or Trayvon Martin or anything that's going on in our society. I think it's much bigger than that. Like I said last night, violence is not the answer and retaliation is not the solution. My prayers and best wishes goes out to the families of anyone that loses a loved one, especially a kid today."
James has spoken out before on the issue of race relations -- including when he spoke to CNN on the Martin shooting -- but when asked about the issues of race and gun control on Tuesday, he declined to comment, saying, "that's a bigger conversation than me."
"One thing I can comment on is these families who continue to mourn their loved ones at a young age and that's where the energy should be going to, supporting these families, man, and not just black families but all families that their kids leave home one day and you expect them to return and then they don't return because of either someone's stupidity or just someone's knowledge of not knowing what's going on."
James added that he doesn't "have anything against the cop" involved in the shooting of Brown, and decried the rioting that has occurred during protests following Monday night's announcement.
"Yeah, that's not the answer," James said. "What does that do? What does that actually do? Hurt more families, hurt more people, draw more attention to things that shouldn't even be going on instead of people going to the family's household and praying with them." 
---
---