National Basketball Association
National Basketball Association
Knicks 116, Nets 93
Published
Apr. 9, 2011 3:26 a.m. ET

Carmelo Anthony grinned widely at the roar that followed after he pulled up for another deep 3-pointer.
The New Jersey crowd wasn't tough on Anthony, and neither were the Nets.
Anthony had 25 points and 14 rebounds, and the New York Knicks ended a franchise-worst streak of nine straight losing seasons by beating New Jersey 116-93 on Friday night for their sixth consecutive victory.
Chauncey Billups added 22 points for the Knicks, who played without Amare Stoudemire but didn't need him against a Nets team with far bigger injury problems.
Anthony said he was surprised by the reception from the fans, but not by the strong effort without his All-Star teammate.
''That's something I really was focusing in on before this game, knowing that we didn't have STAT, to step up from the beginning,'' Anthony said. ''Go out there, go after the game, get everybody going, and obviously it worked out there tonight.''
New York remained in sixth place in the Eastern Conference and completed its first season sweep of its cross-river rival since winning all three meetings in the shortened 1999 season.
Brook Lopez scored 27 points for the Nets, who were without All-Star guard Deron Williams along with most of their starting lineup and lost for the eighth time in nine games.
''No excuses,'' Nets coach Avery Johnson said. ''Our guys have to play a little bit harder, a little bit smarter. They are trying but this wasn't one of their better nights.''
Anthony wasn't sure what type of reception he would get in his first game in New Jersey since Denver traded him to New York. The Nets tried all season to make a deal for the All-Star forward, but Anthony never said if he would have agreed to a contract extension that the Nets insisted on as a condition of the deal, with the Knicks believed to be his preference all along.
But with Knicks fans dominating the crowd, he didn't have to worry about any boos, and there were even a few ''Melo! Melo!'' chants sprinkled in. He made two of the Knicks' 15 3-pointers and has 46 in 25 games for New York after making 42 in 50 games with Denver.
''I'm not used to that, getting cheers on the road,'' Anthony said. ''It's been great. I think they're excited about me shooting the 3-ball right now. They see it's going in, my teammates are excited about that, I'm excited that I'm making that shot right now. So it's fun.''
It was an easy night despite the absence of Stoudemire, who sprained his left ankle in a victory at Philadelphia on Wednesday. He watched the second half Friday from the bench, wearing a walking boot, and could miss Sunday's game at Indiana, too.
With the Knicks leading by 24 after three quarters and resting their entire starting five, the only interest in the final period was when a brawl erupted in the upper level of the Prudential Center.
''I heard the rumblings but I didn't see it. I saw a bunch of 3-point shots,'' Johnson said.
New York clinched at least a .500 finish and needs one victory in its final three games to secure a winning record for the first time since going 48-34 in 2000-01.
''I thought the start of the second quarter, the end of the first, start of the second, we had a lot of guys on the floor really getting active defensively, creating a lot of turnovers,'' Knicks coach Mike D'Antoni said. ''And the ball was moving well and Melo's Melo, he played great and the rest of the guys chipped in and did a good job.''
Williams, headed for season-ending wrist surgery, leading rebounder Kris Humphries (sprained right ankle and bruised heel), and starting guard Anthony Morrow (left knee tendinitis) were out for New Jersey.
That left the Nets with a starting lineup that included Mario West, Dan Gadzuric, Jordan Farmar and Sasha Vujacic surrounding Lopez. They may never have started a worse unit even last season while winning an NBA-worst 12 games.
''We have three starters out. It is what it is. You just have to finish strong and keep playing through the end of the season,'' Farmar said. ''The guys are out there giving it their all and however it goes, it goes. You just have to play your hardest to the end.''
New Jersey was within five early in the second quarter, but a 12-1 run later in the period extended New York's lead to 59-40. Anthony made a 3-pointer with 35 seconds left in the half and the Knicks led 68-51 at the break, matching the most points the Nets had allowed in a first half this season.
Notes: Williams will have bone fragments and scar tissue removed from his right wrist in an operation on Monday, general manager Billy King said before the game. ... Stoudemire also missed the Knicks' first trip to New Jersey, sitting out with a sprained right big toe. ... The Nets were fined $50,000 by the NBA on Friday because hip-hop mogul and part-owner Jay-Z went into the Kentucky locker room after the Wildcats clinched a berth in the Final Four. Team personnel are not allowed to have contact with college players who aren't yet draft eligible. Jay-Z was seated courtside next to the Nets' bench Friday.
---
---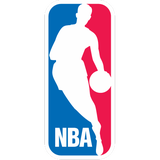 Get more from National Basketball Association
Follow your favorites to get information about games, news and more
---