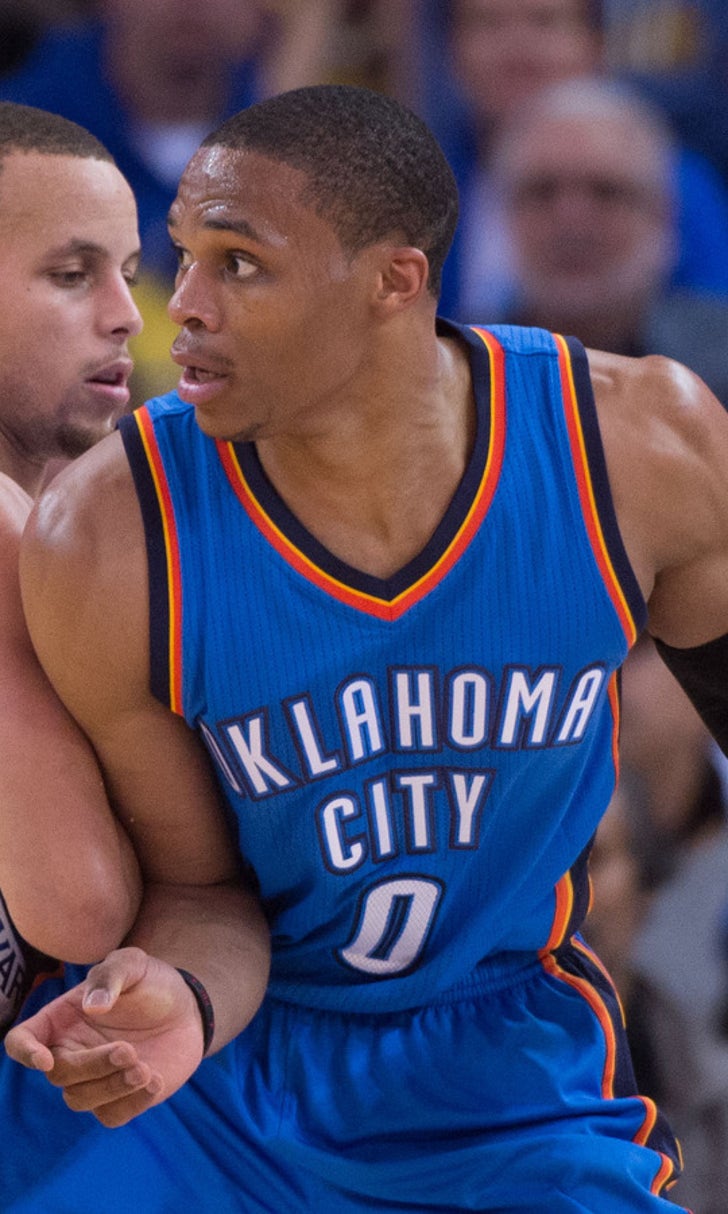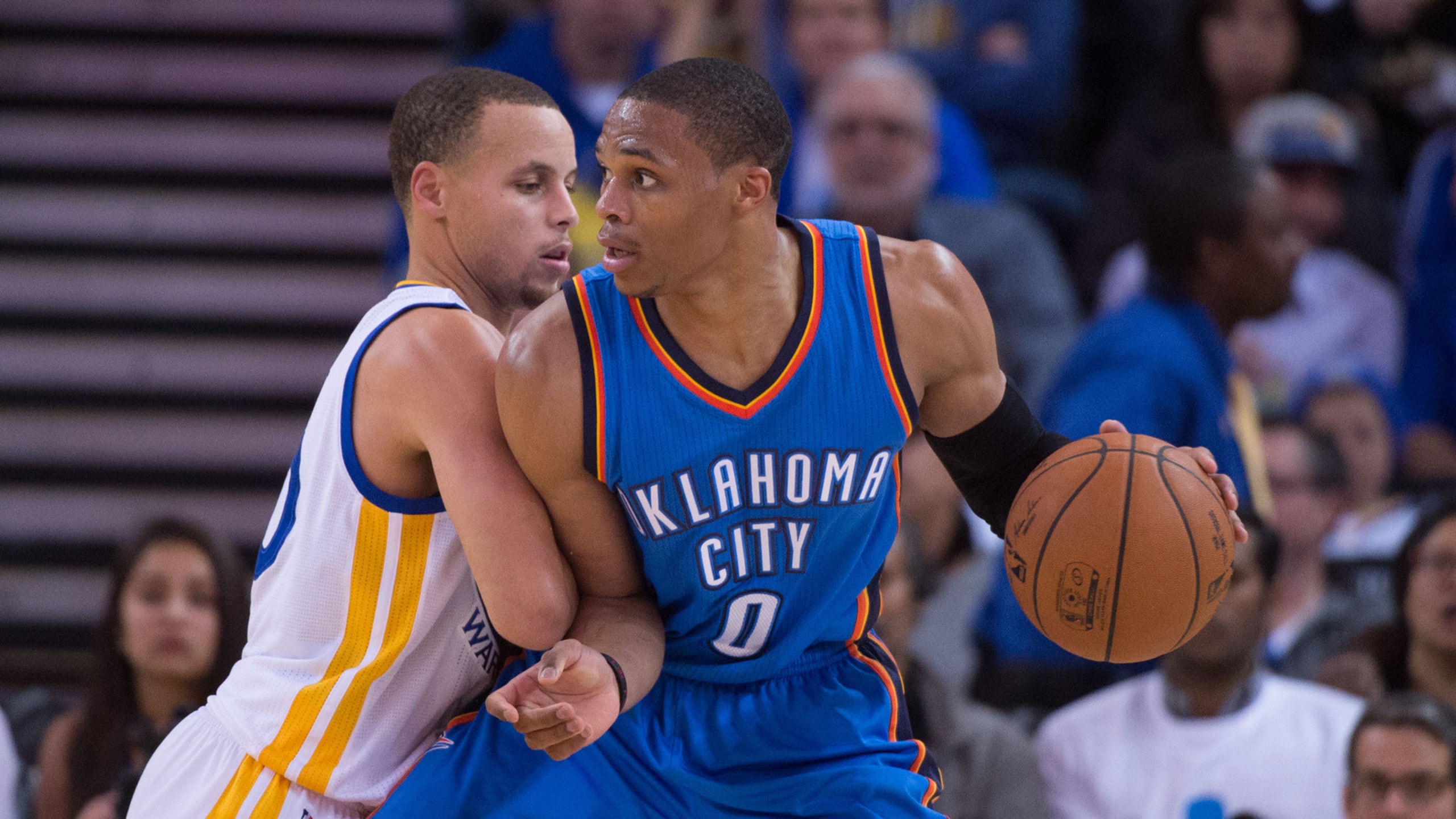 In star-studded GS-OKC matchup, why Westbrook might shine brightest
BY Jeff Caplan • February 5, 2016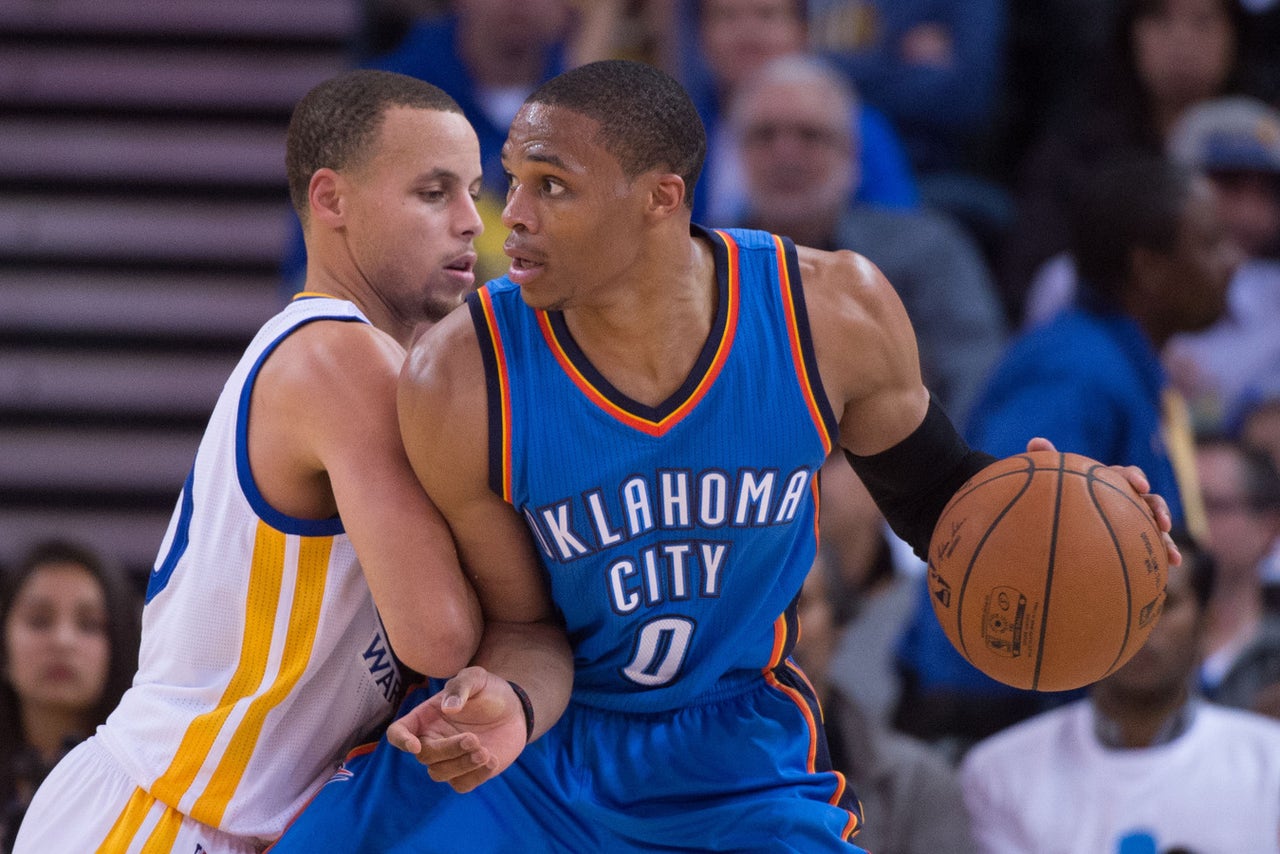 The marquee lights for Saturday's Golden State-Oklahoma City showdown flash Stephen Curry and Kevin Durant. Both players are awesome. Both are approachable. Both are adored. 
And then there's bad boy Russell Westbrook, the Thunder's five-time All-Star point guard. Grimacing. Menacing. Tenacity times 10.
And he might just be the most powerful force on the floor when these two heavyweight teams meet at Oracle Arena.
Durant and Curry, respectively, have won the last two league MVPs. Curry already seems to be a foregone conclusion to win a second. And that should royally peeve Westbrook, who can't escape either playing second fiddle or in someone else's shadow or shouldering the blame just because.
And so why shouldn't Westbrook wear a grimace instead of a smile? In OKC, he absorbs the punches while Durant is tossed the roses. And then comes Curry, barely a blip in the NBA just a few seasons ago to become its golden child.
Yet, all Westbrook does is defy the laws of physics on a nightly basis. Arguably the most powerful force to ever play the point guard position, Westbrook crushed opponents last season with Durant out with a broken foot, practically single-handedly nearly getting the Thunder into the playoffs in one of the most competitive Western Conference races ever.
This season he and Durant have the Thunder back in the thick of the championship chase. Yet again, it's Durant collecting multiple Player of the Week awards, as he did on Monday, and Player of the Month awards, as he did for the month of January.
It didn't matter that Westbrook has put up three consecutive triple-doubles or that he had three in the month of January while averaging 20.4 points, 10.9 assists and 8.4 rebounds in those 16 games. Durant's January looked like this: 28.5 points, 9.3 rebounds and 4.3 assists. Durant's shooting percentages are superior, 49.7 percent overall and 36.6 percent from 3-point range, to Westbrook's 41.8 and 26.8.
And without fail, critics will howl about those shooting percentages, that Westbrook doesn't complement a scoring machine such as Durant like a true point guard should. Well, perhaps if Durant takes his talents elsewhere next season as a free agent we'll find out the truth. Perhaps then we'll know that other truth that's always questioned, whether Durant really cares for Westbrook all that much.
For now, that seems the farthest thing from the truth. Durant speaks of Westbrook like a brother. Two years ago during his MVP speech, Durant singled out all of his teammates, but made sure to save Westbrook for last, and lavished praise upon him, practically apologizing for all the arrows slung his way all these years.
And now, as the Thunder try to regain their footing as the alpha dog in the West, even with a roster that is not as complete as Golden State's or San Antonio's, it can be argued that this team is fueled more by Westbrook's fire than Durant's artistry. The grimaces, the sneers, the chest-pounding, the primordial screams, the drives, the scoring, the stares, the passes. He is the super-charged rocket booster who burns opponents on a nightly basis. 
His season averages of 24.0 points, seventh in the league, 10.0 assists, second in the league, and 7.6 rebounds, 36th in the league and first among guards, aren't talked about enough like Curry's triumphs routinely are, in the historical context they deserve.
How many players have finished a season averaging at least 24 points, 10 assists and 7.0 rebounds? There's been one. Oscar Robertson. He did it four times. The last time was the 1965-66 season, 50 years ago.
Just something to ponder as you get ready to watch Steph Curry and Kevin Durant.
---
---