How Russell Westbrook helped Kevin Durant unleash Steph Curry and the Warriors
February 11, 2017

At the Golden State Warriors' best, Stephen Curry is a ball hog — and that's fine with Kevin Durant.

When the Dubs went through a bit of a rough patch (by their standards, anyway) earlier this season, Durant gave the two-time MVP some simple advice: play your game and stop worrying about me. Coach Steve Kerr echoed that message, telling his point guard KD would figure out how to adapt to Golden State, rather than the other way around.




And why not? After all, KD spent the past eight seasons sharing the spotlight with Russell Westbrook. He has plenty of experience making it work with a point guard who dribbles the ball into the ground, chucks shots whenever he wants, and commits the kind of lazy turnovers that make a coach's hair turn white overnight.

All Durant had to do to adapt was fall back on his previous experiences. We should all be so lucky.

Only this time, KD's playing with an alpha point guard whose ridiculous tendencies actually help his team. A 30-footer from Curry with 18 seconds left on the shot clock causes a defense to cower; the same decision from Westbrook bails you out. So it goes with Westbrook's infuriating infatuation with his pull-up elbow jumper, where Curry will at least use his never-ending dribble to get to the rim, and with Westbrook's last-second, unexpected, "no-you-shoot-it" passes to bewildered teammates versus Curry's unnecessarily elaborate behind-the-back routine.

In each case, the upside is higher with Curry. You hate his dumb passes, but you'll tolerate his process when it leads to such fantastic results on such a regular basis. You hate the "Stephen Curry Ball-Handling Extravaganza," until he splits four defenders and finds Klay Thompson with wide-open in the corner for a dagger triple. And you absolutely hate his ludicrous shot selection, unless you realize how it opens up the offense for others (to say nothing of how effective Curry is at shooting from the next zip code).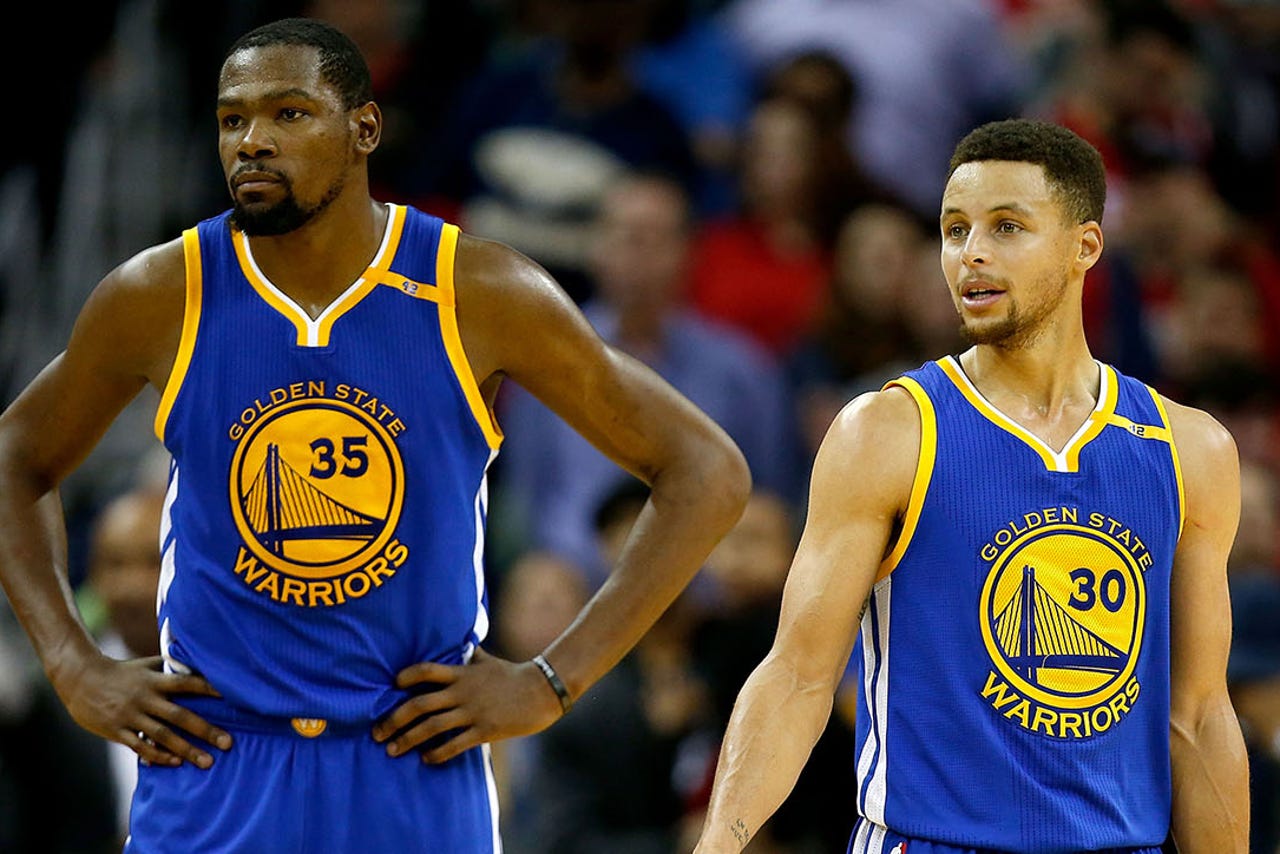 For all Westbrook's splendor, he doesn't make a team better like Curry does. The Thunder point guard is fantastic, don't get me wrong, but he's not on Curry's level in terms of overall impact. Sorry, OKC fans.

So it must have been easy for Durant to take a step back and empower his Warrior teammate, knowing full well how he operates next to a ball-dominant point guard and that this one is different than the last. KD will get his; one needn't worry about that. Just ask him:

"I just said to him, 'Don't worry about me,'" Durant told ESPN of his ongoing dialogue with Curry. "I said, 'Just play your game. I'll figure it out. I'll figure it out around you. You're the engine of this team, and I know that. I'm not trying to come over and feel like everything just revolves around me. Just do you, man. I'm going to play around you. I've played this game long enough. I know how to score. I know how to find the ball. Just go out there and play your game.' And that's what he's been doing."
---
---