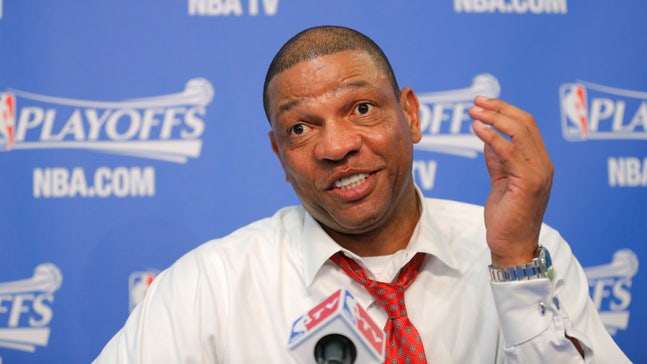 Frustrated Doc Rivers: 'Doesn't sound like much of an apology to me'
Updated
Mar. 4, 2020 2:41 p.m. EST

With the Los Angeles Clippers still very much alive in the NBA playoffs, Doc Rivers told reporters Monday that he hasn't paid much attention to the news surrounding Clippers owner Donald Sterling's disastrous interview with CNN.
But when told of perhaps Sterling's most controversial remark in the sit-down with Anderson Cooper — that Magic Johnson is a poor role model for the children of L.A. because he contracted HIV — the Clippers coach was far from supportive of the man who — for now, at least — writes his paychecks.
"I know who Magic is. I'll stand by Magic every day of the year because I've known him for a long time," Rivers said, via USA Today. "Having said that, I don't know what's going on out there. I tried not to get involved in that part of it right now. Whatever it is, that doesn't sound like much of an apology to me."
The Clippers and Oklahoma City Thunder are tied 2-2 in their Western Conference semifinal series entering Game 5 on Tuesday, and Rivers said he's trying to tune out the whirlwind of off-the-court issues surrounding his team until the playoffs are over.
"I just don't need the clutter right now," he said. "I've got the basketball operations, I've got the team, we're in the middle of the playoffs. So for right now, what I've decided to do is to tune out, if you want to say. … I'm sure at some point I will sit down and listen and hear (Sterling's comments)."
Rivers added that he is "aware" and "glad" that Sterling offered some sort of an apology, but that the owner "probably should have done it right away."
Players and executives across the NBA took offense to Sterling's newest comments, including NBA commissioner Adam Silver, who felt compelled to release a statement on Monday night defending Johnson.
"I just read a transcript of Donald Sterling's interview with Anderson Cooper and while Magic Johnson doesn't need me to, I feel compelled on behalf of the NBA family to apologize to him that he continues to be dragged into this situation and be degraded by such a malicious and personal attack," Silver said.
Silver banned Sterling for life from the Clippers and the NBA and has made it very clear that he wishes to permanently end Sterling's tenure as owner of the Clippers. He reiterated that point on Monday.
"The NBA Board of Governors is continuing with its process to remove Mr. Sterling as expeditiously as possible," Silver said.
MORE FROM NESN
V. Stiviano in car crash week after Tommy Lasorda wishes it
Sterling rips Magic Johnson is bombastic CNN interview
Bieber, Rihanna reportedly among prospective buyers for Clippers
---
---