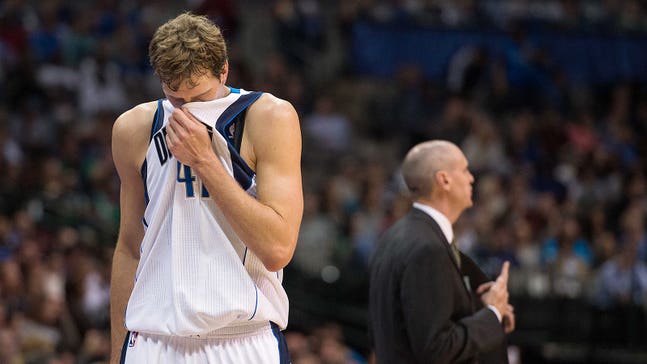 Dirk Nowitzki is ready for a position change, 'whatever it may be'
Published
Mar. 16, 2016 4:15 p.m. ET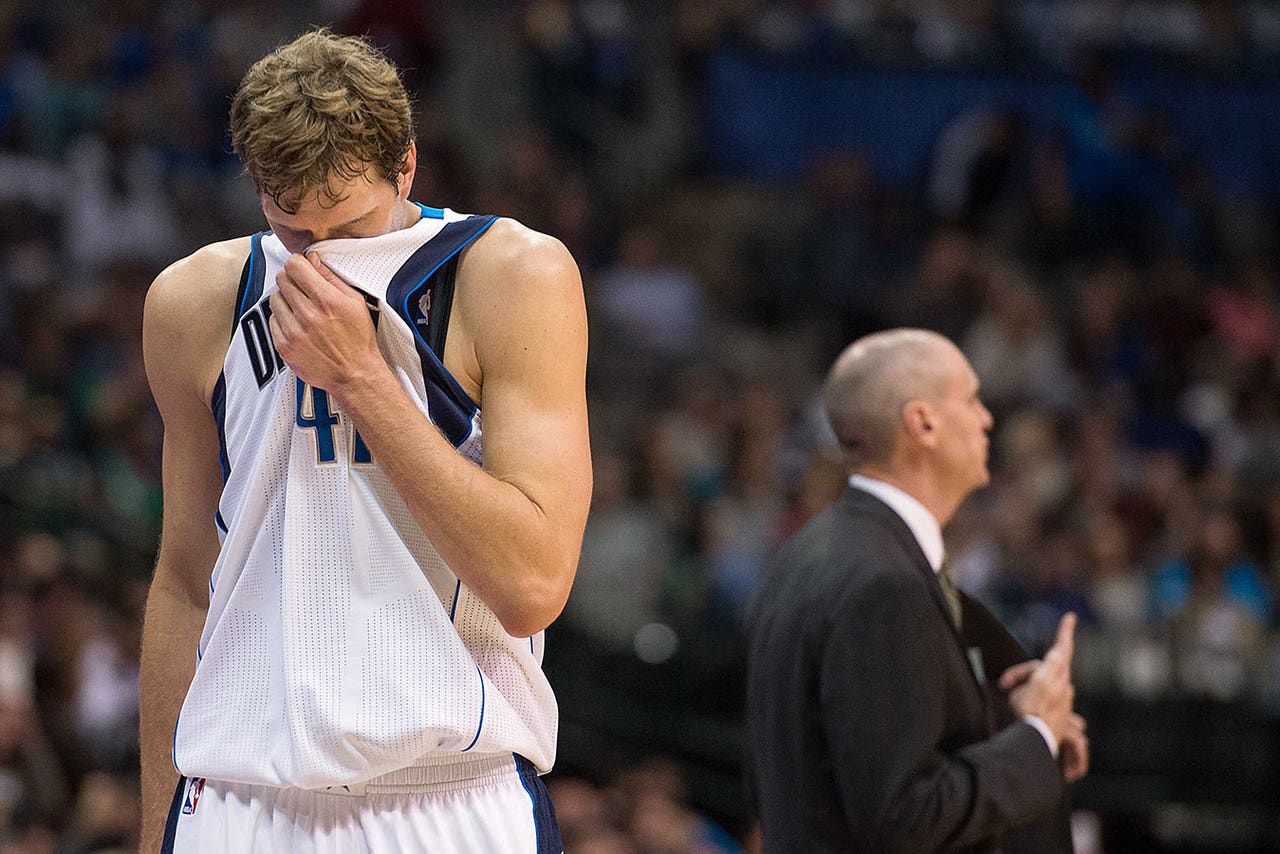 The NBA is changing before our very eyes, thanks to the Golden State Warriors. And Dirk Nowitzki is ready to keep up with the times -- if that's what it takes.
As the 3-pointer continues to grow as an offensive weapon, teams are trying to figure out how to maximize their shooting and floor-spacing. For the Dallas Mavericks, that could mean moving Nowitzki to center full-time. He shifted to the five this week with Dallas struggling, and the Mavs responded with their first win in seven games.
So is the change going to hold in Dallas? It's unclear so far, but Nowitzki told reporters that if that's what the Mavs ask of him, he'll be ready (via ESPN.com):
Dirk Nowitzki on the possibility of center becoming his primary position for the rest of his career: "I'm ready for everything, whatever it may be. I think there's a few dominant forces at center that I'd rather not see, but other than that, we all know that it's not a post-up league anymore. It's a pick-and-roll league, it's a movement league, it's a transition, line-your-guy-up, drive-it league. The league has gone smaller and smaller and smaller, so if that's an option for us, great."
The question, then, is whether a defense can hold up with a player like Nowitzki at center. He's about as far from a rim-protector as you can get, and he's not going to chase opposing point guards out to the 3-point line on the screen and roll -- because this is what happens when Dirk ends up as a perimeter defender:
But that question ignores the dirty little secret in the next step of NBA defense. The league is very quickly going to become less about guarding people than it is about guarding areas of the floor. The old adage that you need to have a hand up as a player takes a shot is true enough, still, but it ignores a more basic fact: The best thing you can do is stop the player from thinking about taking the shot in the first place.
It's something we see in defending the 3-pointer, coincidentally enough. Data indicates that defenses have a minimal impact on whether a 3 goes in or not. Where they can make a difference is in running teams off of the 3-point line. If the shot never happens, it can never go in.
On the offensive end, on the other hand, Nowitzki's always been pretty savvy in the post. He'd be able to hold his own down there every now and again while forcing opponents to completely change their gameplans:
And the Mavericks are one of the smartest teams in the league. If anyone can figure out how to use Nowitzki to cover the most important areas of the court, even at center, it's Rick Carlisle and Mark Cuban.
---
---